Hostel Mondpalast – In the middle of life
Hostel Mondpalast offers a variety of rooms, all designed according to the different signs of the zodiac. There is a wide choice from single rooms to 10-bed dormitories. Some of the private small rooms have their own shower / WC. The beds are already made. Best of all, the hostel has its own bar! After the nightcap, its just one floor up to fall into your comfy bed.
Top Location
The hostel is located in the heart of Dresden's lively trendy district (the "Neustadt"). All pubs and some clubs are located in the vicinity. After going out in the evening, it is never far to your cozy bed. It only takes a few minutes to reach the beautiful banks of the Elbe and you can reach the impressive, historic old town and almost all attractions in 20 - 30 minutes on foot or in 10 - 15 minutes by tram. In addition, you can explore the great surroundings of Dresden: Meissen, the castles Moritzburg and Pillnitz and the "Saxon Switzerland", a small, very beautiful national park and a true paradise for climbers and hikers!
Pictures
Will be loaded, please wait...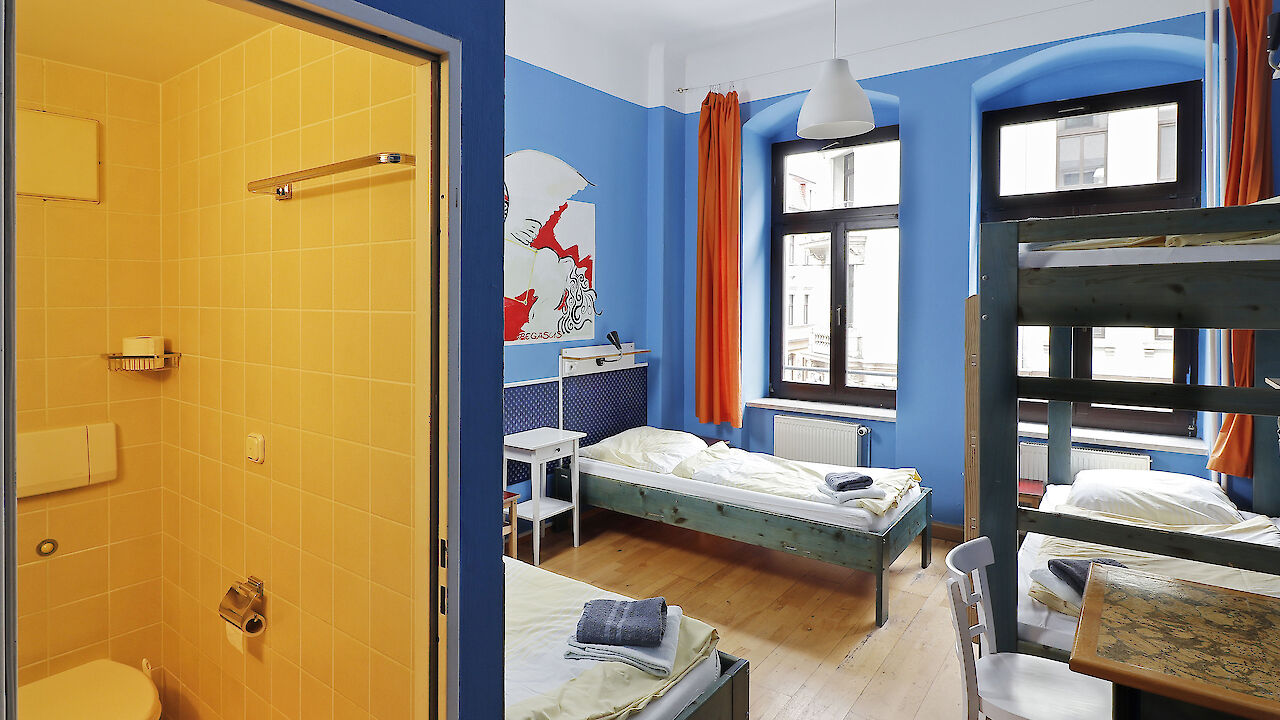 Low Prices
You are on the right place: You will get the best price for your accomodation here on our own website. Guaranteed! Nowhere else on the Internet you will get the rooms/beds cheaper than here with a direct booking.
Our prices depend on season and occupancy. Please check your actual date for available rooms and the prices. If you are flexible in terms of time, it may also be worth to look for the best price on other days.
bed linen 2.50 € (once off, obligatory)

sweet breakfast from 4.50 €

late check-out until 13:00 3 € (per person)

bicycle rental 7 €/day, E-Bike 12 €/day

upgrade to complete breakfast 2.50 €

early check-in from 12:00 3 € (per person)
The city of Dresden demands from our guests a lodging tax amounting to 6% of the accommodation costs. This is not yet included in the price, as, for example, professionally arranged overnight stays or guests under 18 years of age are exempt from this tax. More info: http://dresden.de/beherbergungssteuer
versatile service
Besides clean and comfortable beds at a central location in the heart of the trendy district the hostel has many more offers to make your stay in Dresden an all around successful experience:
free, fast, reliable WiFi in all rooms

completely equipped guest kitchen

our own bar: The BON VOYAGE

multilingual local receptionist

lockers in all dormitories

reading lamps and socket for each bed

safe and dry bicycle parking

bicycle and e-bike rental

bus tickets for Flixbus all around Germany

Launderette directly opposite

all you can eat breakfast offer

hiking maps and tips for excursions

later check-out until 13:00 possible

Bed linen already covered on the beds

Iron, hair dryer, umbrellas....
Groups
The hostel is suitable for groups. There are enough toilets and baths, the rooms are very spacious. For the group leaders there are single and double rooms with private bathroom. With just under 100 beds the hostel also offers enough space. The hostel offers two types of breakfasts, as well as evening meals and packed lunches. In addition, we are happy to help and support you in planning your day and have a partner program with various organizers in Dresden and the surrounding area.
Reviews
469 reviews in the last 12 months on Hostelbookers.com, Booking.com, Tripadvisor, Hostelworld.com, Google, RateMe!

| | |
| --- | --- |
| Atmosphere | |
| Cleanliness | |
| Facilities | |
| Fun | |
| Location | |
| Security | |
| Staff | |
| Value | |
Gül // 19.04.2019 // Booking.com

They are very kind and helpful, just because of that I can recommend, cleaning is perfect and also kitchen.

The tax fee isn't write on Booking, I paid more 1 euro for this reason, it is not much I know but the information have to be clear.
Linda // 19.04.2019 // Booking.com
Anonym // 18.04.2019 // Booking.com

Google assistant with personalized radio is cool — Nice bar — A plentiful of shops and cafes around

Wi-Fi was slow sometimes — Maybe a bit too far from the city center for walking trips — It took 7 days to return money from the deposit
Fernanda // 18.04.2019 // Booking.com

El personal es muy atento y amable. Las camas son bastante cómodas y las habitaciones limpias. Puede rentar una bicicleta directo en la recepción a buen precio.

En el 1er piso están las áreas comunes + bar, si bien puede ser entretenido tener un bar ahí, a veces puede ser incomodo ya que no hay una separación clara.
Anna-lena // 17.04.2019 // Booking.com
Olexandr // 17.04.2019 // Booking.com
Lera // 16.04.2019 // Booking.com
A7777888821 // 14.04.2019 // Booking.com
Marta // 14.04.2019 // Booking.com

I really liked the idea with signing the bed by putting a card with your name on it.

Coffee at the bar could be a little bit cheaper I guess.
Marta Szyma?ska // 13.04.2019 // Google Places

The hostel is nice and well organised with possibility to put a mark on your bed that everyone knows is occupied. It is easy to find. It has a nice view from the window and very cosy kitchen. Bathroom and the toilets ware clean.
Monika // 13.04.2019 // Booking.com
Tifany // 13.04.2019 // Booking.com
robertbazaral6983 // 13.04.2019 // Hostelworld.com

Me and my friends had planned Dresden as a bit of a midway day trip between Berlin and Prague and expected a chill night, but ended up being blown away by the city and the area that this hostel was in. Staff member Ramona was very helpful with finding great restaurants, sightseeing ideas, and nightlife in the city and we had an absolute blast. The beds were comfortable, the decor was great, even the showers were nice. Easily one of the best, if not the best, hostels I've been to.
Dinok // 12.04.2019 // Booking.com
Anonymous // 12.04.2019 // Hostelworld.com

Best location in Dresden for bars, food and nightlife. Old town isn't too far. Nice forest for hiking north-east of the hostel. Hostel has very cosy lounge and bar. In my room there was a socket for each bed. Staff are very helpful and know a lot about the location. Quite busy and popular place but adds to the great atmosphere.
Ikkberg // 11.04.2019 // Booking.com

Staff is very nice, and the place is very good.
Marse // 11.04.2019 // Booking.com

I stayed there only one night but I really liked this hostel. Everything was clean and the staff was great. You can use the kitchen (it was very clean) and you can use also the fridge. So it´s perfect.
Vladyslav // 11.04.2019 // Booking.com
Anabel // 09.04.2019 // Booking.com

Gostei do Hostel!! Perto de vários restaurantes e bares!! Satisfatório!
Amélie // 07.04.2019 // Booking.com
U?ur // 06.04.2019 // Booking.com

This hostel is quite good. Clean and safe. The employees were friendly and helpful. The location is a bit far from the center but satisfactory. When I stayed, I listened to live music in the hostel and liked it very much. Only, the internet could have been a little faster.
Krystyna // 02.04.2019 // Booking.com
Wilfried // 31.03.2019 // Booking.com
Laura // 30.03.2019 // Booking.com
Sushobhan // 30.03.2019 // Booking.com

Great location, amazing staff and very cozy rooms. At the price, This hostel in Dresden is really worth it.

Perhaps the common lobby area can be made a little more lively. It seems a little dark and musty during the day.
My_angie // 29.03.2019 // Booking.com

Einfache Unterkunft mitten im Szeneviertel Dresdner Neustadt . Saubere Zimmer- freundliches unaufgeregtes Personal. Gutes Preis Leistungsverhältnis. Zusatzservices wie Leihrad günstig buchbar.

Hellhörige Flure. Fenster zur Straße- konnte wegen Lärm und heraufziehendem Rauch nachts nicht offen bleiben.
elmartinez4075986 // 28.03.2019 // Hostelworld.com

All was well, would have been nice though if the lockers they had were actually capable of being locked.
Van // 24.03.2019 // Booking.com
Alisa // 21.03.2019 // Booking.com
Becki82 // 21.03.2019 // Booking.com

Sehr nette Bedienung und lecker Kaffee!!! Gerne sofort wieder
Monika // 21.03.2019 // Booking.com

Sehr nettes Personal, super Frühstück, ideale Lage für Ausflüge in die Stadt. Jederzeit empfehlenswert.

Es gab nichts zu bemängeln. ????
Yasmina // 21.03.2019 // Booking.com
Enrico // 18.03.2019 // Booking.com
Luciana // 18.03.2019 // Booking.com

the staff was very friendly and helpful. They help me to book my day trip to Saxon Switzerland and gave me tips about where to hiking
Yevhen // 17.03.2019 // Booking.com