Hostel Mondpalast – In the middle of life
Hostel Mondpalast offers a variety of rooms, all designed according to the different signs of the zodiac. There is a wide choice from single rooms to 10-bed dormitories. Some of the private small rooms have their own shower / WC. The beds are already made. Best of all, the hostel has its own bar! After the nightcap, its just one floor up to fall into your comfy bed.
Top Location
The hostel is located in the heart of Dresden's lively trendy district (the "Neustadt"). All pubs and some clubs are located in the vicinity. After going out in the evening, it is never far to your cozy bed. It only takes a few minutes to reach the beautiful banks of the Elbe and you can reach the impressive, historic old town and almost all attractions in 20 - 30 minutes on foot or in 10 - 15 minutes by tram. In addition, you can explore the great surroundings of Dresden: Meissen, the castles Moritzburg and Pillnitz and the "Saxon Switzerland", a small, very beautiful national park and a true paradise for climbers and hikers!
Here you will find directions to the hostel.
Pictures
Will be loaded, please wait...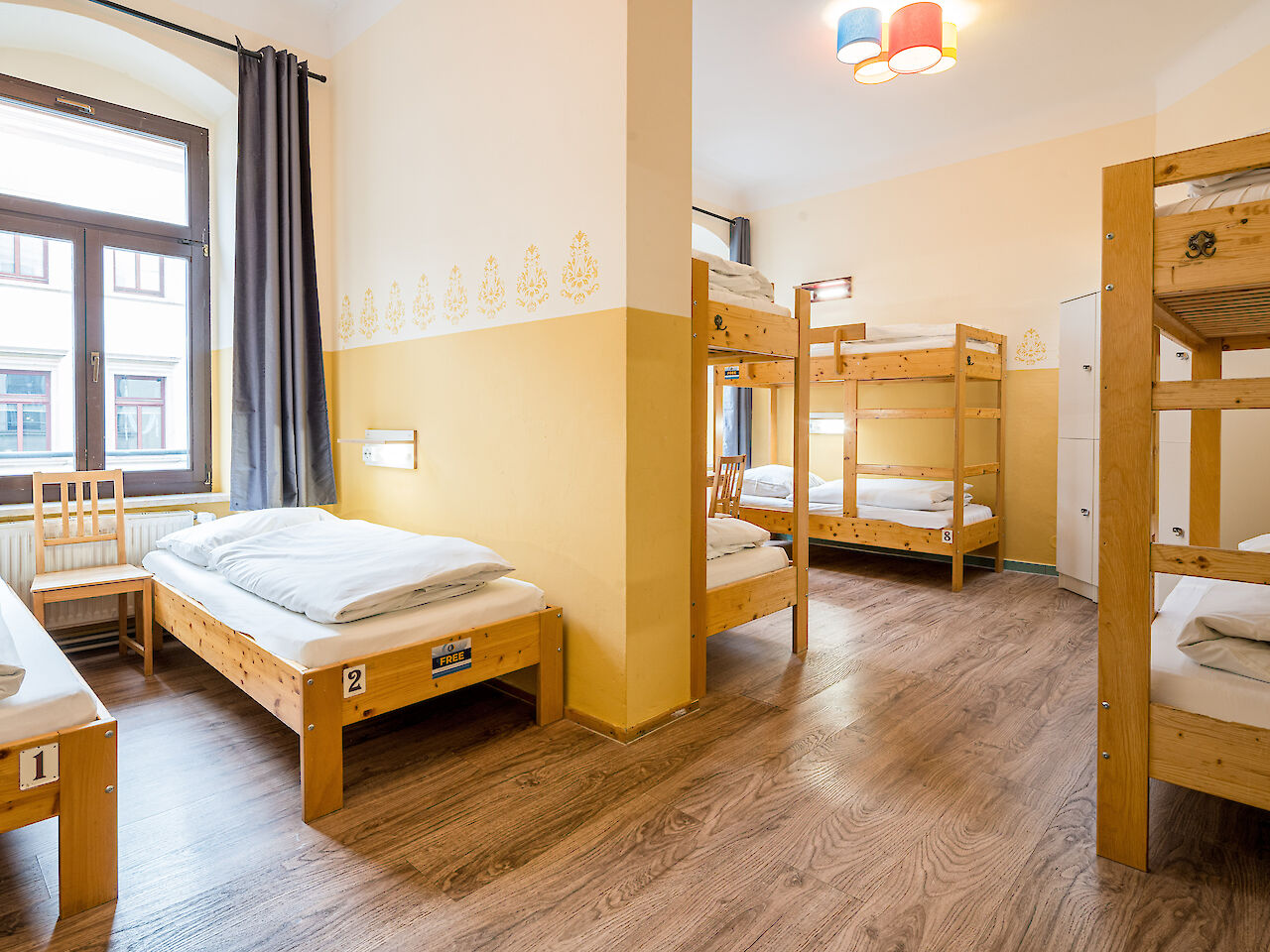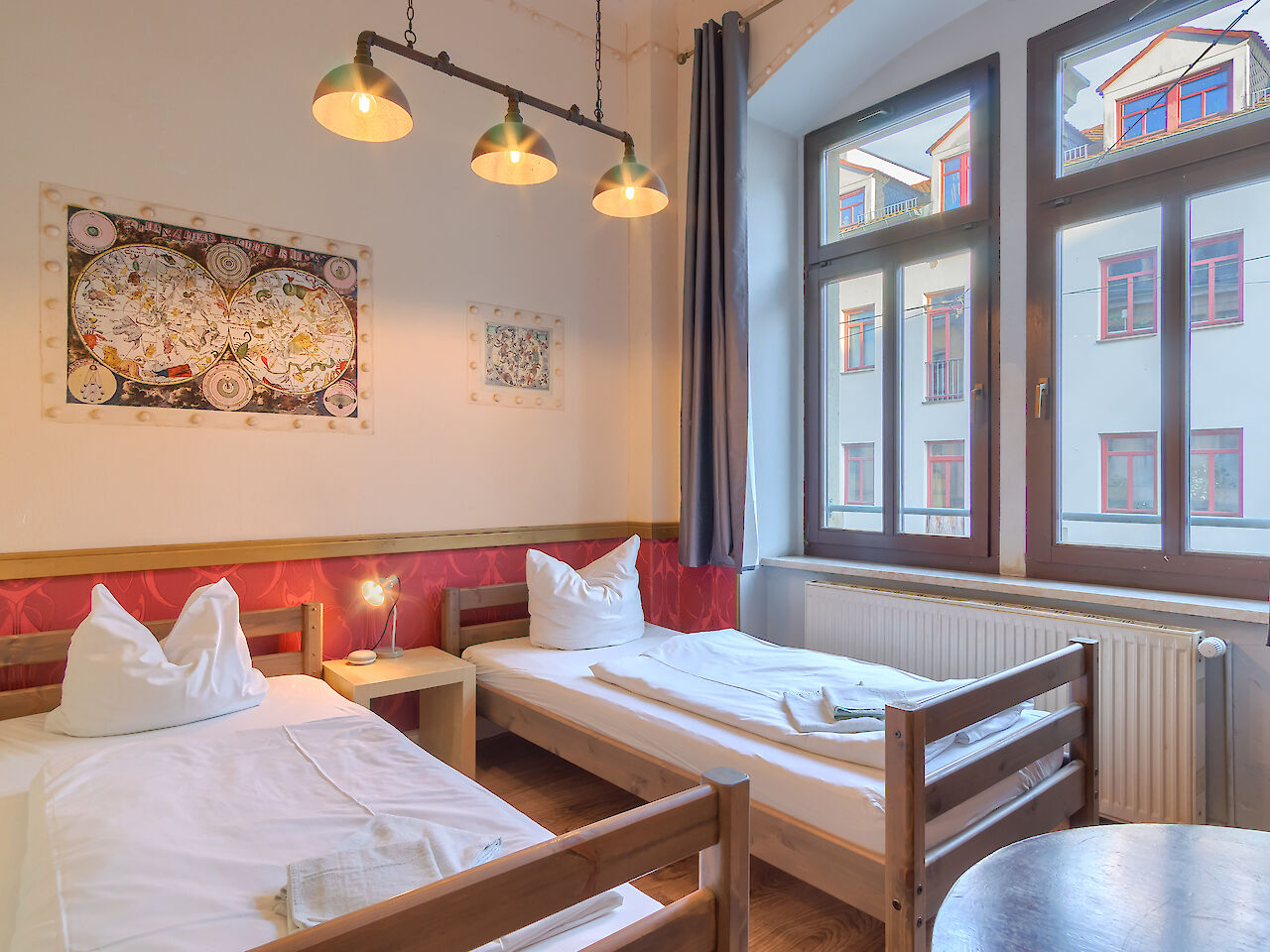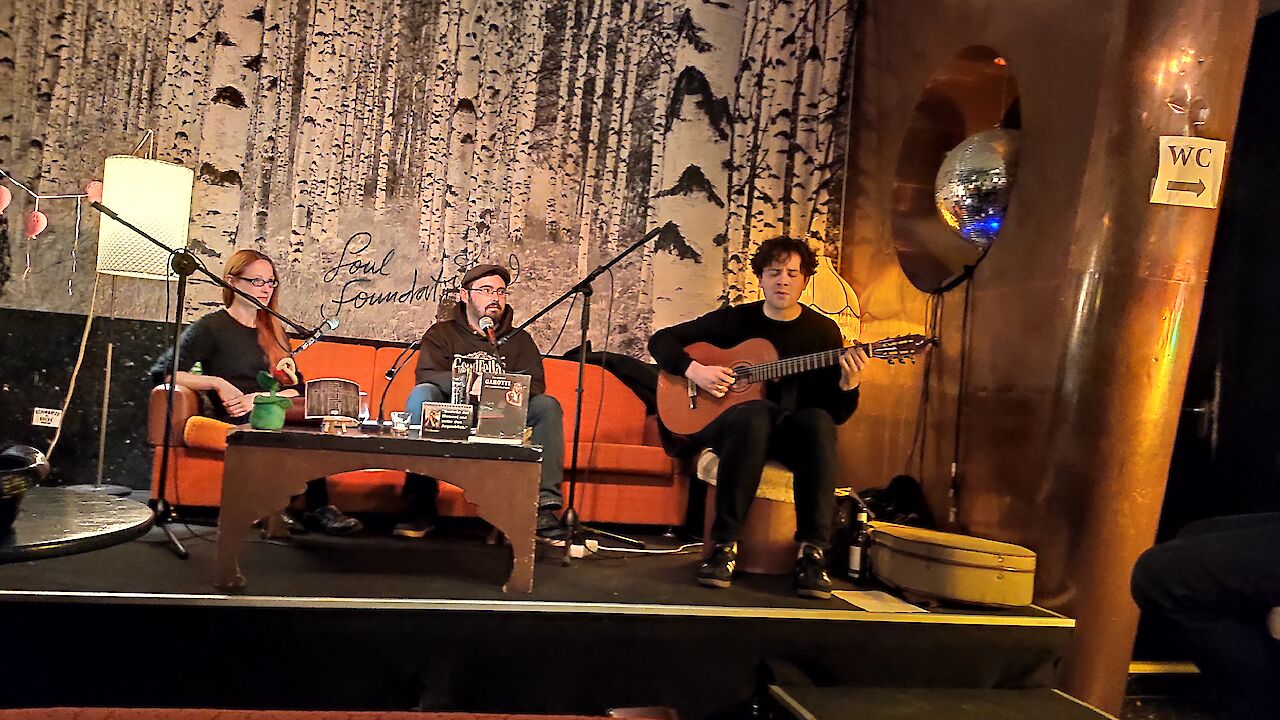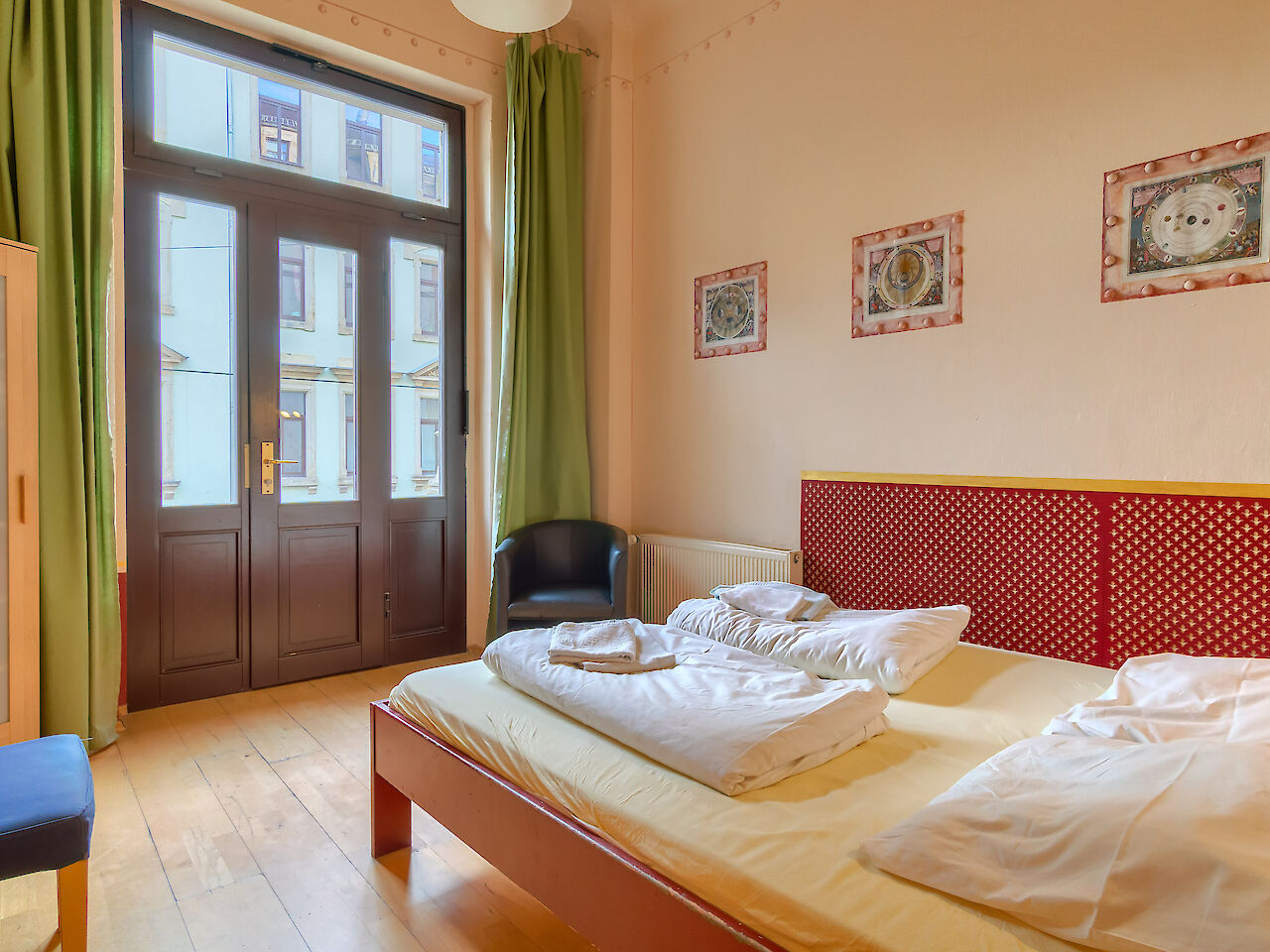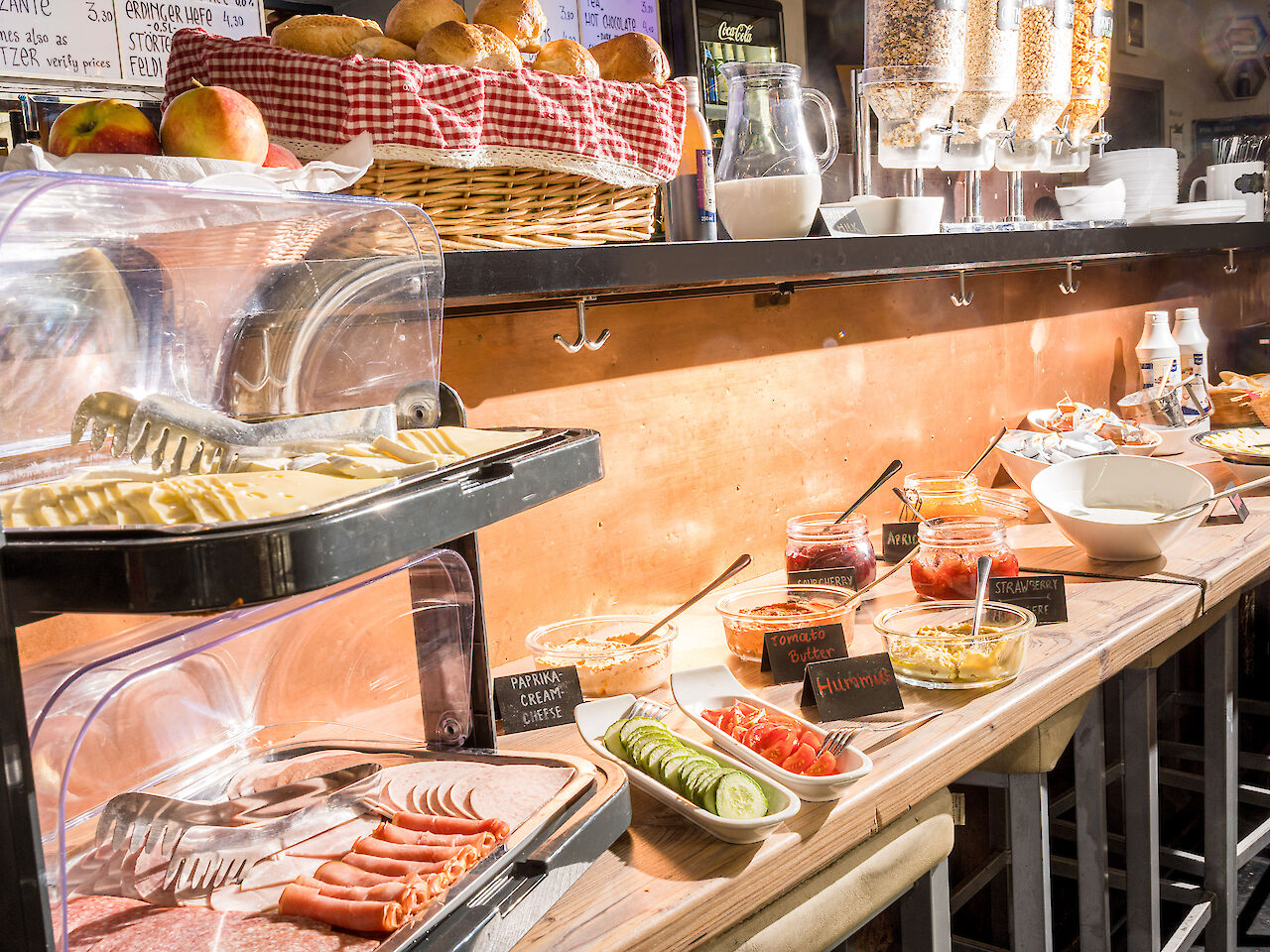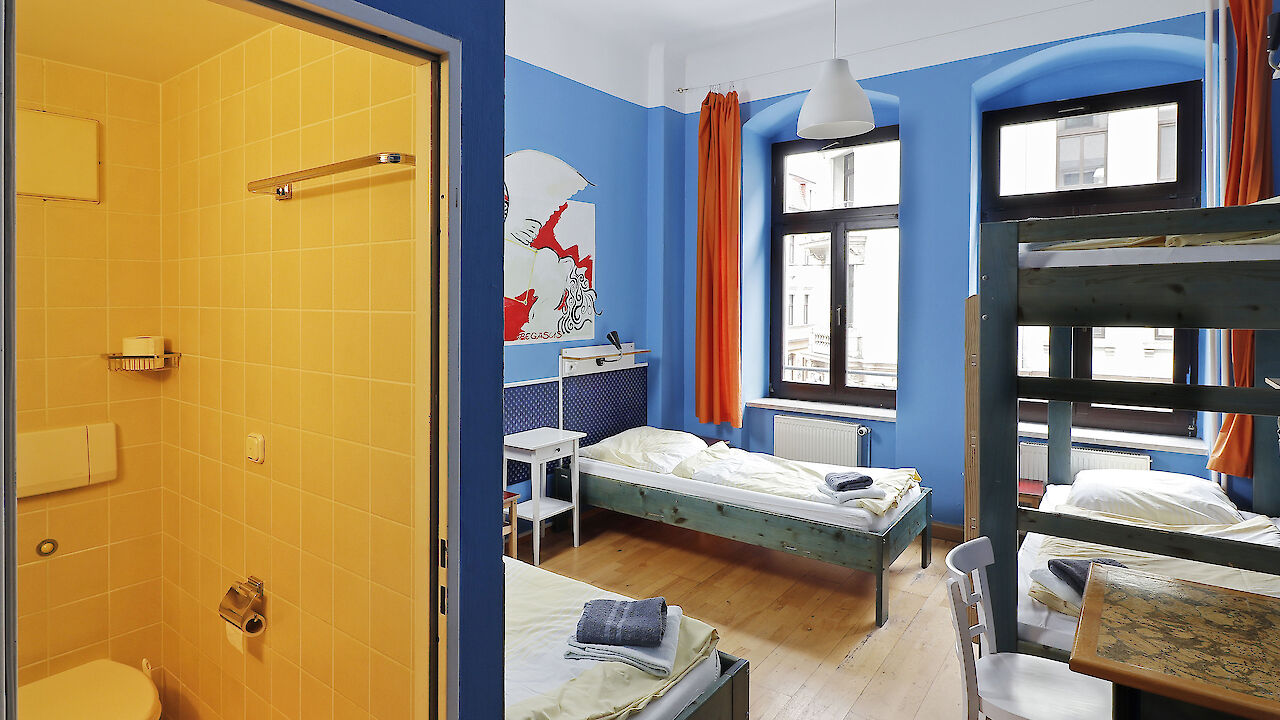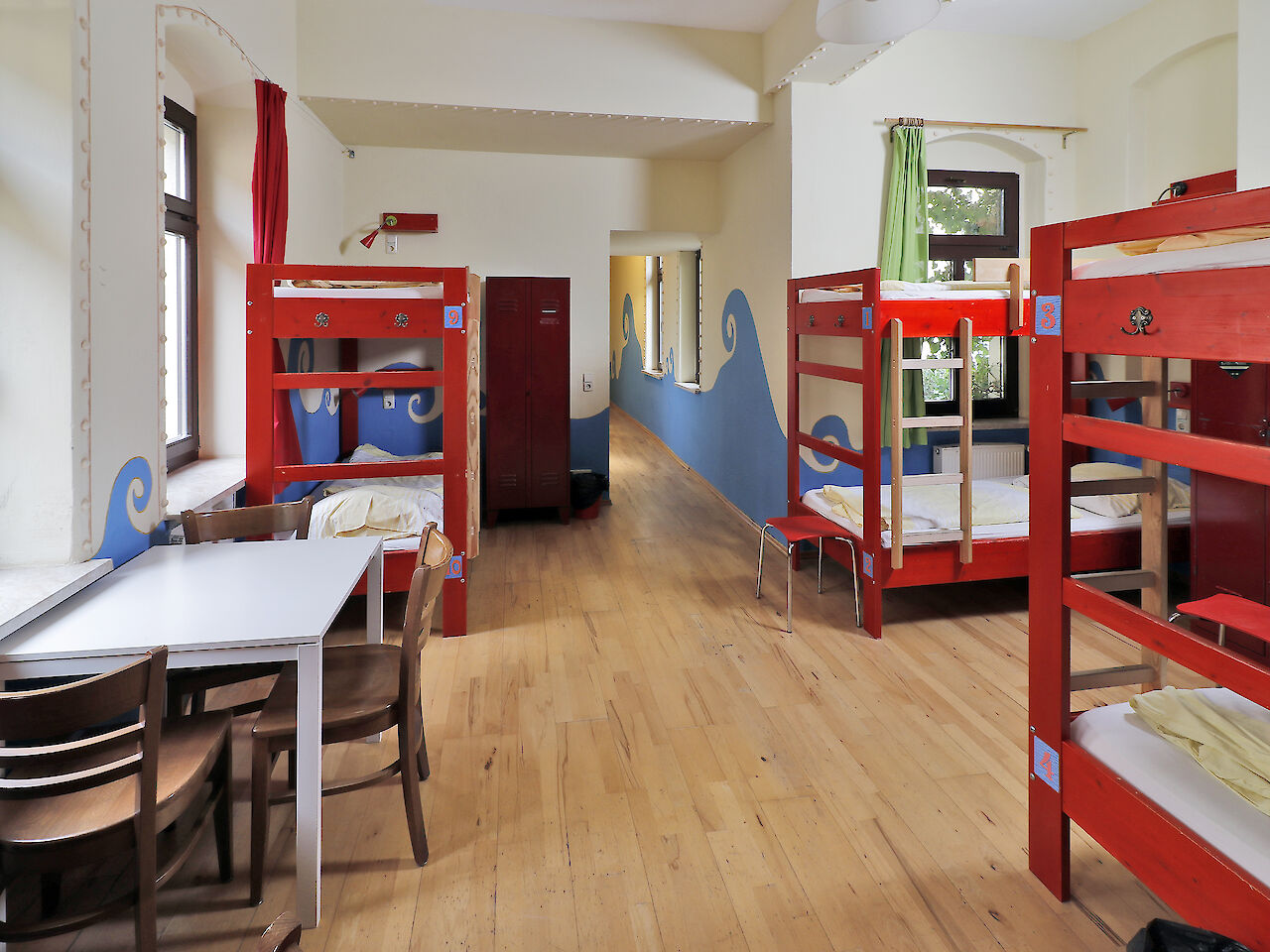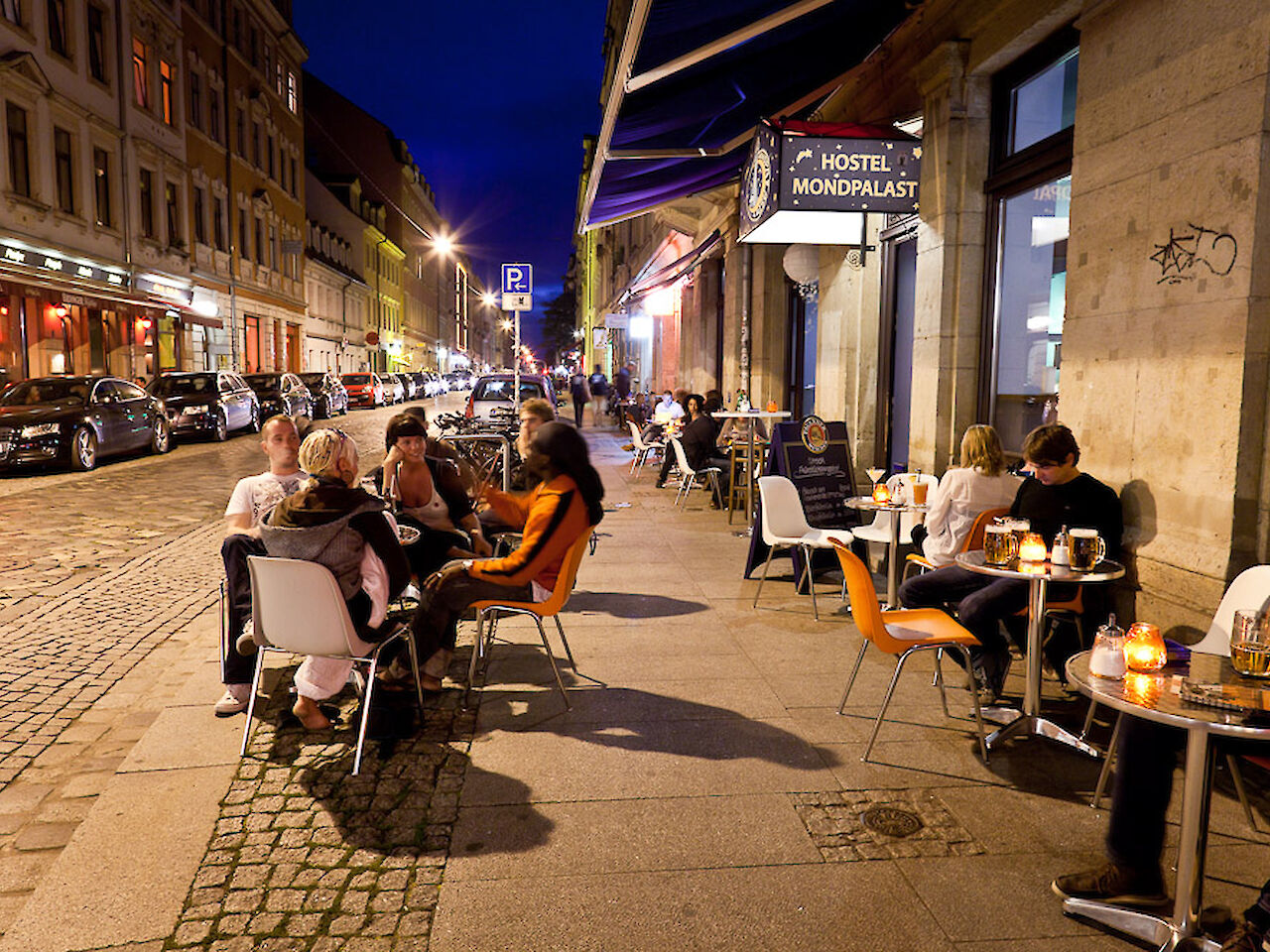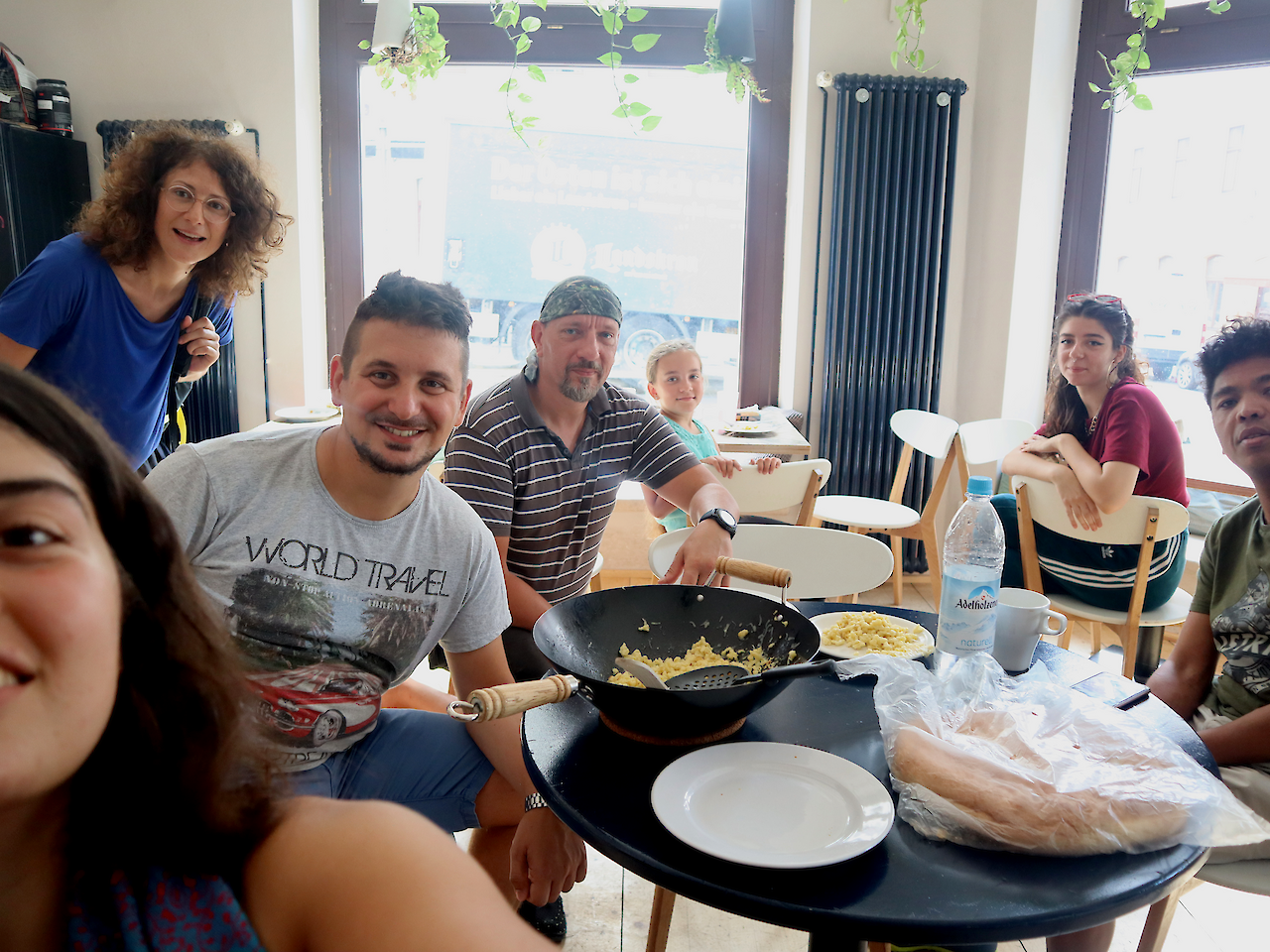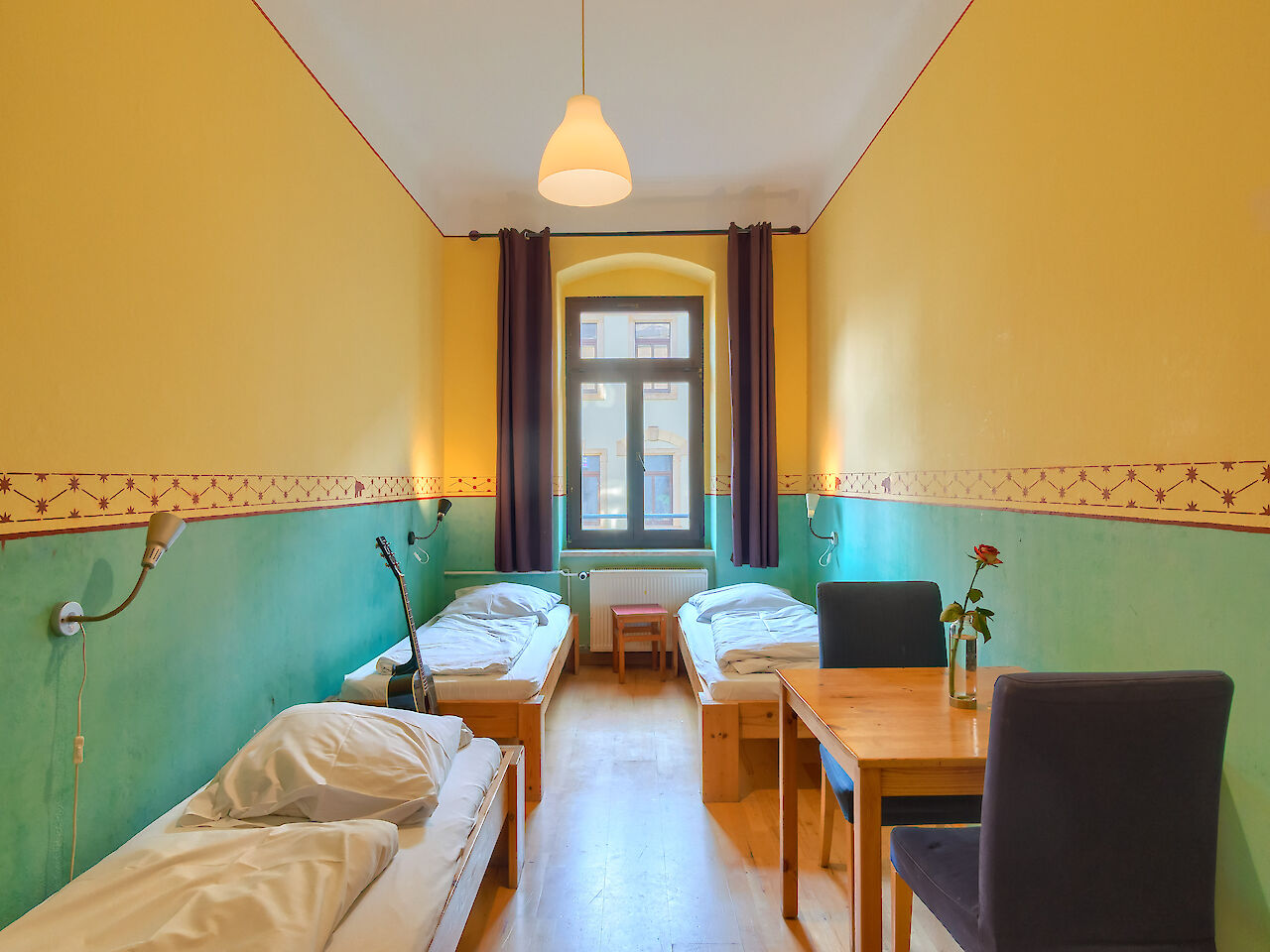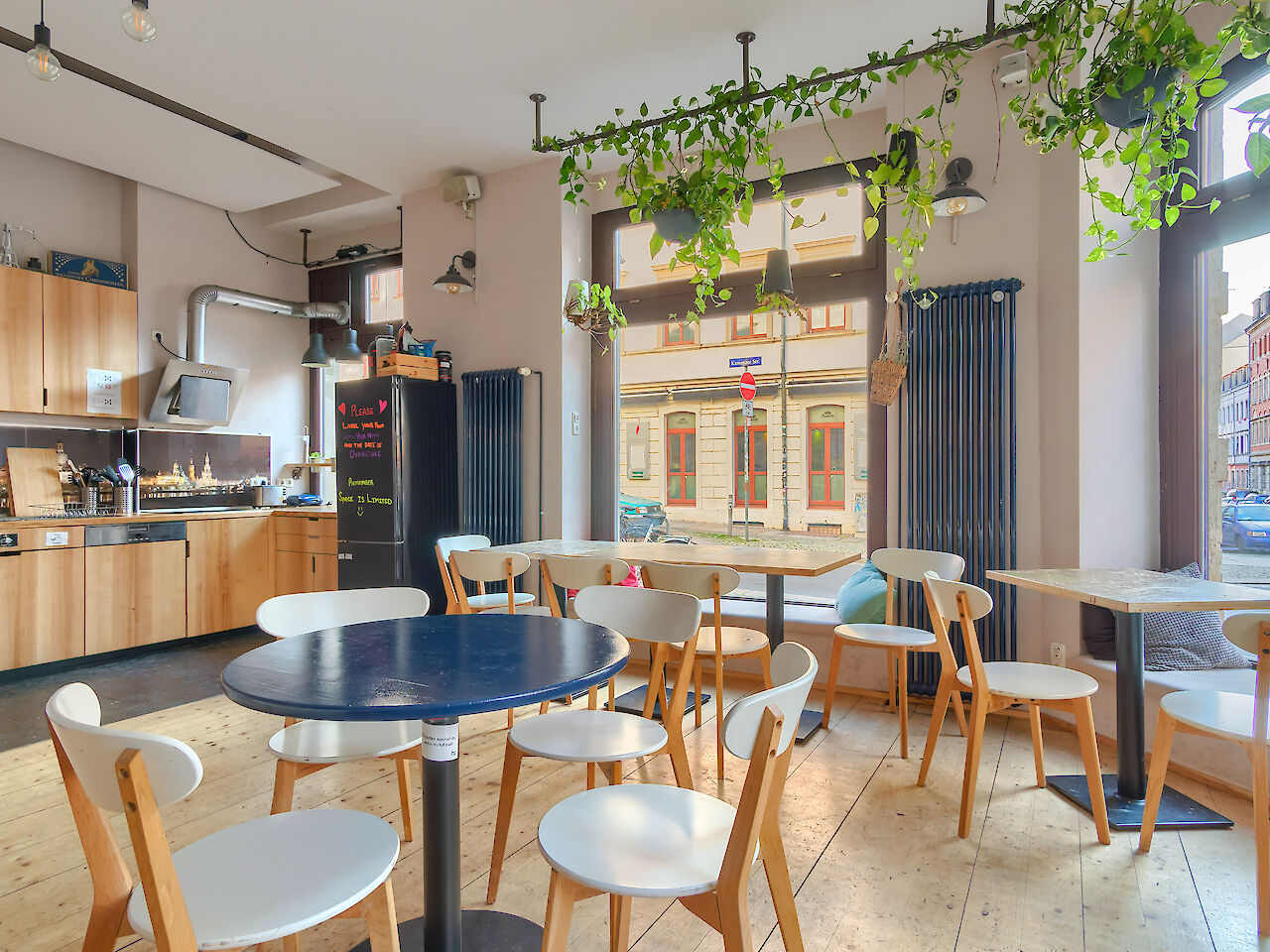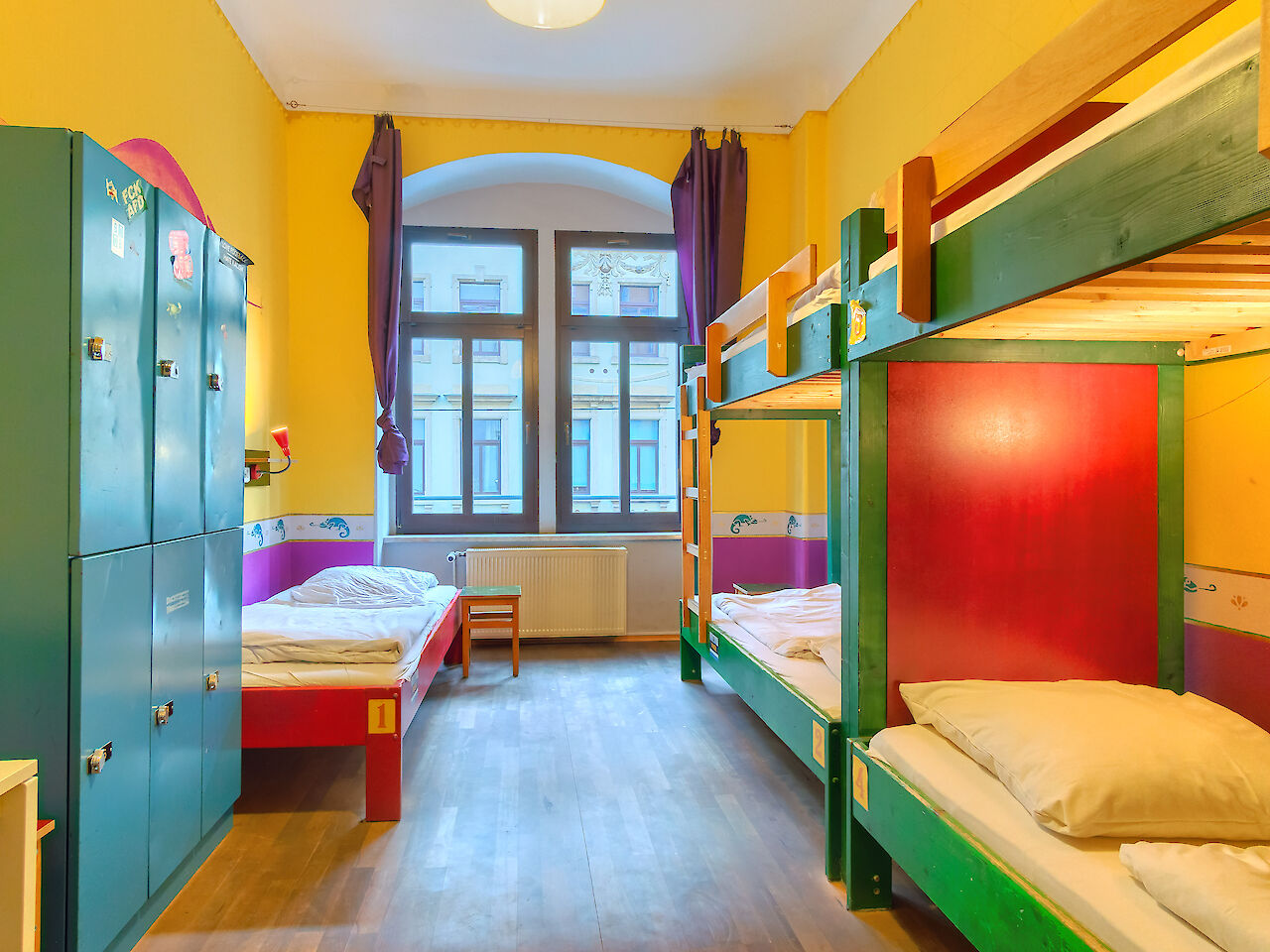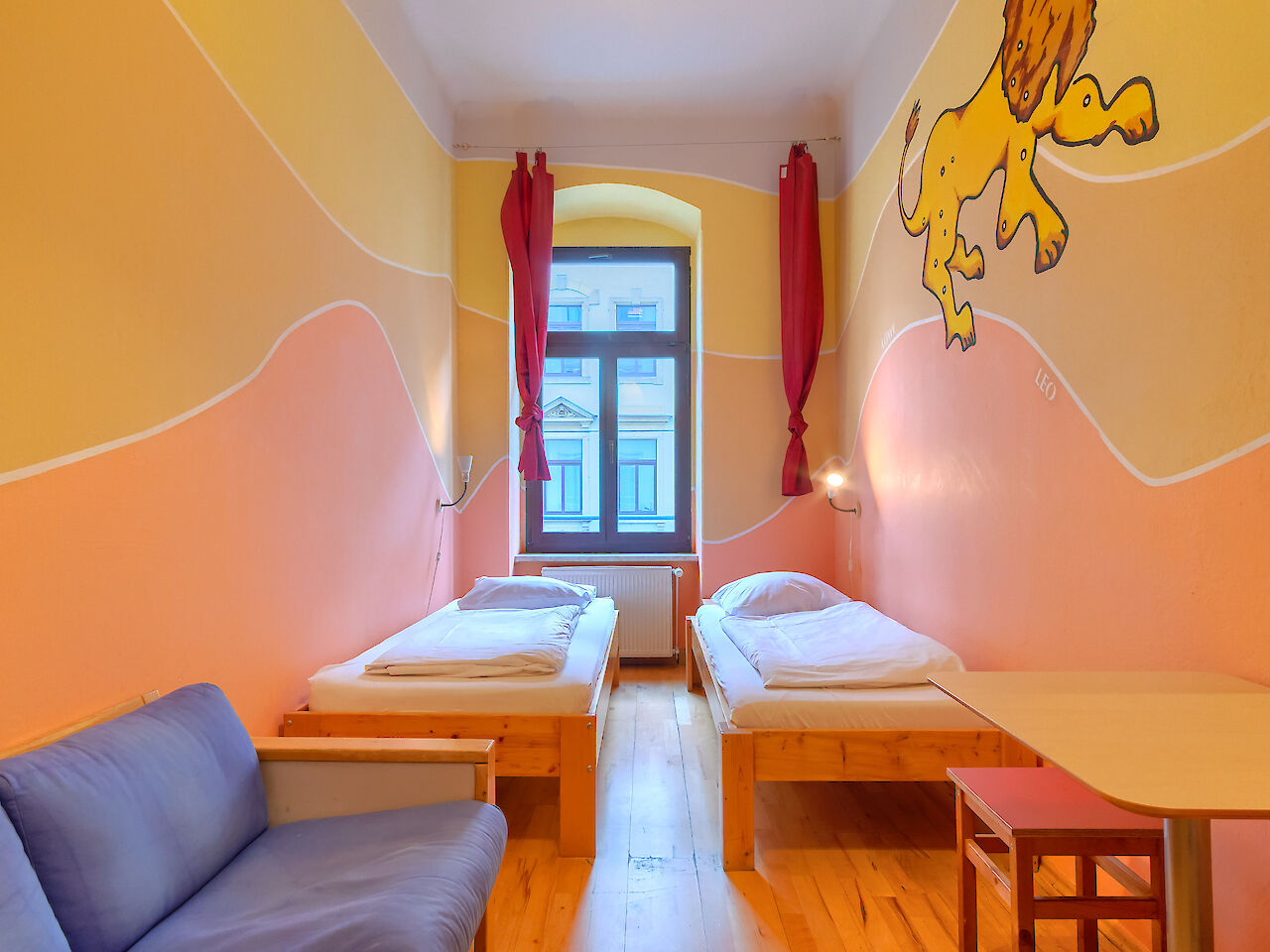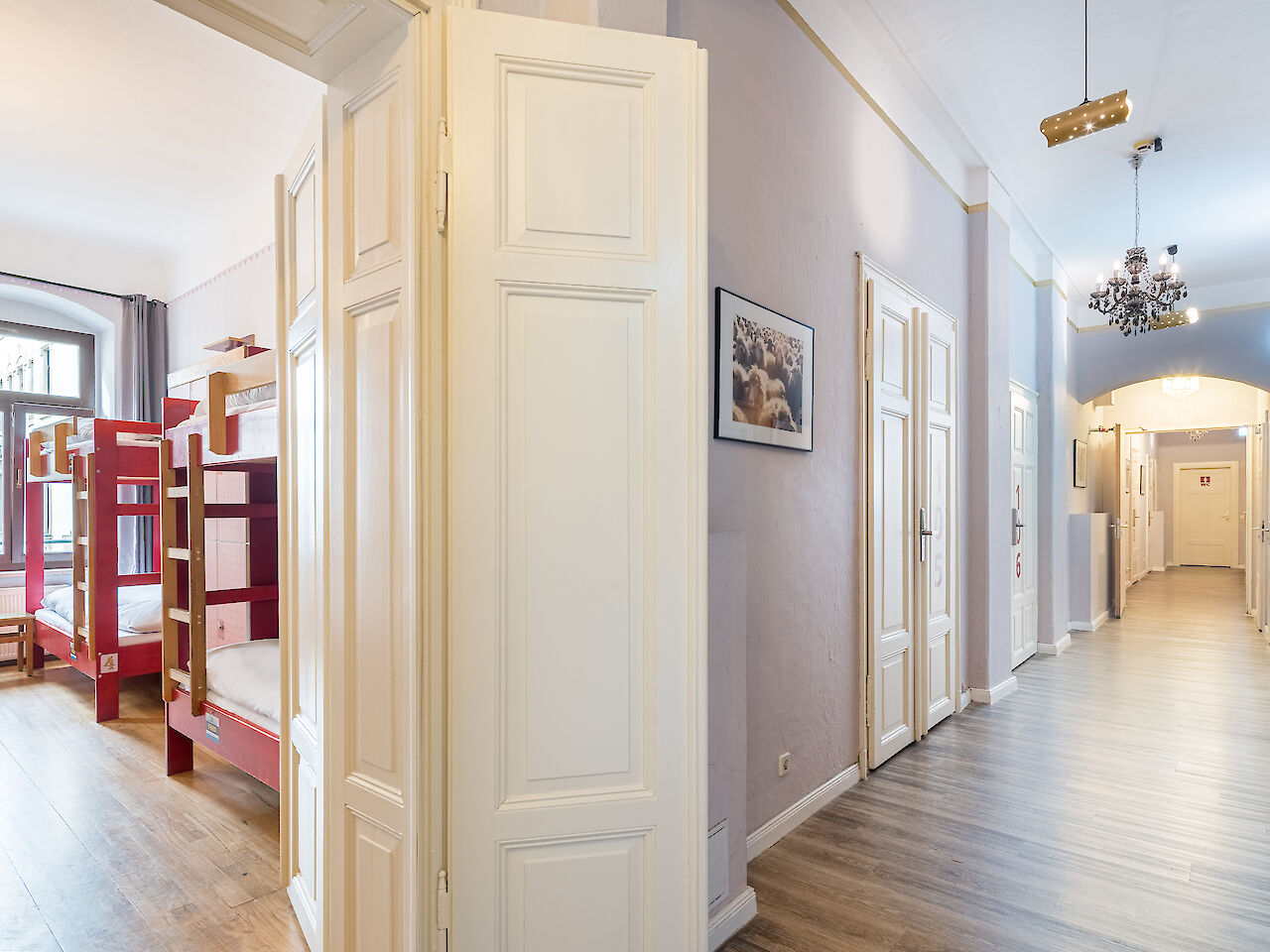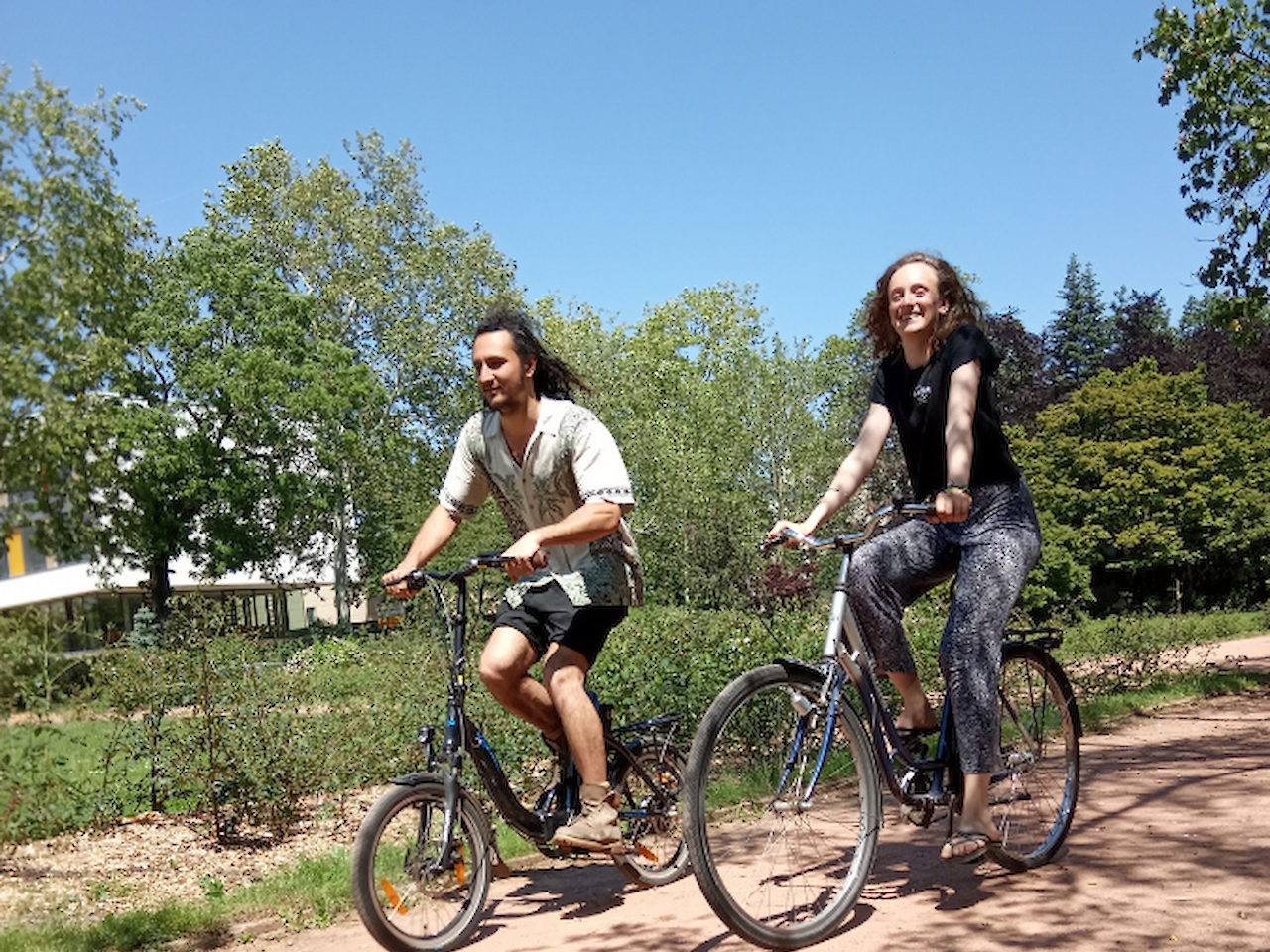 Low prices
You are on the right place: You will get the best price for your accomodation here on our own website. Guaranteed! Nowhere else on the Internet you will get the rooms/beds cheaper than here with a direct booking.
Our prices depend on season and occupancy. Please check your actual date for available rooms and the prices. If you are flexible in terms of time, it may also be worth to look for the best price on other days.
Late check-out until 13:00 €3 (per person)

Bicycle rental €8/day, E-Bike €12/day

Early check-in from 12:00 €3 (per person)
The city of Dresden demands from your guests an accommodation tax amounting to 6% of the accommodation costs. This is not yet included in the prices, as, for example, professionally arranged overnight stays or guests under 18 years of age are exempt from this tax. More info: http://dresden.de/beherbergungssteuer
Versatile service
Besides clean and comfortable beds at a central location in the heart of the trendy district the hostel has many more offers to make your stay in Dresden an all around successful experience:
Free, fast, reliable WiFi in all rooms

Completely equipped guest kitchen

Multilingual local receptionist

Lockers in all dormitories

Reading lamps and socket for each bed

Safe and dry bicycle parking

Bicycle and e-bike rental

bus tickets for Flixbus all around Germany

Launderette directly opposite

All you can eat breakfast offer

Hiking maps and tips for excursions

Later check-out until 13:00 possible

Bed linen already covered on the beds

Iron, hair dryer and straightener, umbrellas....
Events in our bar
Groups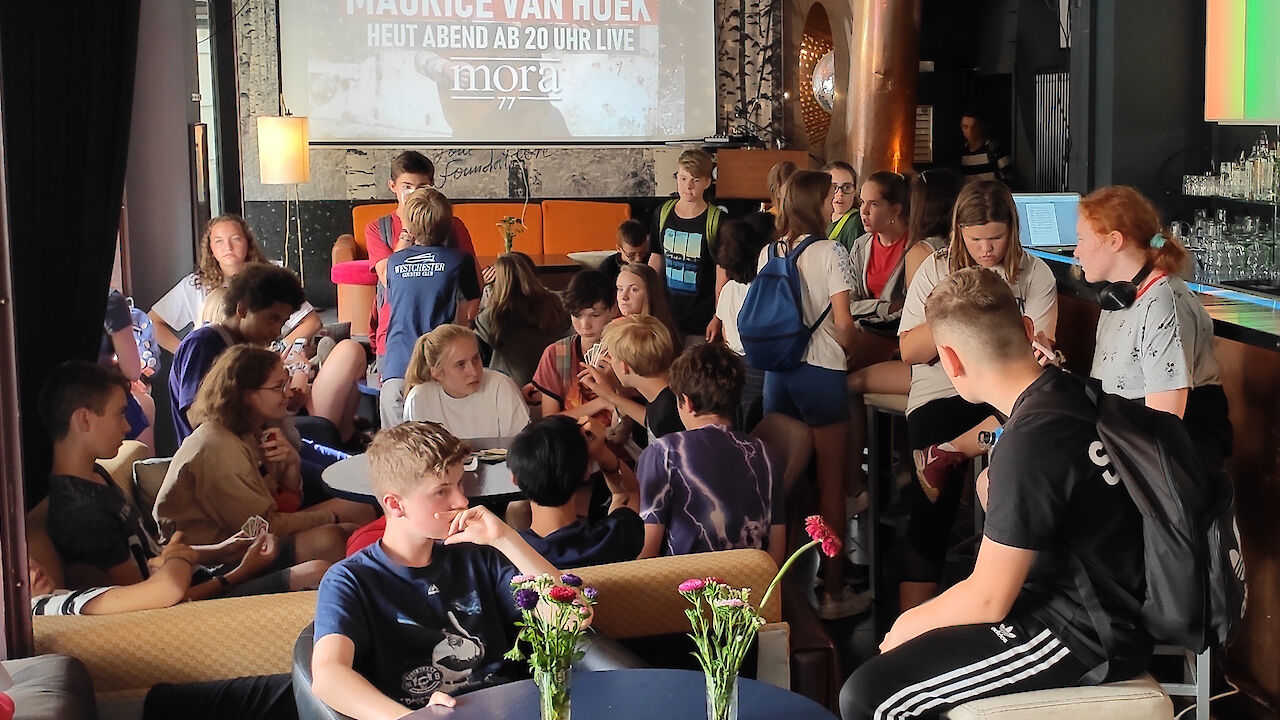 The hostel is suitable for groups. There are enough toilets and baths, the rooms are very spacious. For the group leaders there are single and double rooms with private bathroom. With just under 100 beds the hostel also offers enough space. The hostel offers two types of breakfasts, as well as evening meals and packed lunches. In addition, we are happy to help and support you in planning your day and have a partner program with various organizers in Dresden and the surrounding area.
Reviews
540 reviews in the last 12 months on Hostelbookers.com, Booking.com, Tripadvisor, Hostelworld.com, Google, RateMe!

| | |
| --- | --- |
| Atmosphere | |
| Cleanliness | |
| Facilities | |
| Fun | |
| Location | |
| Security | |
| Staff | |
| Value | |
Ralf // 30.03.2023 // Booking.com
Alexis // 29.03.2023 // Booking.com
Jens // 29.03.2023 // Booking.com
Markus // 29.03.2023 // Booking.com
Emma // 26.03.2023 // Booking.com
Kristof // 25.03.2023 // Booking.com
Clement // 24.03.2023 // Booking.com
Chiara // 23.03.2023 // Booking.com
Norieteh // 21.03.2023 // Booking.com
Yi // 20.03.2023 // Booking.com

Das Zimmer war etwas hellhörig
aFiwjlGPlyxDsojM // 19.03.2023 // Hostelworld.com

I was only there for a couple of nights but the kitchen was great, people where great and free coffee was great ????
Daniela // 17.03.2023 // Booking.com
Gil // 14.03.2023 // Booking.com
Chris // 13.03.2023 // Booking.com
Markéta // 13.03.2023 // Booking.com

Everything was great! Friendly staff, the room was nice and the bed was comfortable. The location is in perfect place and it's very easy to get around. Showers and toilets were clean and almost always empty.

Didn't see any bin recycling bins near the rooms.
Johannes // 12.03.2023 // Booking.com
Ines // 11.03.2023 // Booking.com

Die Lage ist super. Das Zimmer war schön eingerichtet.

Das Bett hat laut geknarrt.
Sophie // 11.03.2023 // Booking.com

schöne Atmosphäre, gut ausgestattete Küche, große Zimmer, moderne Duschen (Damen)

Toiletten etwas alt und muffig, sehr laute Türschlösser (Piepen der Chipkarte)
jxpaquette5529 // 10.03.2023 // Hostelworld.com

I had a fantastic stay at Hostel Mondpalast! The staff were extremely welcoming and gave me great recommendations for things to do in the national park and the social scene of the city. They made sure I knew about events at the hostel as well and introduced me to other visitors and locals. I would definitely come again and highly recommend this location to anyone interested in visiting Dresden.
Andrei // 09.03.2023 // Booking.com
Jess // 09.03.2023 // Booking.com

Good location, friendly staff.

Extensive all you can eat buffet" is more a continental breakfast, glad we didn't spend €8.50 on this. Room was cold, heater turned off during the night. Curtains weren't long enough so light came through.
Eric // 06.03.2023 // Booking.com
Hendrik // 06.03.2023 // Booking.com
Torsten // 06.03.2023 // Booking.com

Very friendly and helpful staff (although that doesn't necessarily help solve your problems when the place is very busy and there are many guests with requests). The flair is cosmopolitan, both the guests and the staff speak a number of languages. They organize cultural events and live music in the bar etc. The location is very good, too (in the Neustadt neighborhood, and close to public transport so it is easy to get to everywhere else).

Room was freezing; heating is slow to respond and switches back to idle automatically after 2 hours or so. (In fact, they have a device fixed to the regulator that seems to do exactly that - switching the heating to idle.) I don't think the temperature rose above 16°C during my stay. This may be fine for a hostel, where you're not supposed to spend time in your room except for sleeping. However, since they take the same price as a 4-star hotel for a private room, this is going to be the point of comparison. I recommend that the place decides whether they want guests to spend time in their rooms (then it should be possible to have acceptable temperatures) or not (then the desk can be removed and the price should reflect that the rooms are meant strictly only for sleeping).
Elisabeth // 05.03.2023 // Booking.com

Centrale Lage, zwanglose Atmosphäre.
gwenrtuffnell7660 // 03.03.2023 // Hostelworld.com

Amazing hostel! One of the few that keeps up a welcoming community between travelers. Staff are very kind and helpful and facilties are perfect.
Bárbara // 02.03.2023 // Booking.com
Oehlsen // 02.03.2023 // Booking.com
Kristin // 26.02.2023 // Booking.com

Waren zum 2. Mal da und können es weiterempfehlen
Ruby // 26.02.2023 // Booking.com

The staff were wonderful - very friendly and gave lots of good advice on places to visit whilst we were there - very well stocked and modern kitchen, bathroom facilities were clean, bed was very comfortable and room was cosy but a good size

Wasn't a huge fan of the toilets being in the hallway instead of in a bathroom, whilst we were there a cooked meal sat on the stove for a few days and started to smell but that's a guest issue not necessarily the hostel's
Johannes // 22.02.2023 // Booking.com

Die Klos und Duschen waren sehr sauber! Das Zimmer eigentlich auch, bis auf die Wände.

Das Zimmer (210) hat sehr nach Rauch gestunken. Aus den Wänden triefte der Gestank regelrecht.
Natailia // 17.02.2023 // Booking.com
Anonym // 15.02.2023 // Booking.com
Maria // 15.02.2023 // Booking.com
Adamjg // 12.02.2023 // Booking.com

Super friendly staff, beds comfy, facilities clean - the rooms were spacious so didn't feel like the beds were on top of each other. Would happily stay here again on my next solo visit.