Hostel Mondpalast – In the middle of life
Hostel Mondpalast offers a variety of rooms, all designed according to the different signs of the zodiac. There is a wide choice from single rooms to 10-bed dormitories. Some of the private small rooms have their own shower / WC. The beds are already made. Best of all, the hostel has its own bar! After the nightcap, its just one floor up to fall into your comfy bed.
Top Location
The hostel is located in the heart of Dresden's lively trendy district (the "Neustadt"). All pubs and some clubs are located in the vicinity. After going out in the evening, it is never far to your cozy bed. It only takes a few minutes to reach the beautiful banks of the Elbe and you can reach the impressive, historic old town and almost all attractions in 20 - 30 minutes on foot or in 10 - 15 minutes by tram. In addition, you can explore the great surroundings of Dresden: Meissen, the castles Moritzburg and Pillnitz and the "Saxon Switzerland", a small, very beautiful national park and a true paradise for climbers and hikers!
Pictures
Will be loaded, please wait...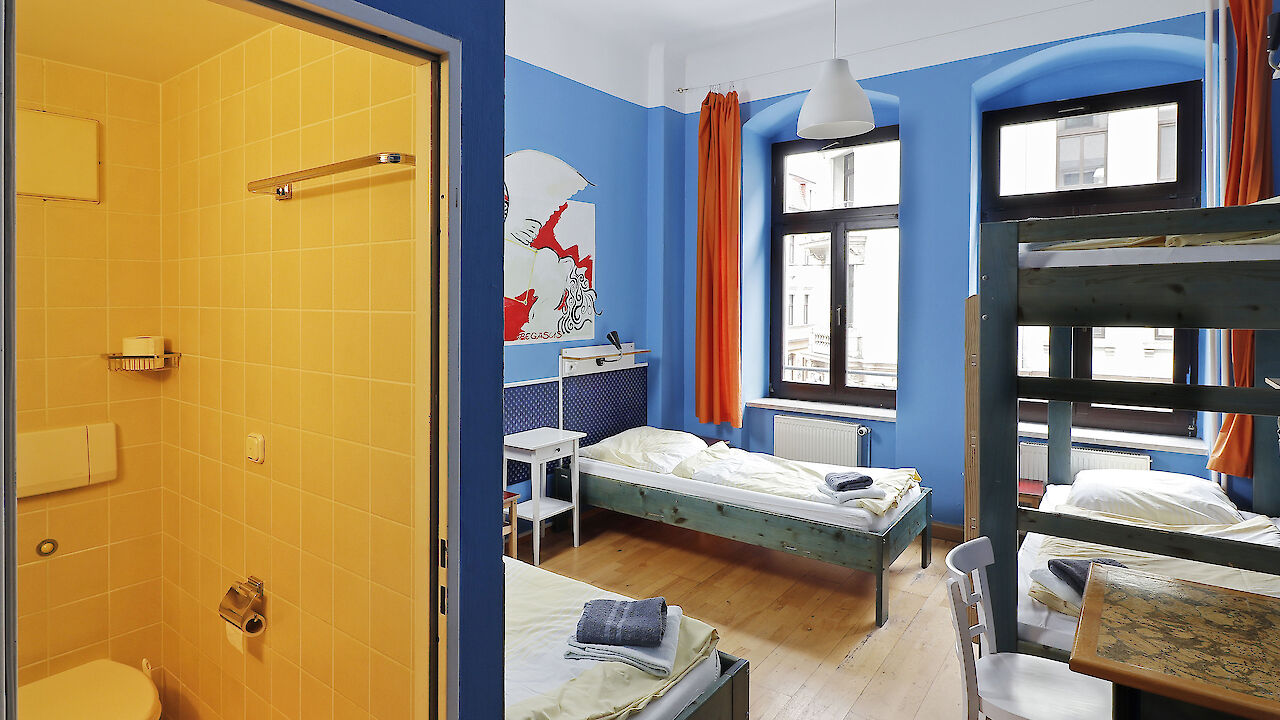 Low Prices
You are on the right place: You will get the best price for your accomodation here on our own website. Guaranteed! Nowhere else on the Internet you will get the rooms/beds cheaper than here with a direct booking.
Our prices depend on season and occupancy. Please check your actual date for available rooms and the prices. If you are flexible in terms of time, it may also be worth to look for the best price on other days.
bed linen 2.50 € (once off, obligatory)

sweet breakfast from 4.50 €

late check-out until 13:00 3 € (per person)

bicycle rental 7 €/day, E-Bike 12 €/day

upgrade to complete breakfast 2.50 €

early check-in from 12:00 3 € (per person)
The city of Dresden demands from our guests a lodging tax amounting to 6% of the accommodation costs. This is not yet included in the price, as, for example, professionally arranged overnight stays or guests under 18 years of age are exempt from this tax. More info: http://dresden.de/beherbergungssteuer
versatile service
Besides clean and comfortable beds at a central location in the heart of the trendy district the hostel has many more offers to make your stay in Dresden an all around successful experience:
free, fast, reliable WiFi in all rooms

completely equipped guest kitchen

our own bar: The BON VOYAGE

multilingual local receptionist

lockers in all dormitories

reading lamps and socket for each bed

safe and dry bicycle parking

bicycle and e-bike rental

bus tickets for Flixbus all around Germany

Launderette directly opposite

all you can eat breakfast offer

hiking maps and tips for excursions

later check-out until 13:00 possible

Bed linen already covered on the beds

Iron, hair dryer, umbrellas....
Events in our bar
26.06.2019

Wednesday

20:00
Night Walk
Take a night-walk trough the Bar-scene of Neustadt guided by one of our staff members and experience the colorful heart of Dresden
27.06.2019

Thursday

10:00
Free Walking Tour
Walk with our favorite guide from the Neustadt area to the old town (tip based). Meet Clara in front of hostel Lollis Homestay.
27.06.2019

Thursday

19:30
Dinner
Julia our new chef will cook a typical German dinner for only 5€ per person.
30.06.2019

Sunday

20:00
Pasta Night
3€ per person for a steaming hot delicious plate full of pasta.
Groups
The hostel is suitable for groups. There are enough toilets and baths, the rooms are very spacious. For the group leaders there are single and double rooms with private bathroom. With just under 100 beds the hostel also offers enough space. The hostel offers two types of breakfasts, as well as evening meals and packed lunches. In addition, we are happy to help and support you in planning your day and have a partner program with various organizers in Dresden and the surrounding area.
Reviews
524 reviews in the last 12 months on Hostelbookers.com, Booking.com, Tripadvisor, Hostelworld.com, Google, RateMe!

| | |
| --- | --- |
| Atmosphere | |
| Cleanliness | |
| Facilities | |
| Fun | |
| Location | |
| Security | |
| Staff | |
| Value | |
Cecilie // 23.06.2019 // Booking.com

Very friendly and helpful staff, it's in a great neighbourhood, the double room was clean and had what we needed for our night there.
Håvard // 23.06.2019 // Booking.com

Ligger, i et av de triveligste strøkene i Dresden. På ingen måte sentralt i forhold til (den gjenoppbyggde) gamlebyen, men strøket har fine bakgård restauranter, gode utesteder samt livlig kveldsliv bare noen hundre meter fra hotelldøra.
Andrii // 23.06.2019 // Booking.com
Hans-joachim // 20.06.2019 // Booking.com

Für eine Nacht in Dresden völlig ok. Personal sehr freundlich.
darth kreider // 19.06.2019 // Google Places

Friendly staff, nice rooms and clean facilities. But when its getting warm the heat and humidity in the rooms are insane
Pedro // 19.06.2019 // Booking.com

Preço ok comparado a outros lugares da cidade. Tem meios de transporte perto para o centro ou para outras cidades. Quarto limpo e ventilado. Havia uma grande festa de rua no bairro quando eu estive no hostel então tudo estava muito animado até altas horas da noite, muito divertido e com muitas opções de bebidas e comidas não muito caras.

um pouco longe para andar para o centro histórico, o café da manhã que eles oferecem é muito pobre.
Karim // 19.06.2019 // Booking.com

El trato recibido por la recepcionista

Que no aceptaban Mastercard
Sharifa // 18.06.2019 // Booking.com
Chen // 17.06.2019 // Booking.com

The staff is friendly and helpful. The cleanliness of the room and washroom. The food is cheap and nice!

I use public transport to reach to the hostel. They advised me to take a tram and get off at Bautzner straße/ Rothenburger Straße but the walking distance take almost 800 m with all our big luggage (not a good suggestion) is really troublesome for us. I will be much happier if they can advise me to take tram 13 and stop at Gorlitzer station , which is much shorter so that we dont have to drag our luggage for 800 m but 300 m only to the hostel.
Max // 17.06.2019 // Booking.com
Andrea // 16.06.2019 // Booking.com
Anonymous // 12.06.2019 // Hostelworld.com

Es un buen lugar, pero solo para ir a dormir. Hay mucho ruido, en el cuarto estuvieron hablando hasta tarde y era difícil dormir. Es muy alto el precio para no tener desayuno, olvidan que los hostales deben ser soluciones para los viajeros más que negocios.
Viktor // 11.06.2019 // Booking.com
Anonymous // 10.06.2019 // Hostelworld.com

Nice hostel with comfortable beds, liked the power socket next to each bed as well. I did sign up for a communal dinner and the staff completely forgot about me and didn't really care so that wasnt ideal. Maybe wouldn't recommend as a solo traveler based on this.
?aneta // 10.06.2019 // Booking.com
alexdarbywinges3960 // 09.06.2019 // Hostelworld.com

Great place! About a 30 minute walk to all the big and beautiful sites in Dresden! Ramona checked us in and was extremely friendly and gave us all the tips! There are shared bathrooms and showers and the atmosphere was very chill which I enjoyed! would definitely stay again!
Alfred // 06.06.2019 // Booking.com
BHeck // 04.06.2019 // Hostelworld.com

WiFi did not work in our room, only in reception area. Other than that this hostel was excellent, I had a lot of fun and met people on the bar crawl. Really good for night life, rent a bike or take transit if you want to get downtown though. Would definitely stay here again!
Farzane // 03.06.2019 // Booking.com
Anonymous // 03.06.2019 // Hostelworld.com

Très bon hostel les chambres sont grandes et agréables.
Natalia // 02.06.2019 // Booking.com
tkemper9502 // 01.06.2019 // Hostelworld.com

Es war alles bestens - schönes Hostel mit angenehmen Zimmern. Lediglich bei sehr warmen Temperaturen (wenn das Fenster offen ist) ist es etwas lauter, wenn Autos über die Pflastersteine (der vor dem Hostel liegenden Straße) fahren. Dafür kann aber das Hostel nichts (für mich sind Klimaanlagen auch keine gute Lösung).
Kerstin // 01.06.2019 // Booking.com

Personal locker, nett, kompetent

Der Lärm nachts auf der Straße: besoffene, grölende Menschen die ganze Nacht, unerträglicher Krach durch Kneipen. Dafür kann das Hotel nichts, aber dieses Viertel ist nicht geeignet zur entspannten Nachtruhe!
Victor // 01.06.2019 // Booking.com
Camilla // 31.05.2019 // Booking.com
katiafrey1116 // 30.05.2019 // Hostelworld.com

Wir waren mit 7 Mädels in einem Zimmer mit 8 Betten - wir hatten super viel Platz und die Koffer passen aufgeklappt bequem unter die Betten. Es gab Schließfächer für Wertsachen etc. die Betten waren schon bezogen als wir kamen das war super :D Rezeption ist immer bestezt und die Mitarbeiter waren sehr freundlich und hilfsbereit. Leider etwas hell morgens da die Vorhänge zu weit weg vom fenster und etwas zu durchsichtig waren aber von den anderen Zmmern hat man nichts mitbekommen.
Anonymous // 30.05.2019 // Hostelworld.com

A bit far from the main sights in the Altstadt, but other than that I'd definitely recommend! The staff are super friendly, the showers are nice & clean with locking doors and changing areas (though the separate toilets are a bit small and older), the rooms are cosy, and the common area is really nice. I should also mention that as a woman traveling alone, I didn't feel comfortable being out in the neighborhood alone after dark - traveling in a group it should be fine :)
Matt // 29.05.2019 // Booking.com
erwanplault4524 // 29.05.2019 // Hostelworld.com

Very nice hostel, in the heart of the Neustadt, meaning there are lots of bars and restaurants around. The Altstadt is easily accessible by foot (count 30 min) or public transport. The rooms are spacious and the breakfast is good
Gast // 28.05.2019 // Booking.com

Tolle Lage mitten in der Neustadt. Wer Party machen möchte, ist hier sicher richtig.

Für den Preis hätten wir uns mehr Sauberkeit v.a. in den sanitären Anlagen, eine etwas bessere Ausstattung und v.a. mehr Ruhe gewünscht. Wenn man ganz offiziell Zimmer an Familien vermietet, sollte man vielleicht besser auf Punkkonzerte bis 23 Uhr verzichten.
Tom // 28.05.2019 // Booking.com
elenapapagni9576 // 28.05.2019 // Hostelworld.com

E un bel posto centrale ma molto caro per essere un hostel 3 gg ho pagato 60€ e un po' caro direi senza colazione poi! Ma per il resto lo consiglierei perché è in centro e vicino ai mezzi
Valeria // 27.05.2019 // Booking.com

Ammetto di non avere avuto esperienze personali di ostelli, prima d'ora, ma la mia era una stanza doppia con bagno privato, quindi isolata. La grandezza e l'arredo della stanza erano perfettamente in linea con quanto offrono pensioni di categoria economica. La pulizia discreta. La posizione dell'ostello, in un quartiere pieno di locali, frequentati da giovani fino a tarda notte, lo rendeva un po' rumoroso, ma le finestre attutivano i suoni molto bene. La colazione era abbondante, con pane fresco, marmellate, succhi, caffè. Sono soddisfatta e lo consiglio se il budget a disposizione non è molto elevato.

Alcuni ospiti molto maleducati hanno sbattuto le porte, parlate e sghignazzato a qualunque ora della notte, qulacuno è persino rientrato a notte inoltrata con cellulare o stereo ad alto volume e lo ha spento solo dopo un po'. Io non ho il sonno leggero, ma non è piacevole svegliarsi di soprassalto con musica reggenza reggae. Ci vuole rispetto degli altri. Ma questa non responsabilità della struttura.
Vanesa // 27.05.2019 // Booking.com

The room was good distributed, and the whole hostel has a great atmosphere

The bathroom are a little small
Familientrip // 26.05.2019 // Booking.com