Hostel Mondpalast – In the middle of life
Hostel Mondpalast offers a variety of rooms, all designed according to the different signs of the zodiac. There is a wide choice from single rooms to 10-bed dormitories. Some of the private small rooms have their own shower / WC. The beds are already made. Best of all, the hostel has its own bar! After the nightcap, its just one floor up to fall into your comfy bed.
Top Location
The hostel is located in the heart of Dresden's lively trendy district (the "Neustadt"). All pubs and some clubs are located in the vicinity. After going out in the evening, it is never far to your cozy bed. It only takes a few minutes to reach the beautiful banks of the Elbe and you can reach the impressive, historic old town and almost all attractions in 20 - 30 minutes on foot or in 10 - 15 minutes by tram. In addition, you can explore the great surroundings of Dresden: Meissen, the castles Moritzburg and Pillnitz and the "Saxon Switzerland", a small, very beautiful national park and a true paradise for climbers and hikers!
Here you will find directions to the hostel.
Pictures
Will be loaded, please wait...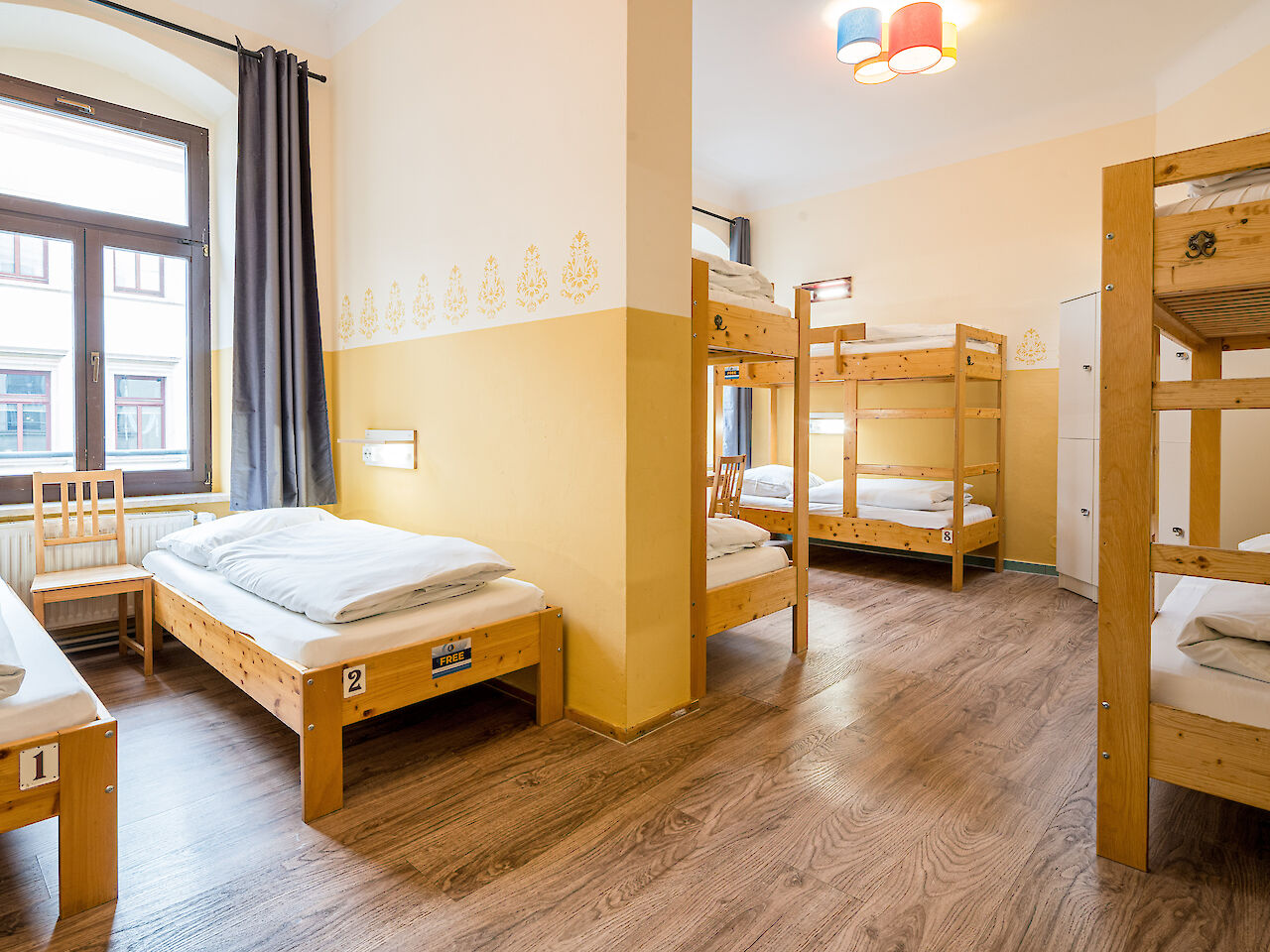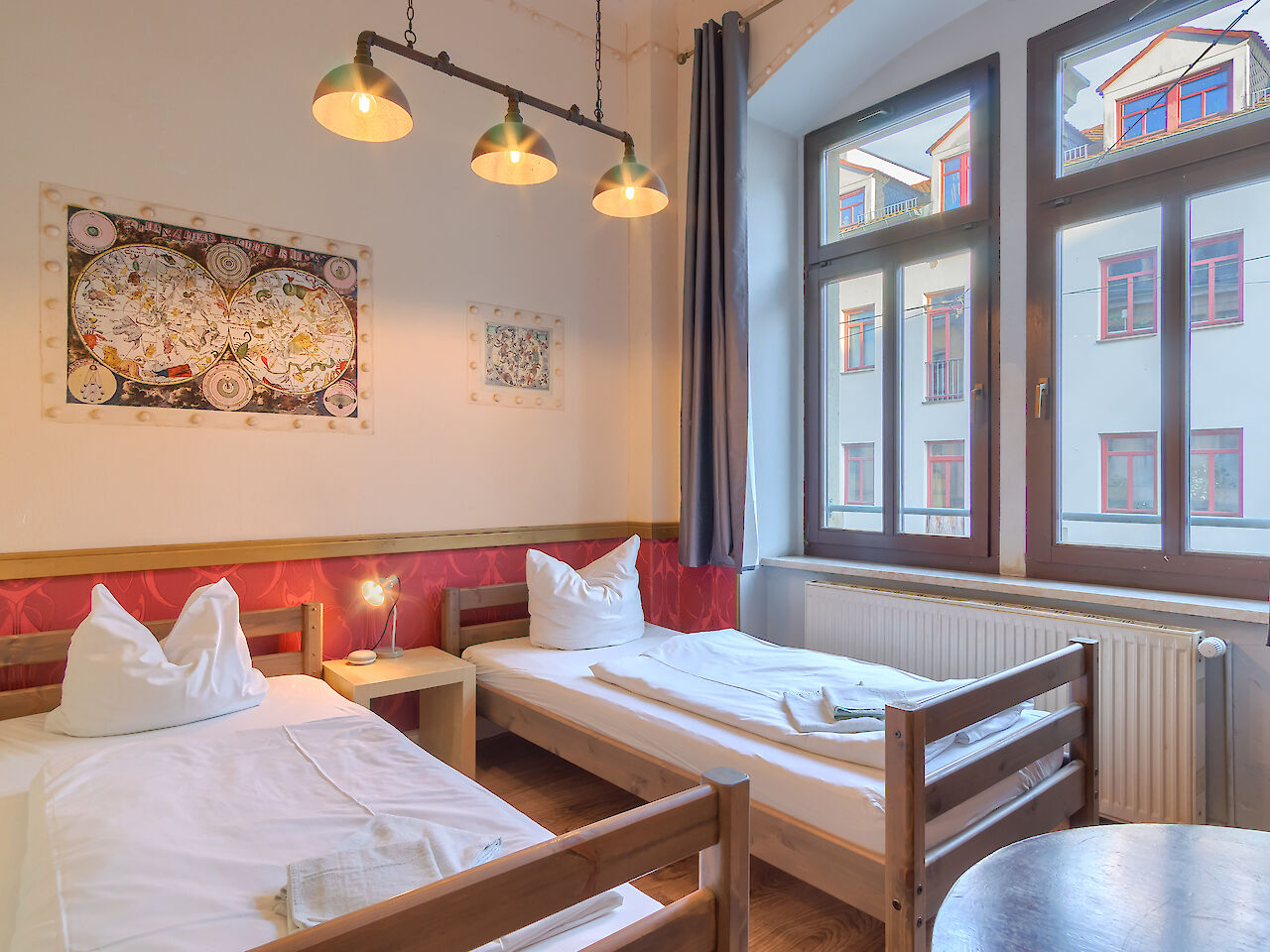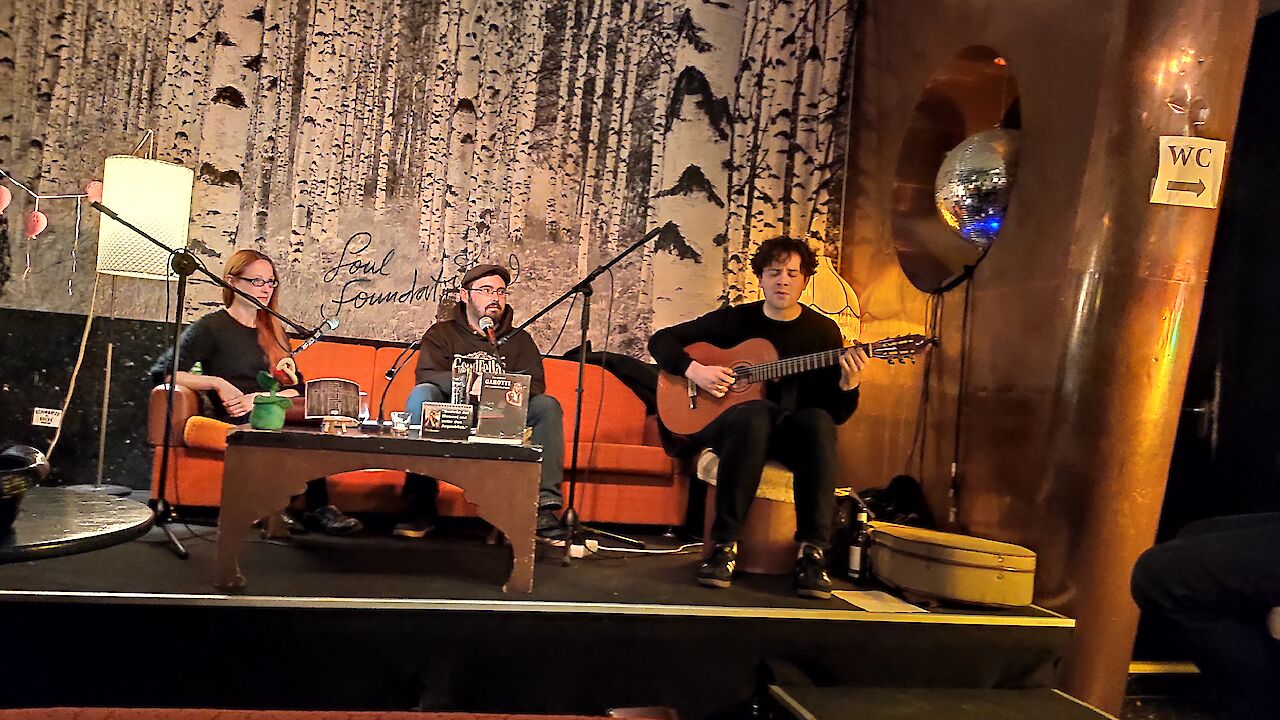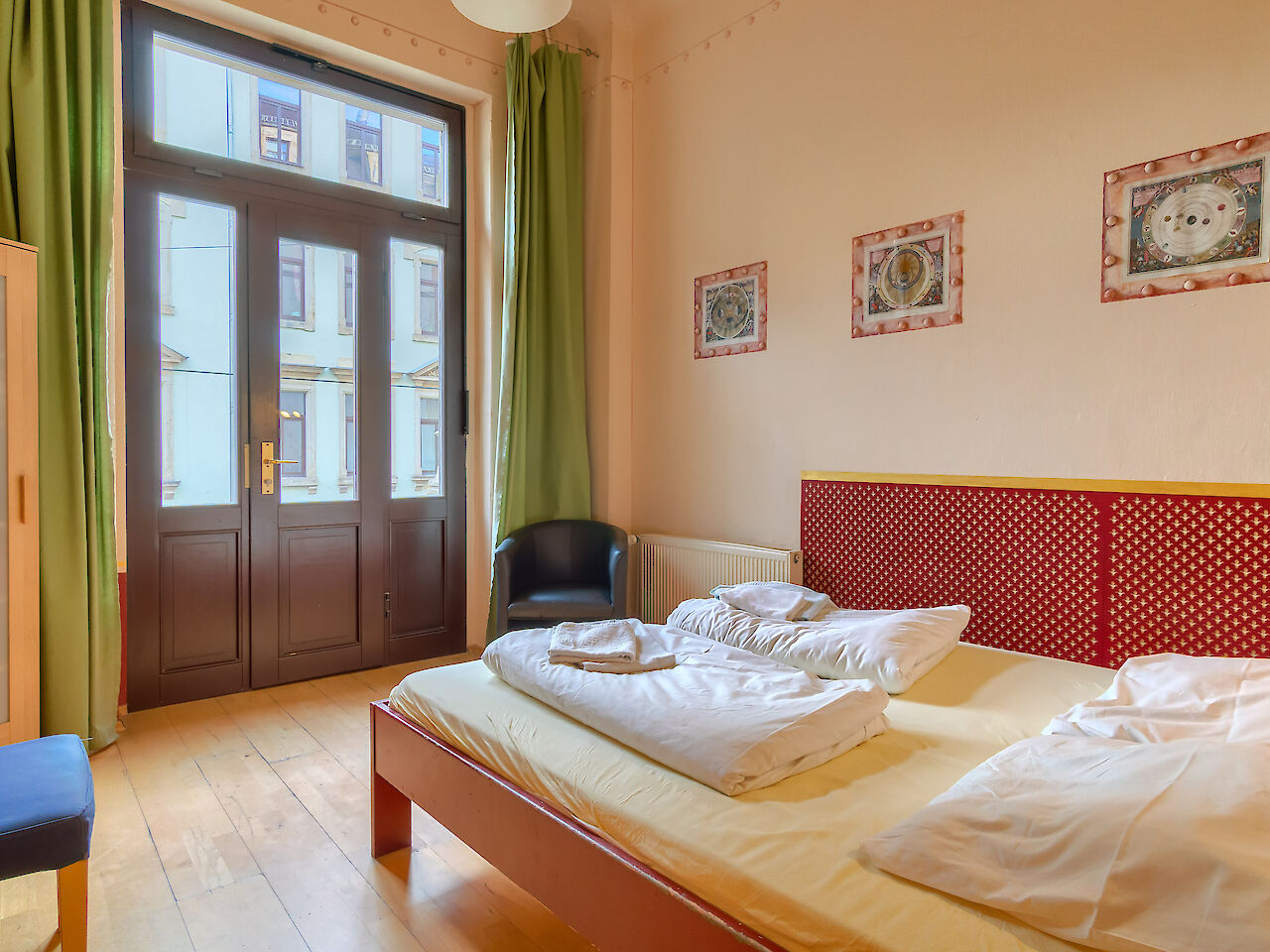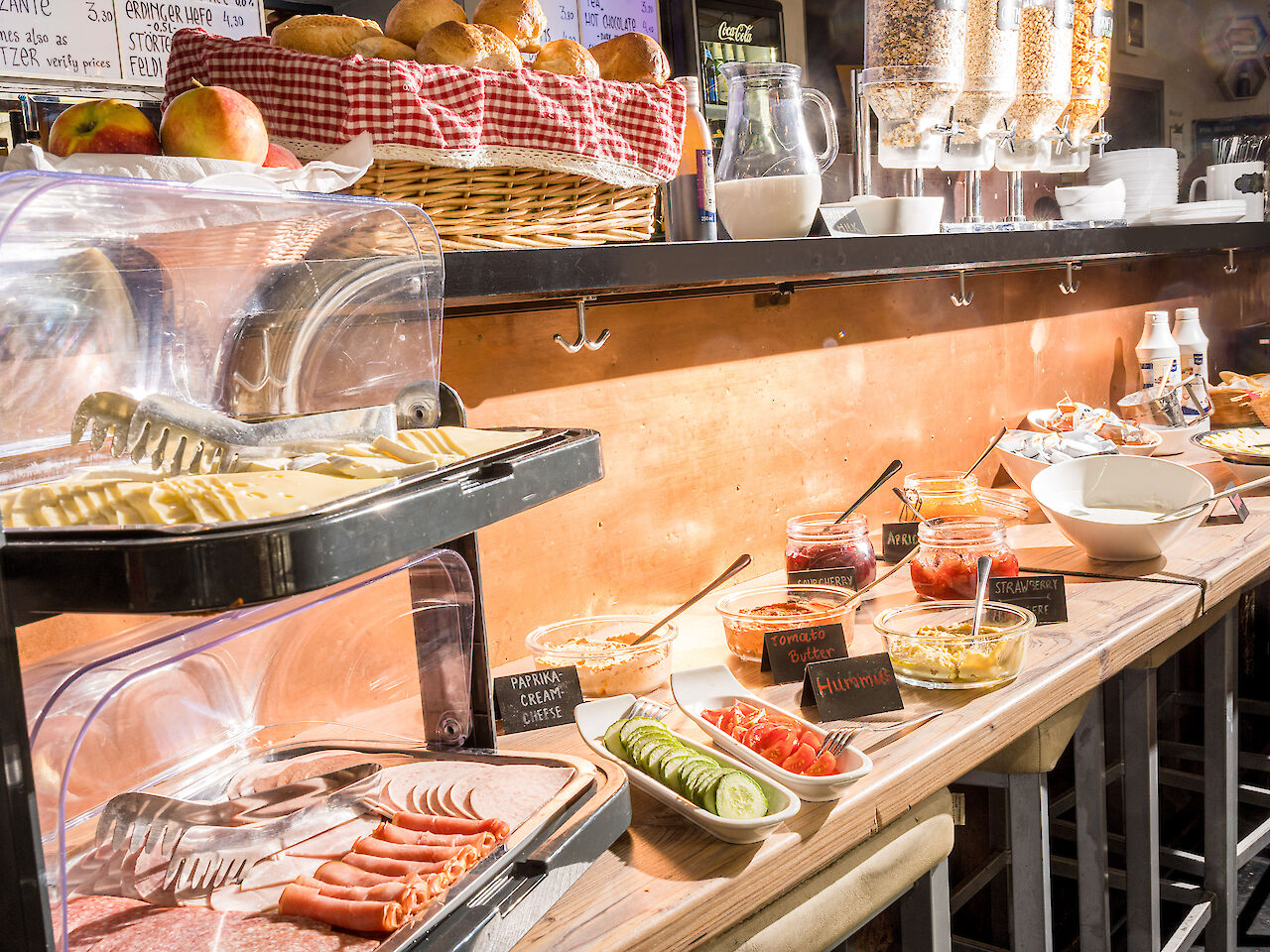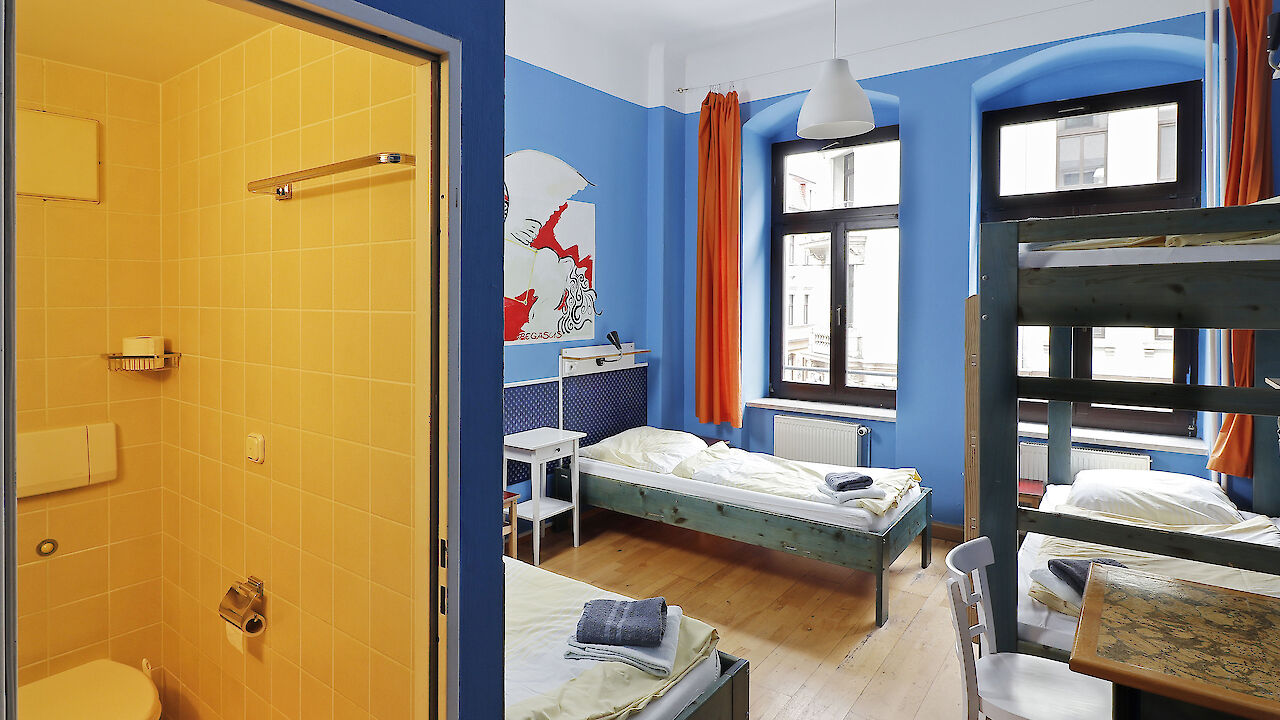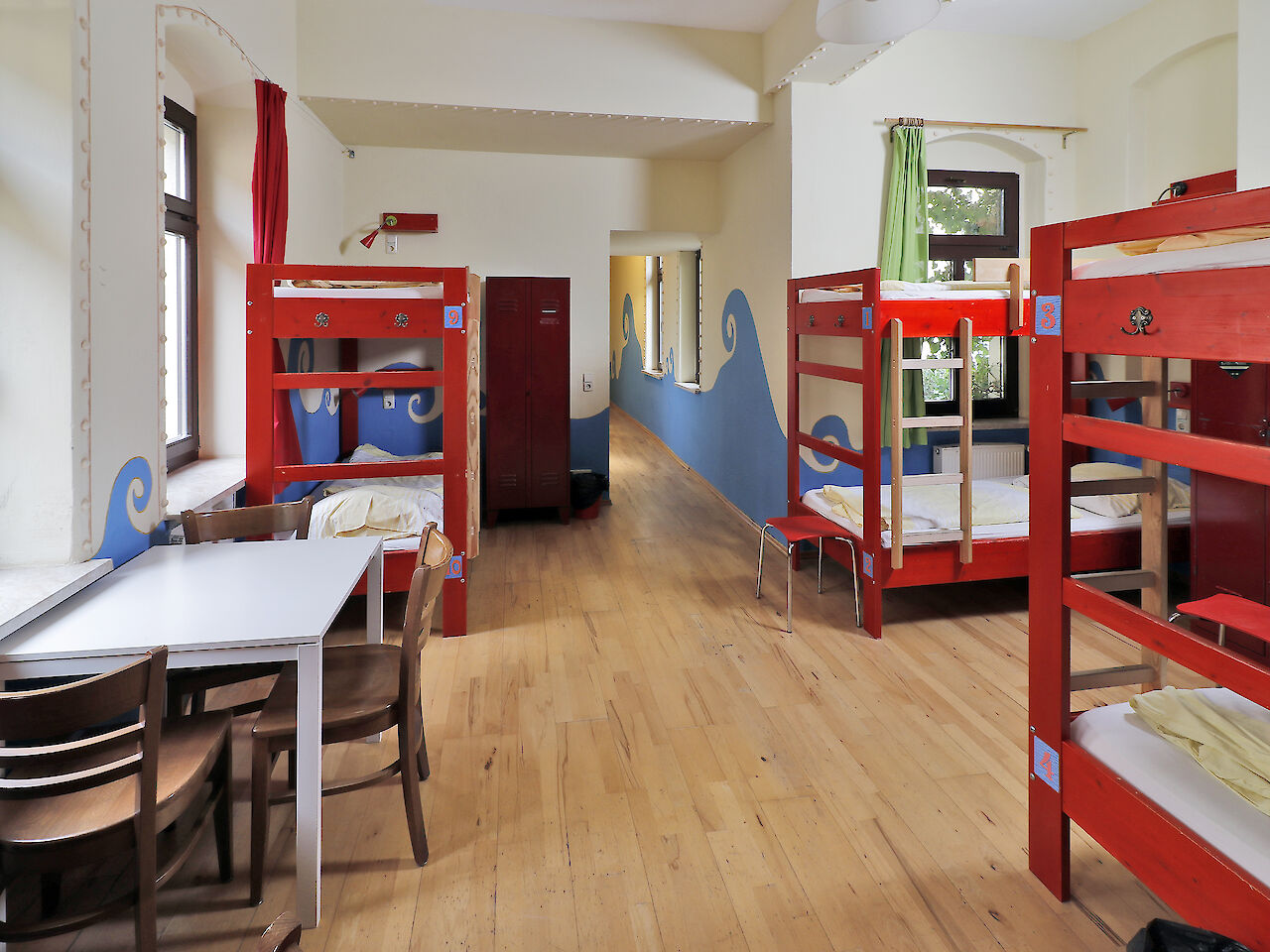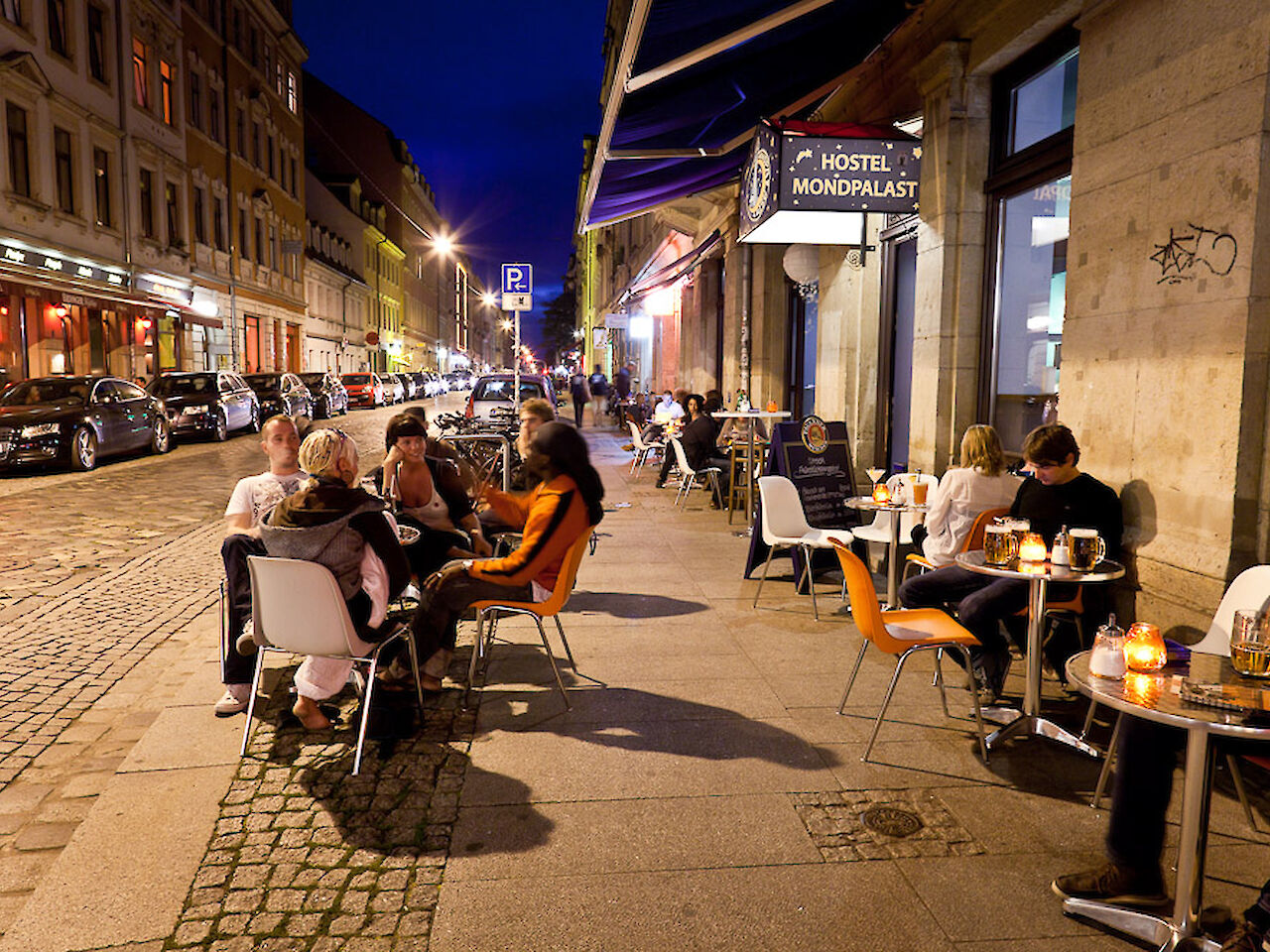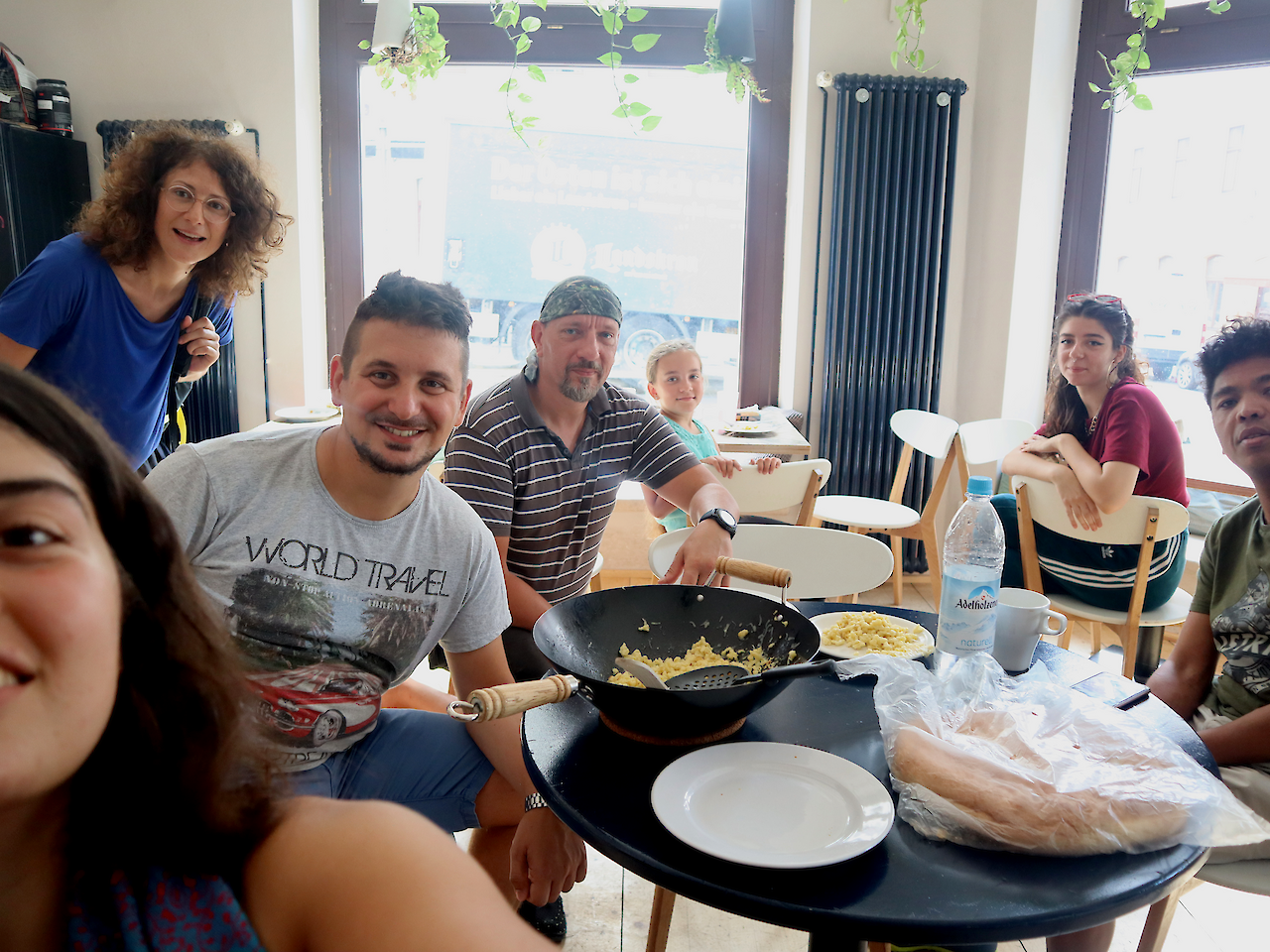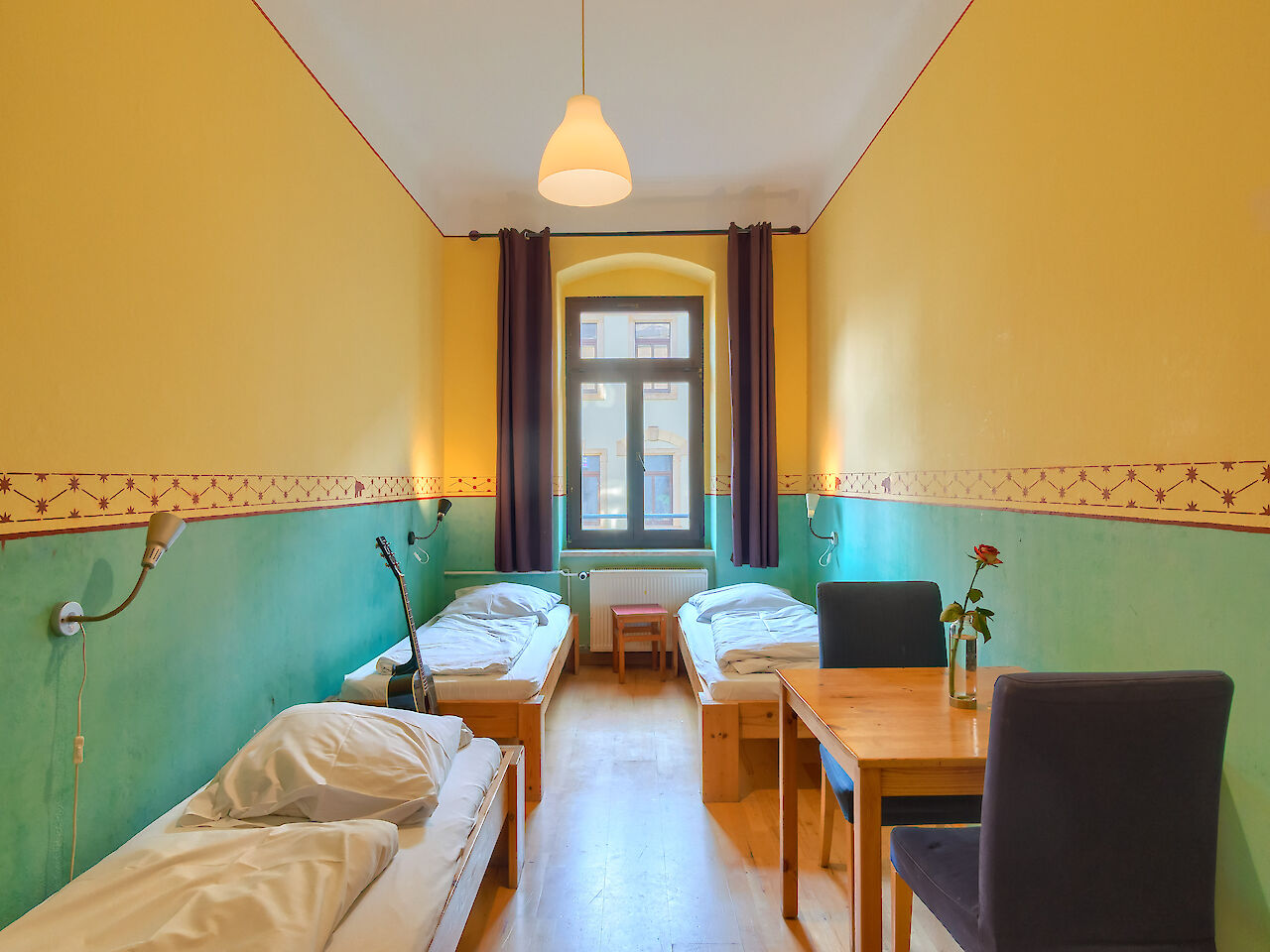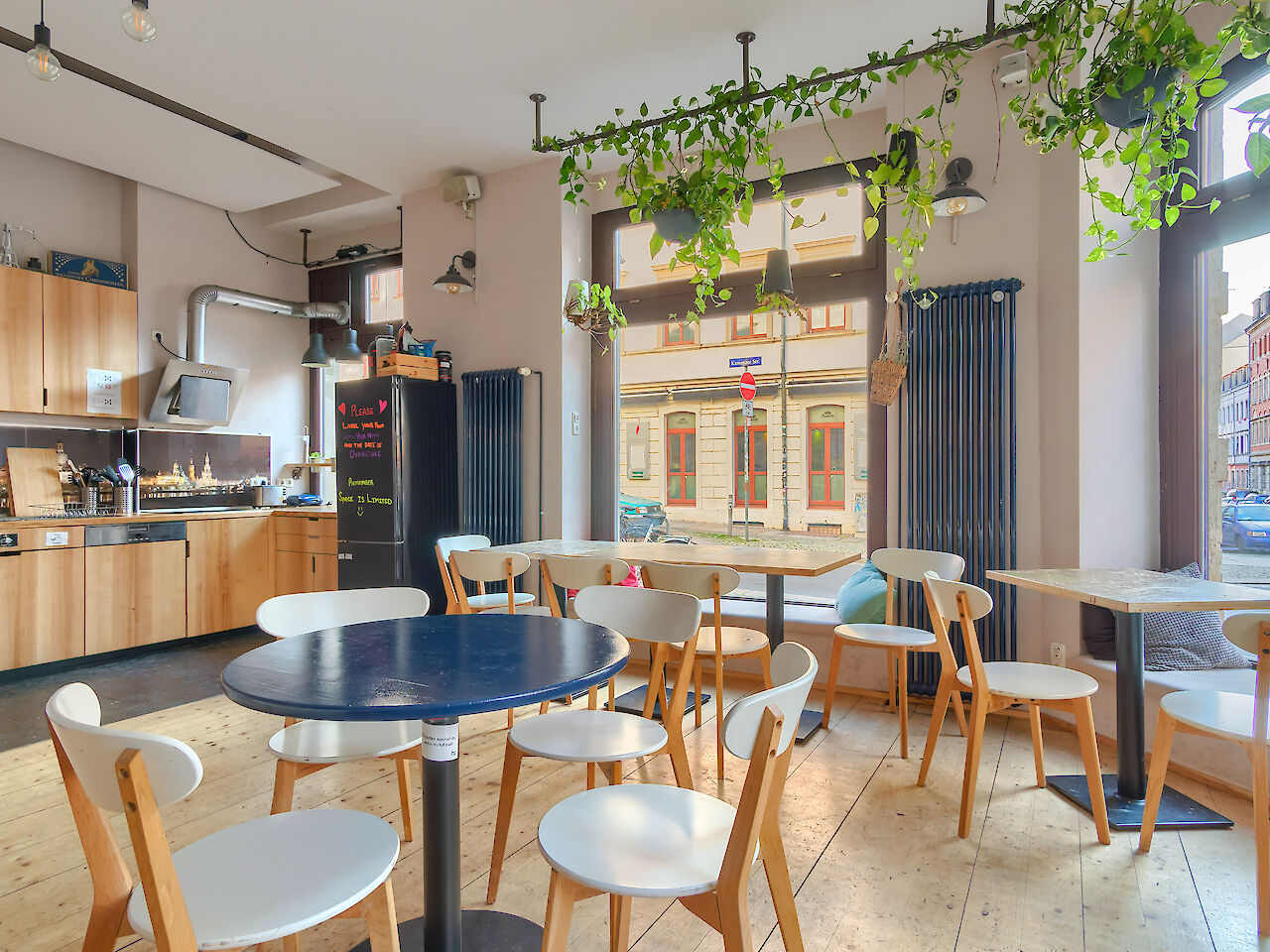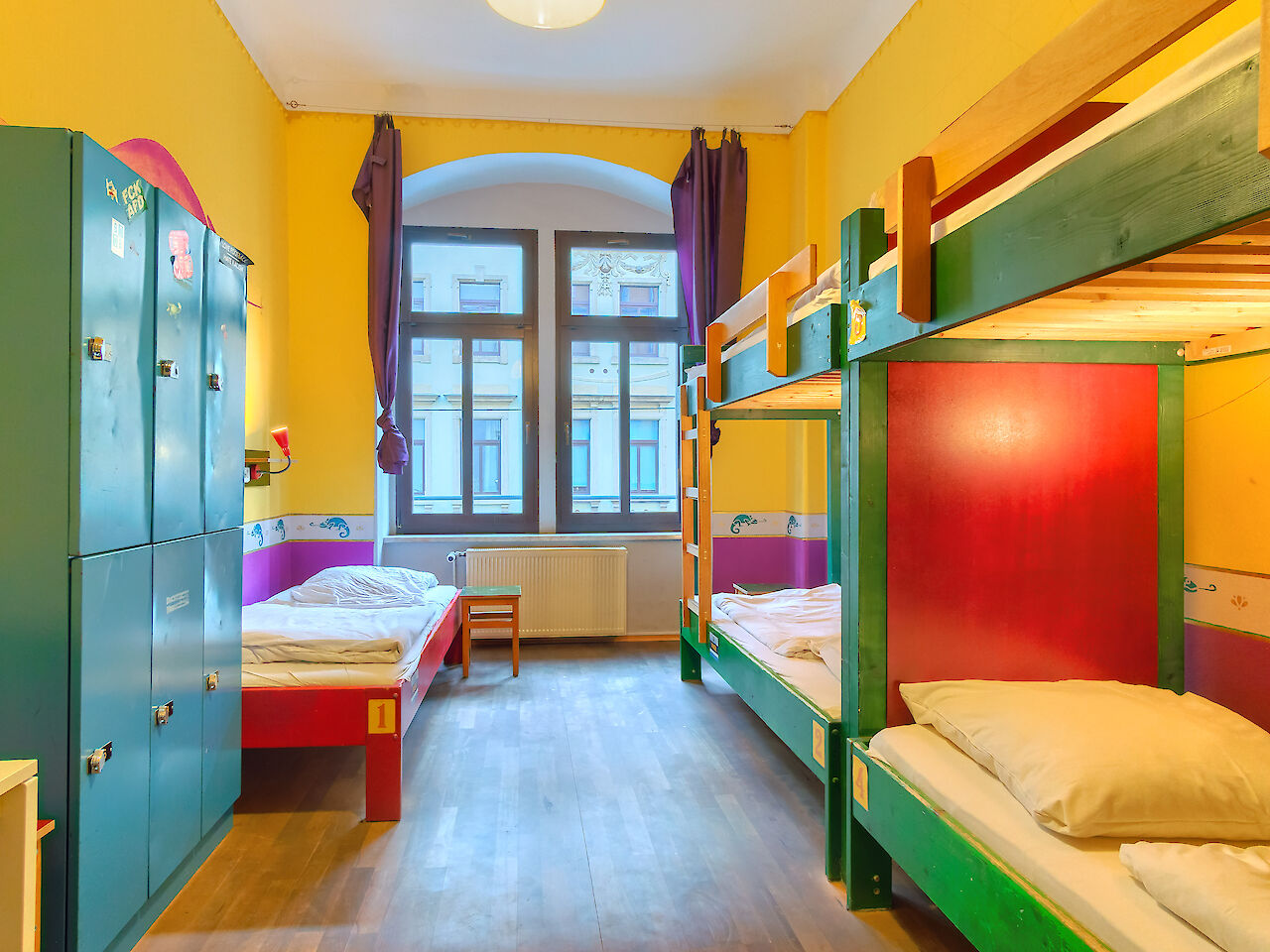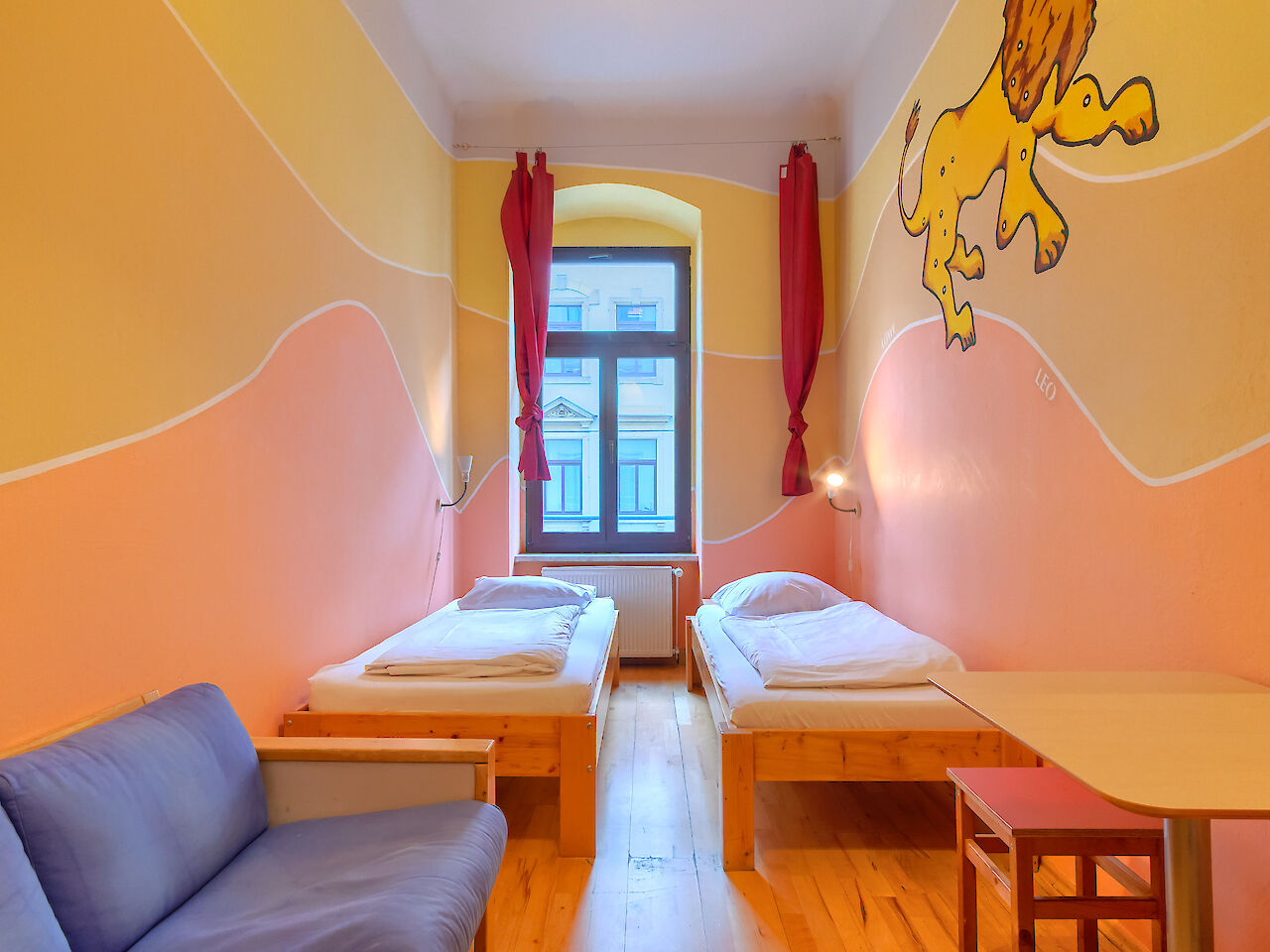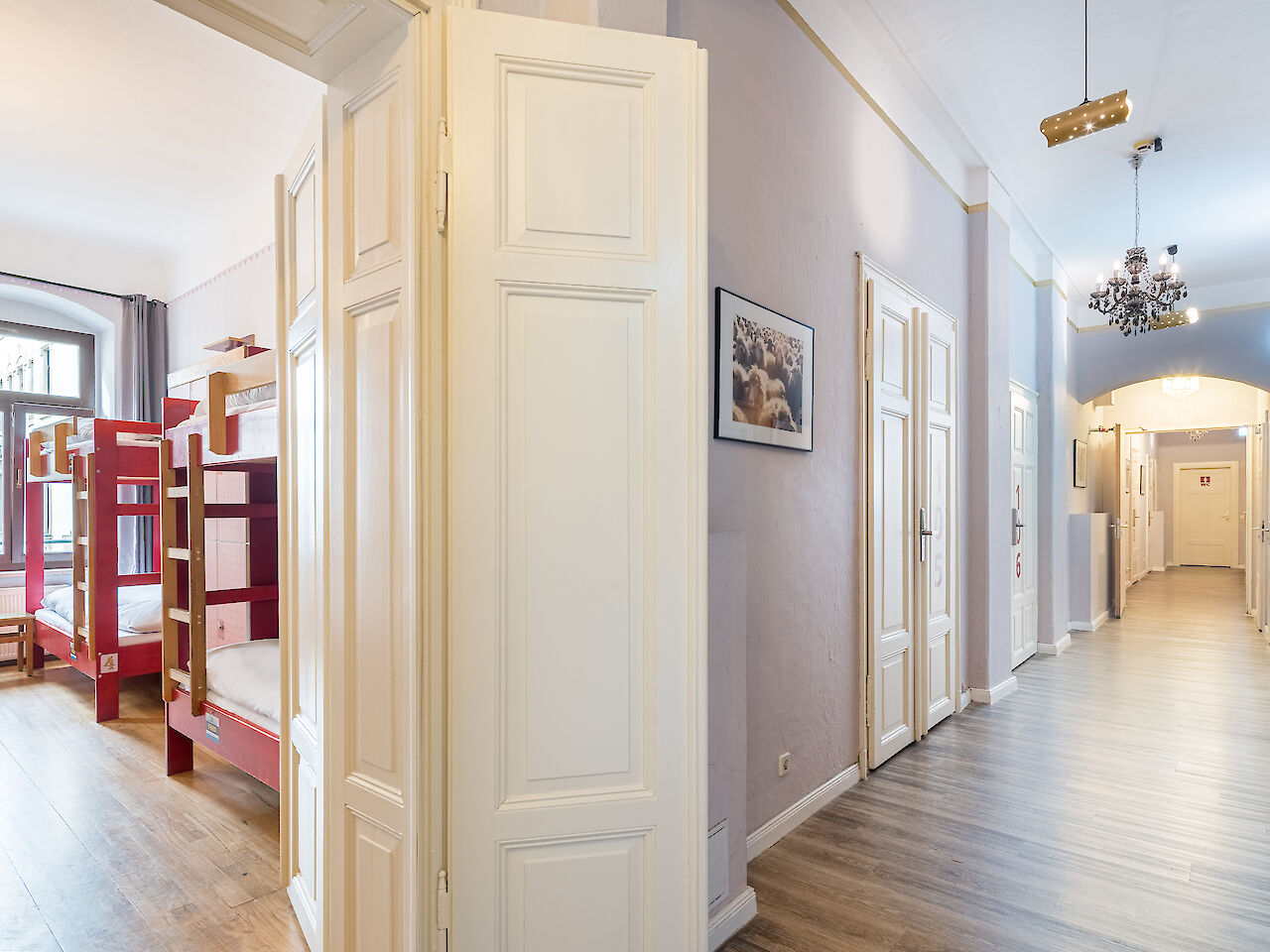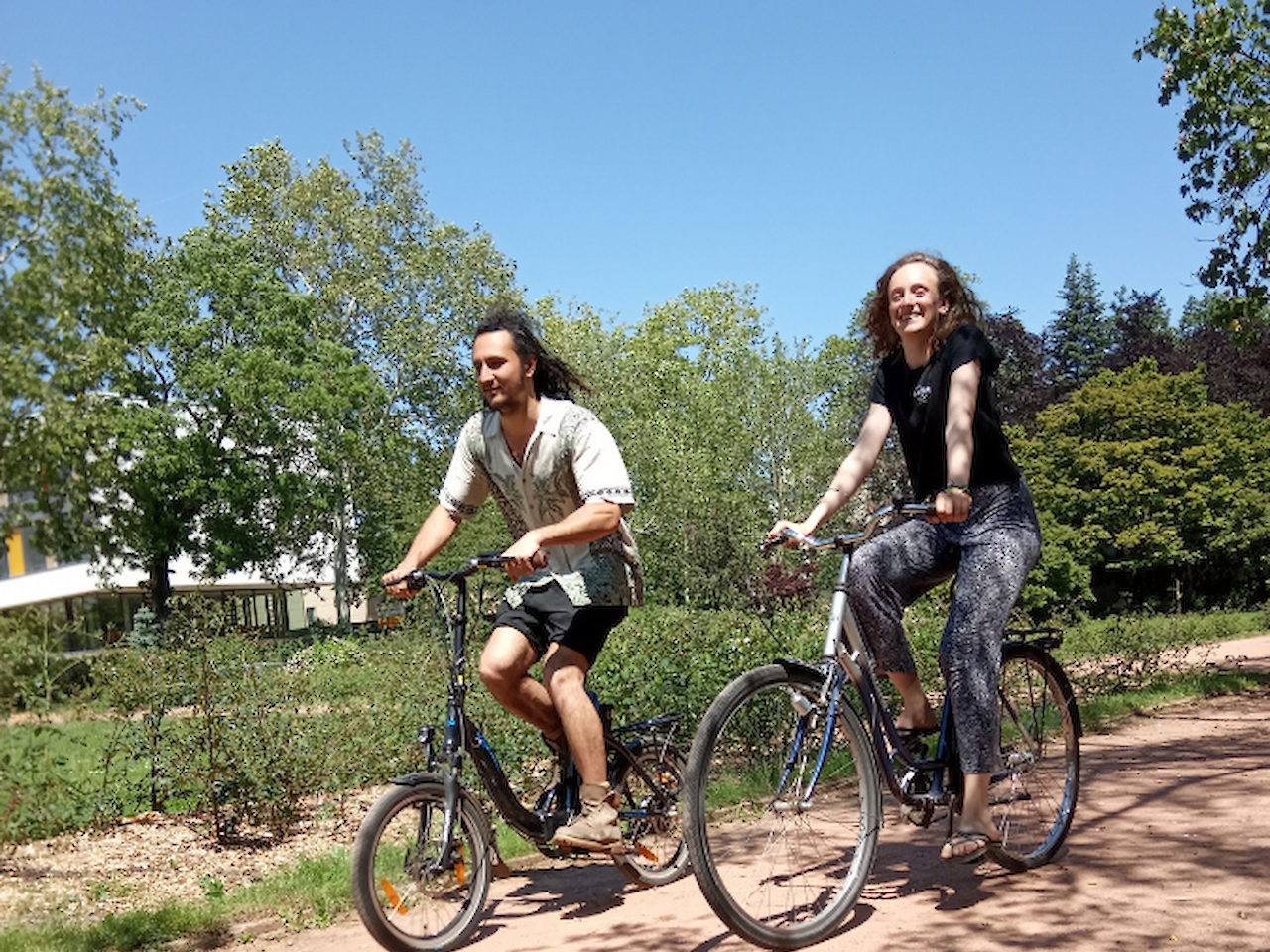 Low prices
You are on the right place: You will get the best price for your accomodation here on our own website. Guaranteed! Nowhere else on the Internet you will get the rooms/beds cheaper than here with a direct booking.
Our prices depend on season and occupancy. Please check your actual date for available rooms and the prices. If you are flexible in terms of time, it may also be worth to look for the best price on other days.
Bed linen €3.50 (once off, obligatory)

Late check-out until 13:00 €3 (per person)

Bicycle rental €8/day, E-Bike €12/day

Early check-in from 12:00 €3 (per person)
The city of Dresden demands from your guests an accommodation tax amounting to 6% of the accommodation costs. This is not yet included in the prices, as, for example, professionally arranged overnight stays or guests under 18 years of age are exempt from this tax. More info: http://dresden.de/beherbergungssteuer
Versatile service
Besides clean and comfortable beds at a central location in the heart of the trendy district the hostel has many more offers to make your stay in Dresden an all around successful experience:
Free, fast, reliable WiFi in all rooms

Completely equipped guest kitchen

Multilingual local receptionist

Lockers in all dormitories

Reading lamps and socket for each bed

Safe and dry bicycle parking

Bicycle and e-bike rental

bus tickets for Flixbus all around Germany

Launderette directly opposite

All you can eat breakfast offer

Hiking maps and tips for excursions

Later check-out until 13:00 possible

Bed linen already covered on the beds

Iron, hair dryer and straightener, umbrellas....
Interlocal Co-working café
Our bar/café can also used as Interlocal Co-working Café at daytime. Unlike a regular café, you pay for the time you use the space and receive this benefits:
an individual space in a cozy and welcoming cafe which is located in a lively Hostel.
a chance to network and connect with travelers, fellow freelancers, companies, and co-workers
fast and reliable internet 400 Mbit/s
accessible charging outlets for your devices
well lit tables with laptop stands
open kitchen space to assemble or heat food
Fresh home-made seasonal tea, filter coffee and fruits included
PRICING: €3/hour, €14/daypass, attractive discounts for longer use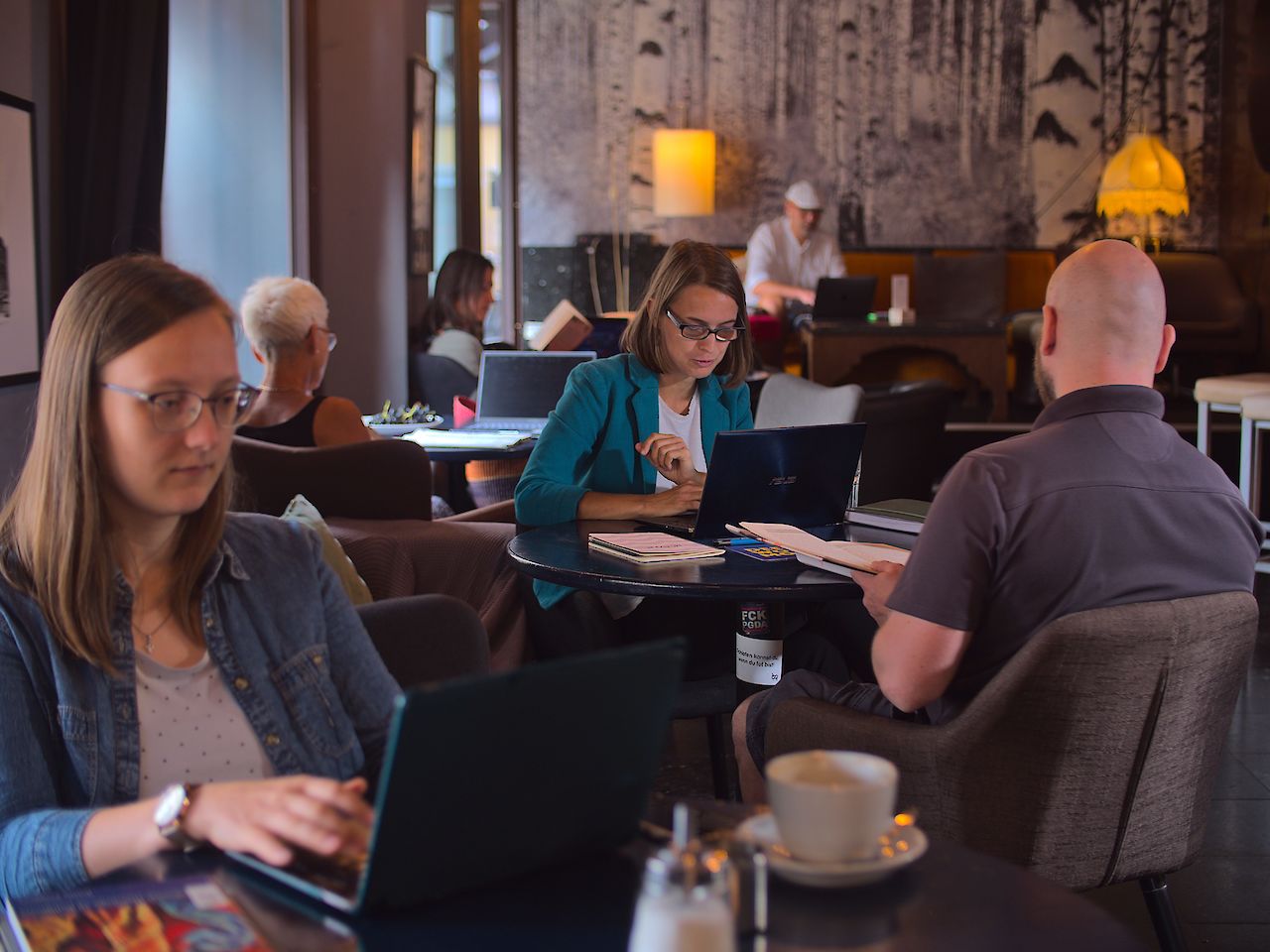 Events in our bar
31.12.2022

Saturday

00:00
Events on December at Hostel Mondpalast

Groups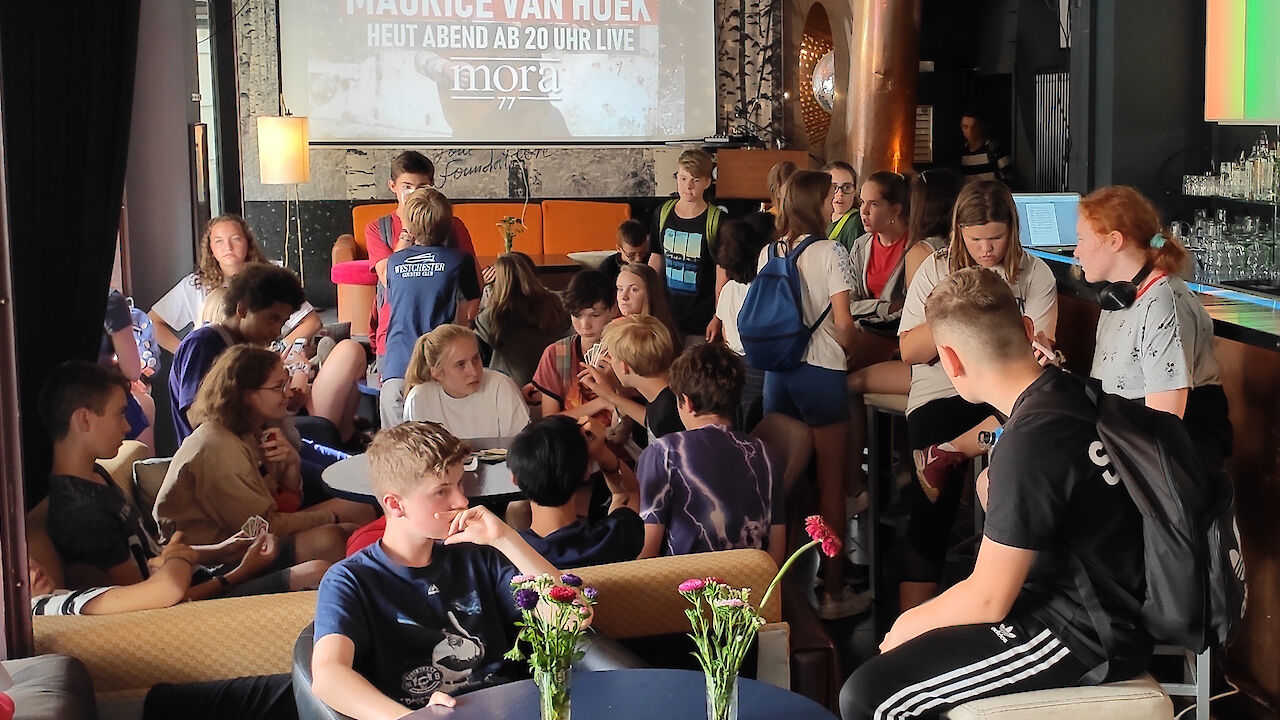 The hostel is suitable for groups. There are enough toilets and baths, the rooms are very spacious. For the group leaders there are single and double rooms with private bathroom. With just under 100 beds the hostel also offers enough space. The hostel offers two types of breakfasts, as well as evening meals and packed lunches. In addition, we are happy to help and support you in planning your day and have a partner program with various organizers in Dresden and the surrounding area.
Reviews
486 reviews in the last 12 months on Hostelbookers.com, Booking.com, Tripadvisor, Hostelworld.com, Google, RateMe!

| | |
| --- | --- |
| Atmosphere | |
| Cleanliness | |
| Facilities | |
| Fun | |
| Location | |
| Security | |
| Staff | |
| Value | |
Sylvie // 04.12.2022 // Booking.com
Mike // 04.12.2022 // Booking.com
Muhammad // 01.12.2022 // Booking.com

da gab es viele Betrunkene, die zu viel Lärm gemacht haben und niemand vom Hotel sie angesprochen hat
Selin // 01.12.2022 // Booking.com

Es ist sehr schön hier. Das Personal ist sehr nett und sehr freundlich. Es war definitiv das beste und komfortabelste Hotel, in dem ich je geblieben habe. Es ist großartig und ich empfehle es.
Thiago // 30.11.2022 // Booking.com

o hostel está localizado em bairro fora do centro histórico, mas de fácil acesso, ficando 20min afastado a pé. a maior vantagem é ser um bairro com opções para sair a noite, perto de locais que tenham tram, um mercado da rede "netto" próximo e com um bar bem bacana no térreo. fiquei em quarto privado com banheiro, com vista pra rua. no geral, achei a estadia bem satisfatória. no staff, temos o francisco que fala português.

achei o banheiro do quarto pequena, mas fácil de se acostumar.
Wolfgang // 30.11.2022 // Booking.com

Die zentrale Lage war einfach genial. Es ist zwar abends/ nachts etwas lauter aber das hat uns nicht gestört, denn das Viertel hat einfach einen Charme - nette, hilfsbereite Leute. In Fußweite sind viele Lokale - da ist für jeden was dabei. Uns hat die Stimmung einfach sehr gefallen. Die Zimmer selbst sind einfach, aber es ist sauber und funktionell. Wir hatten eins mit eigenem Bad. Das Frühstücksbuffet war für den Preis (€ 8,50 / Pers.) wirklich reichlich und es gab alles was man zum Frühstücken braucht. Die Brote/ Semmeln waren frisch gebacken und auch die anderen Beilagen waren immer frisch - besonders die selbstgemachten Kräuter- und Tomatenbutter - also was will man mehr. Wenn wieder mal Dresden, dann hier.
Sonja // 29.11.2022 // Booking.com
Elske // 29.11.2022 // Booking.com
chloelegras076020 // 24.11.2022 // Hostelworld.com

Auberge de jeunesse très propre, cuisine très bien équipée et située dans un quartier très agréable. Foncé, si vous voulez un endroit calme cependant si vous êtes jeune et voulez faire la fête, ce n'est pas le bon endroit.
martanicolis94510 // 22.11.2022 // Hostelworld.com

Very nice hostel especially for solo travellers. The staff is very friendly, the rooms are spacious and clean. The neighbourhood is also cool with a lot of cafes and restaurants around :)
Stefanie // 21.11.2022 // Booking.com

Tolle Räume, tolle Bar, coole Musik, lässige Küche, entspannte Atmosphäre, aufmerksames Personal, hippe Lage - einfach perfekt!
Olga // 21.11.2022 // Booking.com
Cesar // 21.11.2022 // Booking.com

melina was really friendly and suggested things to do and restaurants good wifi at the room, quiet at night

not related to the hostel.. mid november is probably not the best week to visit dresden.. so many things were closed
Francis // 21.11.2022 // Booking.com

The staff and communal areas in the lobby were great, and a good environment to meet other travellers. I'm glad I stayed in Neustadt because of the nightlife.
a4cjYCYGrFZE0Vbv // 20.11.2022 // Hostelworld.com

Overall very good hostel. Don't have any major complaints. Was a little far away from the main station for my liking but was still close enough to walk to the main sights.
Karina // 20.11.2022 // Booking.com
Mario // 19.11.2022 // Booking.com
Francesco // 17.11.2022 // Booking.com
Karina // 17.11.2022 // Booking.com
philpenrose9972 // 16.11.2022 // Hostelworld.com

Wonderful hostel.Handy for tram. God kitchen and wonderful bar.
Dominjon // 16.11.2022 // Booking.com

Localisation très sympa, le staff est accueillant. Il y a du café et du thé à volonté, et des bières sympa
Georg // 16.11.2022 // Booking.com
Uwe // 14.11.2022 // Booking.com
????? // 14.11.2022 // Booking.com
Hg67 // 14.11.2022 // Booking.com

ruhige Seitenstraße, Selbstversorger-Küche, Kaffee/Tee kostenlos

kein Aufzug, daher nicht geeignet für mobiltitätseingeschränkte Personen. Zimmertür quietschte extrem. Für 1 Nacht o.k.
Anna // 14.11.2022 // Booking.com

The property is clean, cozy, warm. Not far from the main places of interest Very international. Free tea and coffee and kitchenette makes it a great place to stay.
Achilles_hsieh // 13.11.2022 // Booking.com
Stephan // 10.11.2022 // Booking.com

Die Lage in der Neustadt ist super.

Teure Parkmöglichkeiten mit dem Auto in der näheren Umgebung.
Michael // 10.11.2022 // Booking.com
jacobzeitoun5125 // 06.11.2022 // Hostelworld.com

The staff here are fantastic. They make you feel like a part of a hostel family, which is great as a solo traveller after a long train trip. Free coffee and tea in the lobby, clean rooms and a homely vibe which made me wish I'd been here for longer.
khorlings2121 // 04.11.2022 // Hostelworld.com

Prima plek met veel ruimte (gangen, sanitair), een goede kamer en heel rustig op de slaapetage(s), terwijl het beneden levendig en relaxed is. De wijk Neustadt is lekker alternatief, met veel street art ( en helaas ook wel heel veel graffiti) en heel diverse horeca. Dat is allemaal vlak bij.
syedmohsinbukhari5151 // 03.11.2022 // Hostelworld.com

Great place to crash if you are travelling to Dresden. Highly recommended especially for solo travellers. The staff is great as well relative to the general level customer service in Germany. They offered me a free umbrella to take with me because it was raining heavily. I could tell that the umbrella was worth more than what I was paying for the night. I ended up refusing the offer but it was awesome that they did offer.
a5ssSAPHC9Q6xfIL // 02.11.2022 // Hostelworld.com

It is far from downtown but you can take the street train to go, its about 20 minutes by train.
gokmener // 29.10.2022 // Hostelworld.com

nice location, nice staff
michaeltlord2452 // 21.10.2022 // Hostelworld.com

A lovely hostel in a very arty and bohemian part of Dresden. I can't praise the staff highly enough. Louisa was do lovely, helpful and friendly as was the English young man who's name eludes me. A beautiful place.