Hostel Mondpalast – In the middle of life
Hostel Mondpalast offers a variety of rooms, all designed according to the different signs of the zodiac. There is a wide choice from single rooms to 10-bed dormitories. Some of the private small rooms have their own shower / WC. The beds are already made. Best of all, the hostel has its own bar! After the nightcap, its just one floor up to fall into your comfy bed.
Top Location
The hostel is located in the heart of Dresden's lively trendy district (the "Neustadt"). All pubs and some clubs are located in the vicinity. After going out in the evening, it is never far to your cozy bed. It only takes a few minutes to reach the beautiful banks of the Elbe and you can reach the impressive, historic old town and almost all attractions in 20 - 30 minutes on foot or in 10 - 15 minutes by tram. In addition, you can explore the great surroundings of Dresden: Meissen, the castles Moritzburg and Pillnitz and the "Saxon Switzerland", a small, very beautiful national park and a true paradise for climbers and hikers!
Pictures
Will be loaded, please wait...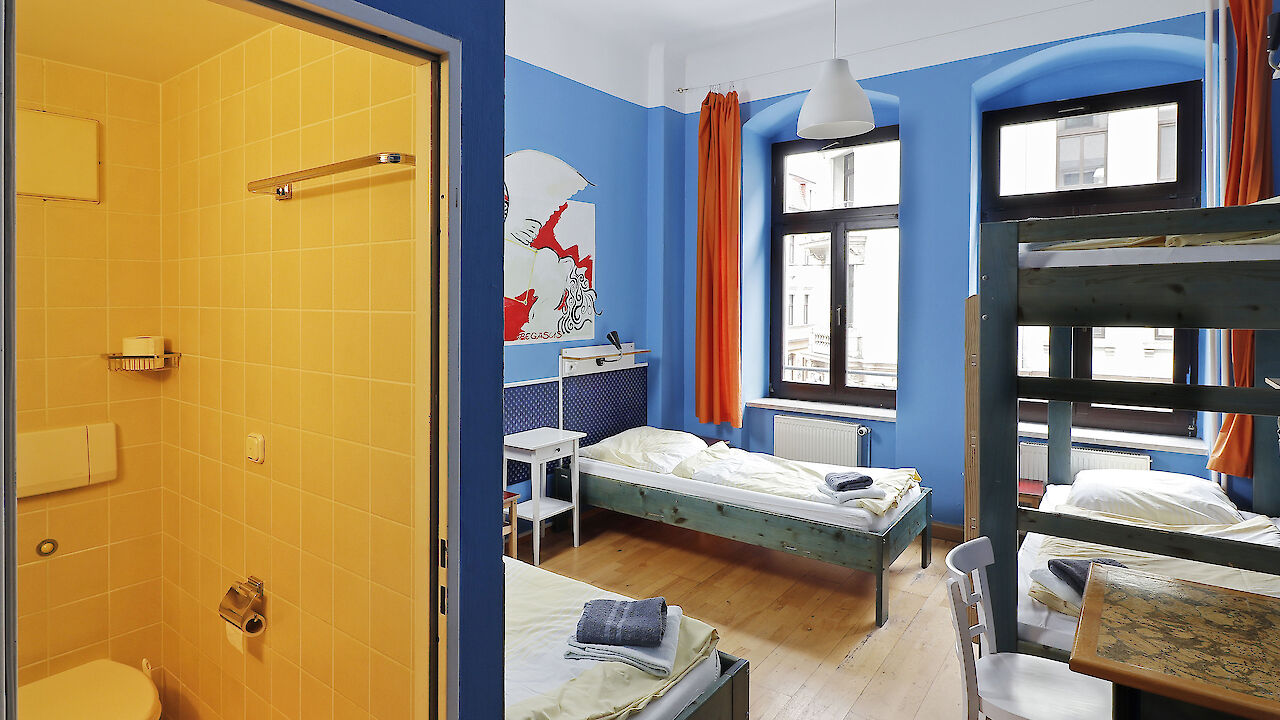 Low prices
You are on the right place: You will get the best price for your accomodation here on our own website. Guaranteed! Nowhere else on the Internet you will get the rooms/beds cheaper than here with a direct booking.
Our prices depend on season and occupancy. Please check your actual date for available rooms and the prices. If you are flexible in terms of time, it may also be worth to look for the best price on other days.
Bed linen €2.50 (once off, obligatory)

Breakfast buffet from €6.50

Late check-out until 13:00 €3 (per person)

Bicycle rental €7/day, E-Bike €12/day

Early check-in from 12:00 €3 (per person)
The city of Dresden demands from your guests an accommodation tax amounting to 6% of the accommodation costs. This is not yet included in the prices, as, for example, professionally arranged overnight stays or guests under 18 years of age are exempt from this tax. More info: http://dresden.de/beherbergungssteuer
Versatile service
Besides clean and comfortable beds at a central location in the heart of the trendy district the hostel has many more offers to make your stay in Dresden an all around successful experience:
Free, fast, reliable WiFi in all rooms

Completely equipped guest kitchen

Our own bar - open 24 hours

Multilingual local receptionist

Lockers in all dormitories

Reading lamps and socket for each bed

Safe and dry bicycle parking

Bicycle and e-bike rental

bus tickets for Flixbus all around Germany

Launderette directly opposite

All you can eat breakfast offer

Hiking maps and tips for excursions

Later check-out until 13:00 possible

Bed linen already covered on the beds

Iron, hair dryer and straightener, umbrellas....
Events in our bar
Sorry, there are no events registered at the moment.
Groups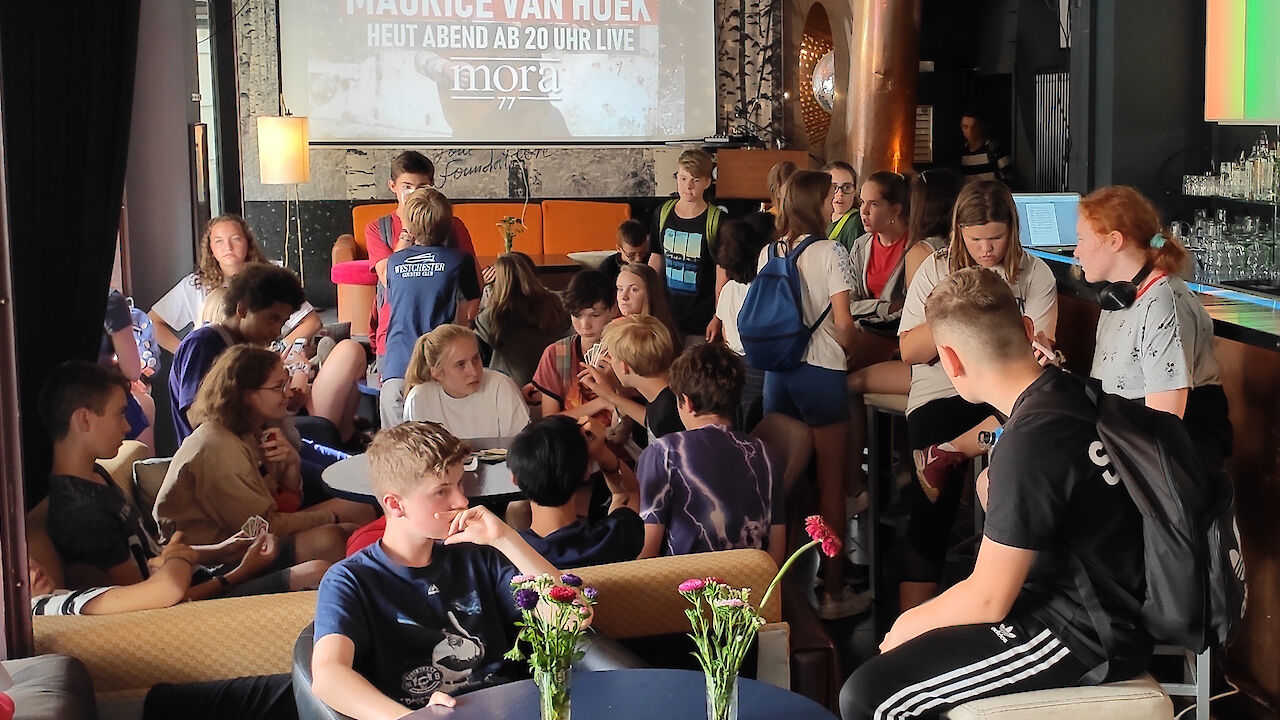 The hostel is suitable for groups. There are enough toilets and baths, the rooms are very spacious. For the group leaders there are single and double rooms with private bathroom. With just under 100 beds the hostel also offers enough space. The hostel offers two types of breakfasts, as well as evening meals and packed lunches. In addition, we are happy to help and support you in planning your day and have a partner program with various organizers in Dresden and the surrounding area.
Reviews
364 reviews in the last 12 months on Hostelbookers.com, Booking.com, Tripadvisor, Hostelworld.com, Google, RateMe!

| | |
| --- | --- |
| Atmosphere | |
| Cleanliness | |
| Facilities | |
| Fun | |
| Location | |
| Security | |
| Staff | |
| Value | |
Dia // 20.03.2020 // Booking.com
leonardgruenke7 // 17.03.2020 // Tripadvisor

Das Hostel bietet eine sehr schöne Atmosphäre, man wird dort sehr gut beraten und die Zimmer sind angenehm zum schlafen. Dresden ist eine sehr schöne Stadt um schöne Altbauten zu besichtigen. Auch in dieser Hinsicht wird man sehr gut beraten.

Zimmertipp:

Früh genug buchen , es lohnt sich ;)

Mehr Zimmertipps anzeigen
Rfrei // 13.03.2020 // Booking.com
Rob // 13.03.2020 // Booking.com

Super vriendelijk hostelpersoneel en ik zou er buiten zakenreizen ook overnachten. Precies in de wijk waar alles te beleven valt.

Tweepersoon dekbed was lekker geweet i.p.v. twee eenpersoons dekbedden.
Yuichiro // 13.03.2020 // Booking.com
Michael // 09.03.2020 // Booking.com

Sehr freundliches lockers Personal, sehr gute Ausgangslage um Dresden zu entdecken, am Abend im näheren Umfeld einige Restaurants und Kneipen. Trotzdem sehr ruhige Zimmer, auch nach vorne raus zur Strasse

Das Frühstück ist etwas klein gehalten aber bei dem Preis inkl Kaffee nicht wirklich ein Minus Punkt
Ingeborg // 06.03.2020 // Booking.com

Alles Bestens, gutes Preis Leistungs Verhältnis

Es war laut, viele Rüpelhafte Gruppen
Anonymous // 06.03.2020 // Hostelworld.com

Excellent facilities, helpful staff.
Éliane // 05.03.2020 // Booking.com
Anonymous // 04.03.2020 // Hostelworld.com

The hostel was amazing: the ambient is ideal for different type of people, amazing services and the staff makes sure that everything works smoothly. Will definitely come back :)
Št?pánka // 01.03.2020 // Booking.com
Caterina // 29.02.2020 // Booking.com
15_bws // 28.02.2020 // Tripadvisor

Ich bin mittlerweile Stammgast. Die Ausstattung erfüllt absolut die Erwartungen an ein Hostel und die Zimmer sind immer äußerst sauber. Besonders hervorzuheben ist das neue Gemeinschaftsbad, dass aus meiner Sicht ein Hingucker geworden ist. Auch die Integrierte Bar an der Rezeption ist einen Besuch wert ;)
Das allerbeste ist allerdings das immer freundliche und hilfsbereite Personal.
Aus diesen Gründen komme ich immer sehr gerne wieder.
Andrzej // 26.02.2020 // Booking.com
Viktor // 22.02.2020 // Booking.com
Elina // 20.02.2020 // Booking.com
Anonymous // 20.02.2020 // Hostelworld.com

This hostel is set in a trendy neighborhood. It's easy to walk to fun bars, good restaurants, 20min walk from the old town. The rooms were clean and well organized with lots of storage. The lounge area was adorable and it was easy to meet new people there. Staff was incredible! So helpful to find things to do in Dresden. Highly, highly recommend this place!
Tanya_vv // 19.02.2020 // Booking.com
Anonym // 15.02.2020 // Booking.com
James // 14.02.2020 // Booking.com
Aleksandra // 12.02.2020 // Booking.com
Maria // 10.02.2020 // Booking.com
Martina // 02.02.2020 // Booking.com
Jb // 01.02.2020 // Booking.com

Alles war sehr gut und freundlich, sowie auch die Livemusik von der brandenburgischen Band Krähe, an diesem Abend. Vielen Dank.. Bier Preise könnten an die Berliner Preise angepasst werden und nicht an die Hamburger Verhältnisse, _)

Als erstes die Frage zu stellen was einen nicht gefallen hat.. Kann ich nur als falsches Bewertungsoortal bewerten.
Leander // 31.01.2020 // Booking.com

Sympathic hostel in the center of Neustadt. Went with a few friends to have some nice days off. Party locations, restaurants and supermarkets very close, access to tramway in walking distance. Beds were comfy and well-prepared, so no unexpected surprises. Staff was very friendly. Thanks!

Breakfast is at an additional cost. Since it was eur 6.50 / 7.50 per day for a average breakfast, which I considered expensive, I didn't take advantage of that service.
Nicolas // 29.01.2020 // Booking.com

The staff was really nice, always available if you wanted to talk with them and also to give you information and suggest some things to do there.

The bed was really comfy but really really noisy that sometimes you could wake up in the night because the sound when you move
Ünal // 28.01.2020 // Booking.com
Wassim // 24.01.2020 // Booking.com

I little bit close to the center ( 35min walking )

You should pay for everything ! Towel... there is no shampoo or soap for the shower, the bathrooms grouns is always wet.
gdirico177404 // 24.01.2020 // Hostelworld.com

Probably one of the most charming hostels I've stayed at! The staff was really friendly and accommodating when I arrived and while it's not the shiniest/newest place in the world everything was pretty clean. It's not too far of a walk from the S-Bahn. The only thing that barely even bothered me was just that you have to open the windows for a few minutes to let fresh air in or else the air smells stale. However that's common anywhere in Germany. I've already recommended it to some of my friends!
Mikhail // 23.01.2020 // Booking.com
Meko // 21.01.2020 // Booking.com

Very clean and comfortable place.
Flavio // 15.01.2020 // Booking.com

O hostel é bem astral, tem uma boa equipe na recepção que oferece boas informações sobre a cidade. Fica localizado numa rua bem movimentada, com bares e restaurantes e a uma curta caminhada de transportes. Há um bom café da manhã servido a um custo adicional.

Quartos pequenos, o que dificulta para colocação dos objetos pessoais.
Rowan // 11.01.2020 // Booking.com
Jillyn // 10.01.2020 // Booking.com

There is a shared kitchen near the reception table and there are board games and drinks to relax at night. There's also a kebab store nearby at night to grab for supper.
D // 09.01.2020 // Booking.com

Sehr kompetentes & freundliches Personal, Bar im Aufenthaltsraum