From Monday 22.11. no tourist accommodation is allowed.
Please read our Corona Hostel FAQ. Here you can find up to date info about the Corona situation in Dresden
Book without risk! With direct bookings via our website (yes, exactly this one) you can cancel completely free of charge up to two days before arrival.
We do our best to do adjust our services to the unusual situation. We have implemented the following hygienic measures:
We always adapt our daily cleaning to the current guidelines of the RKI.
Of course, we will check for you whether your stay is permitted on the basis of the applicable regulation and will inform you immediately.
In the common area, all tables are 1.50m apart.
The occupancy of our rooms in the corridors is based on the best possible distance from each other.
We welcome you at the reception at a reasonable distance and of course with a mask.
As few strangers as possible sleep together in one room. Families, friends etc. sleep together.
Each guest must fill out a registration form with their contact details.
Your team from the Hostel Mondpalast
Hostel Mondpalast – In the middle of life
Hostel Mondpalast offers a variety of rooms, all designed according to the different signs of the zodiac. There is a wide choice from single rooms to 10-bed dormitories. Some of the private small rooms have their own shower / WC. The beds are already made. Best of all, the hostel has its own bar! After the nightcap, its just one floor up to fall into your comfy bed.
Top Location
The hostel is located in the heart of Dresden's lively trendy district (the "Neustadt"). All pubs and some clubs are located in the vicinity. After going out in the evening, it is never far to your cozy bed. It only takes a few minutes to reach the beautiful banks of the Elbe and you can reach the impressive, historic old town and almost all attractions in 20 - 30 minutes on foot or in 10 - 15 minutes by tram. In addition, you can explore the great surroundings of Dresden: Meissen, the castles Moritzburg and Pillnitz and the "Saxon Switzerland", a small, very beautiful national park and a true paradise for climbers and hikers!
Here you will find directions to the hostel.
Pictures
Will be loaded, please wait...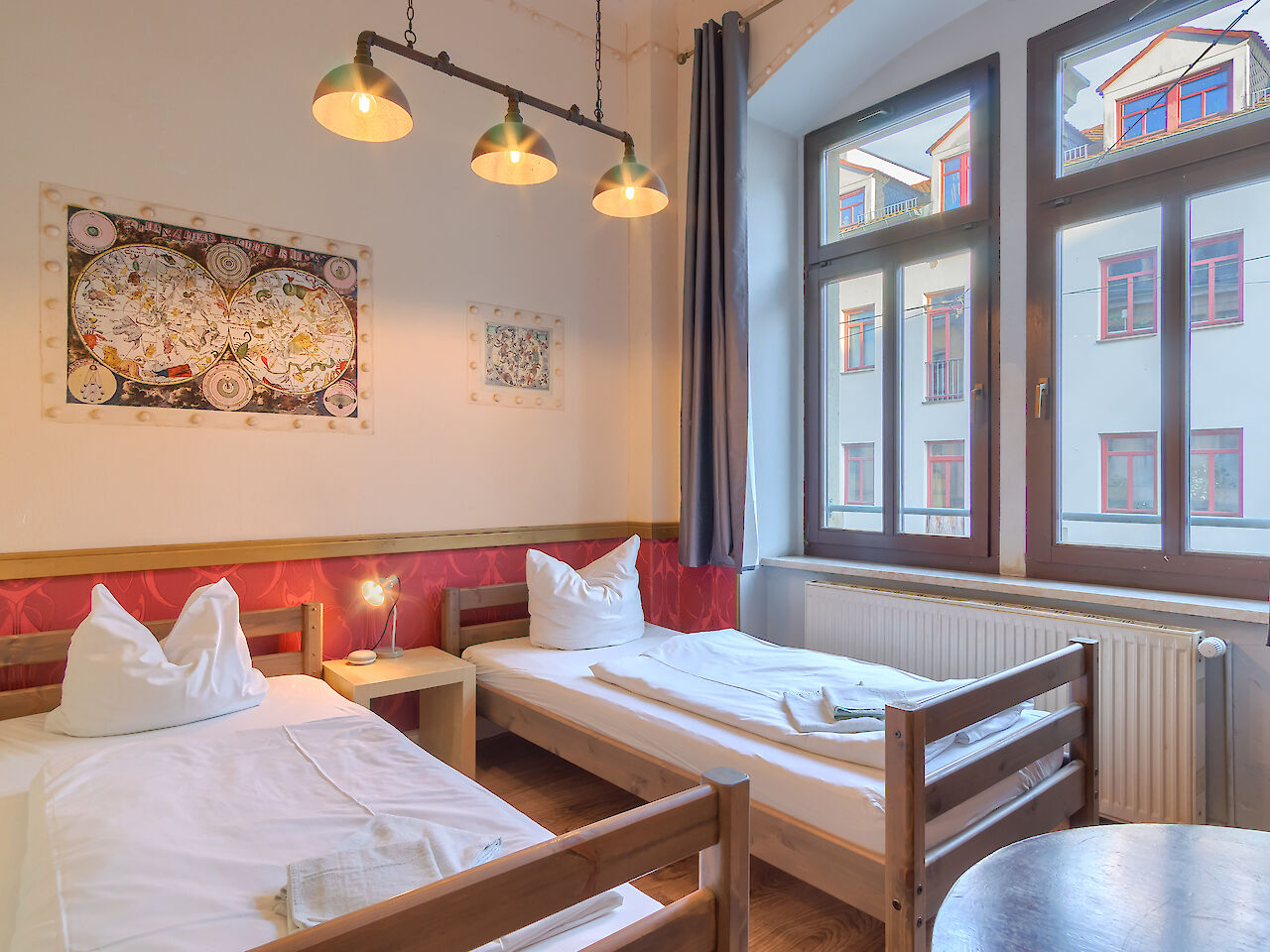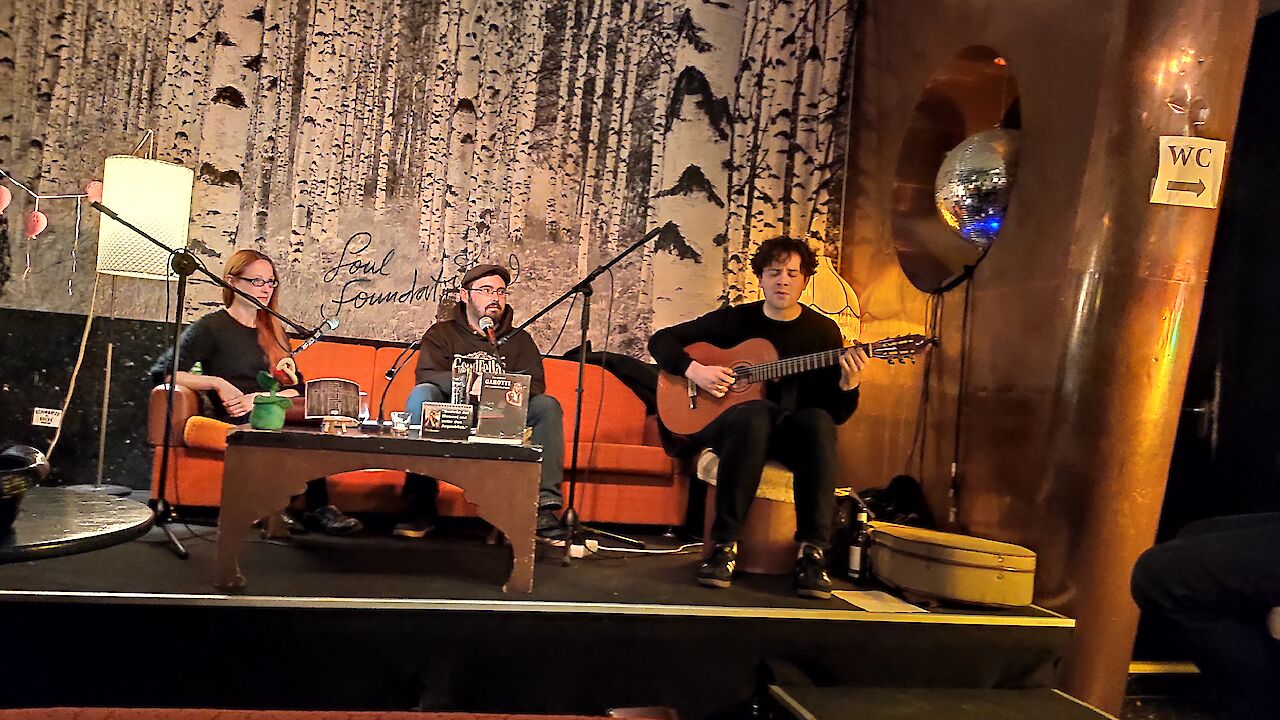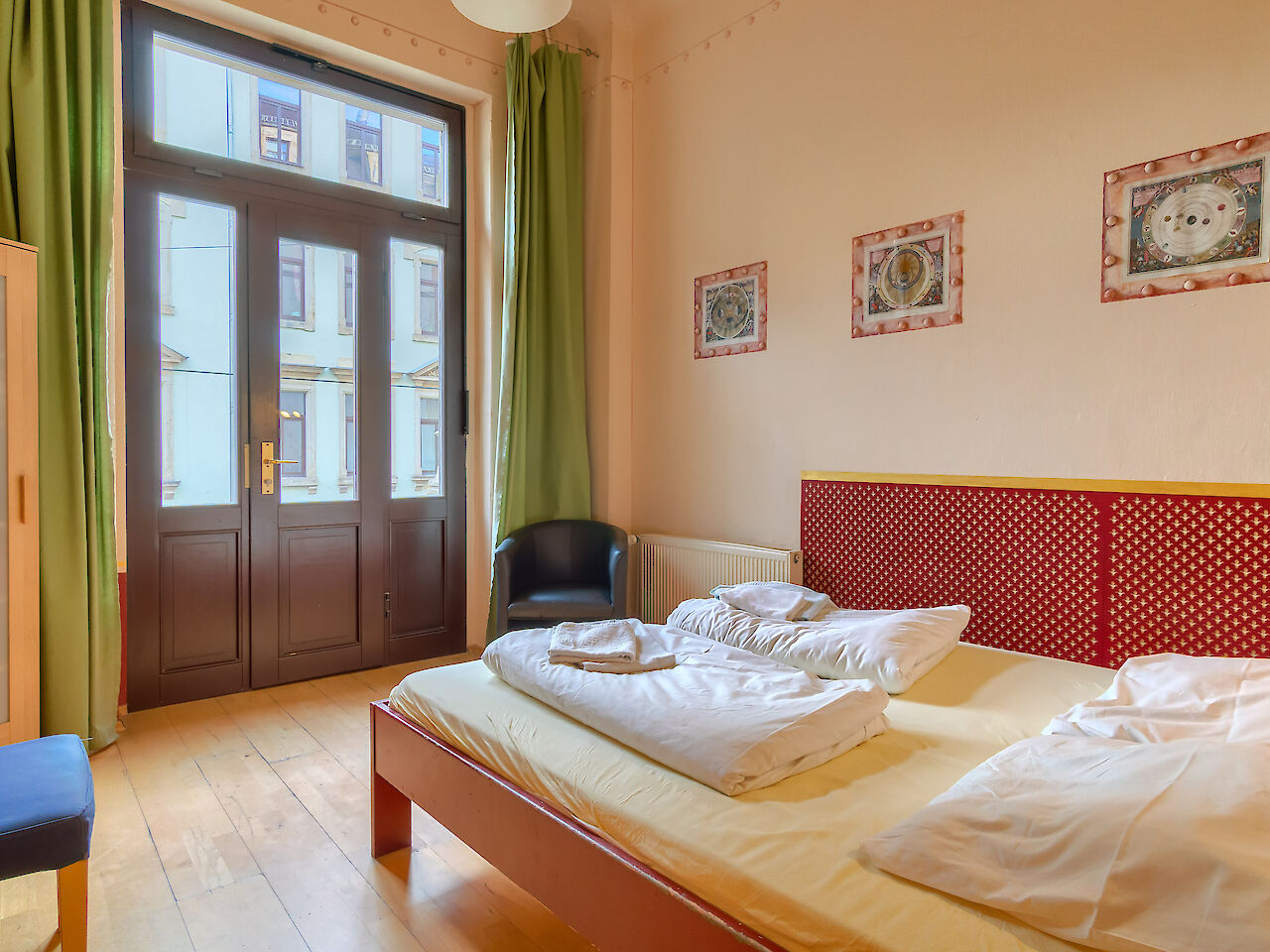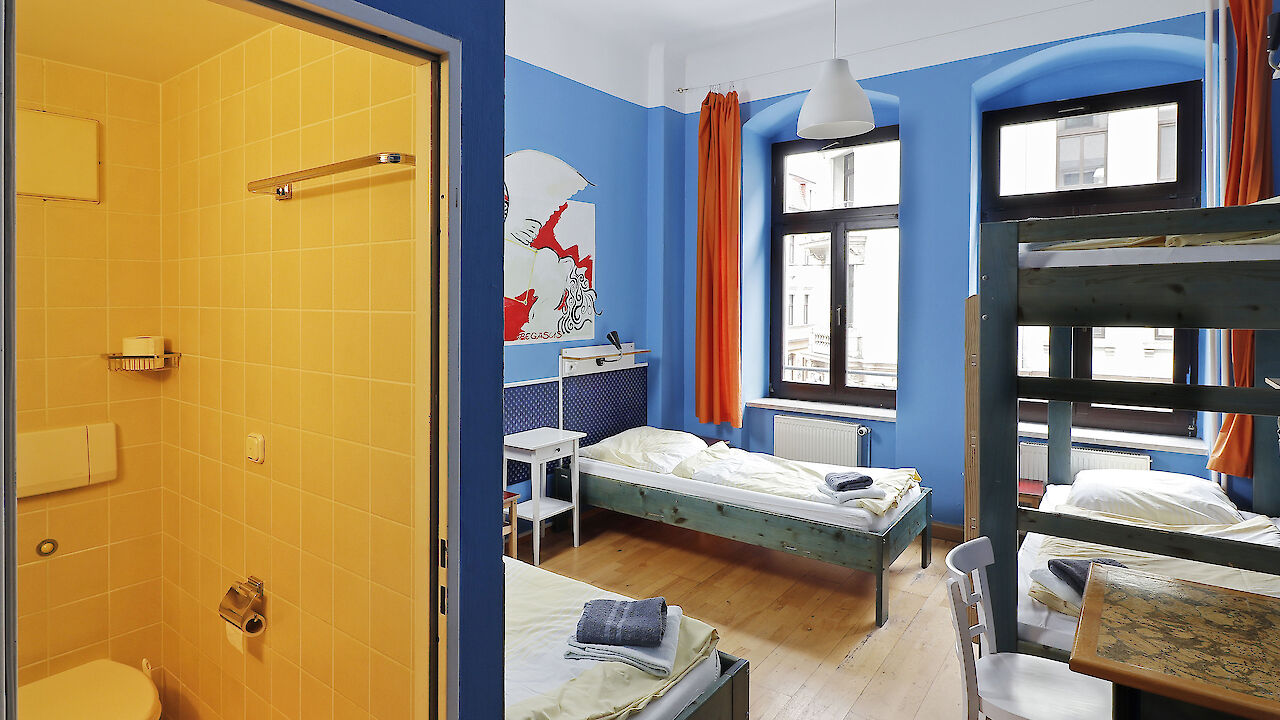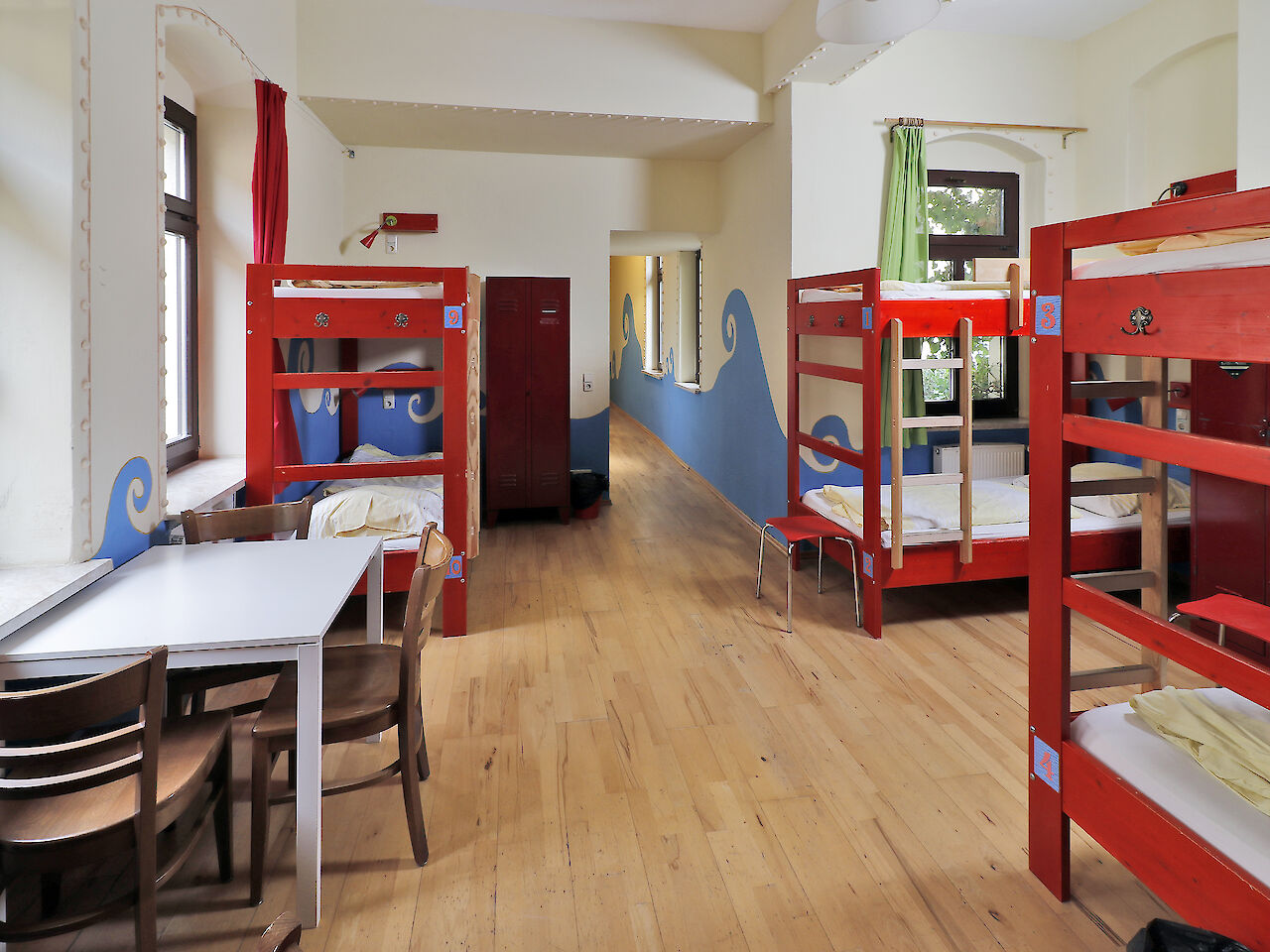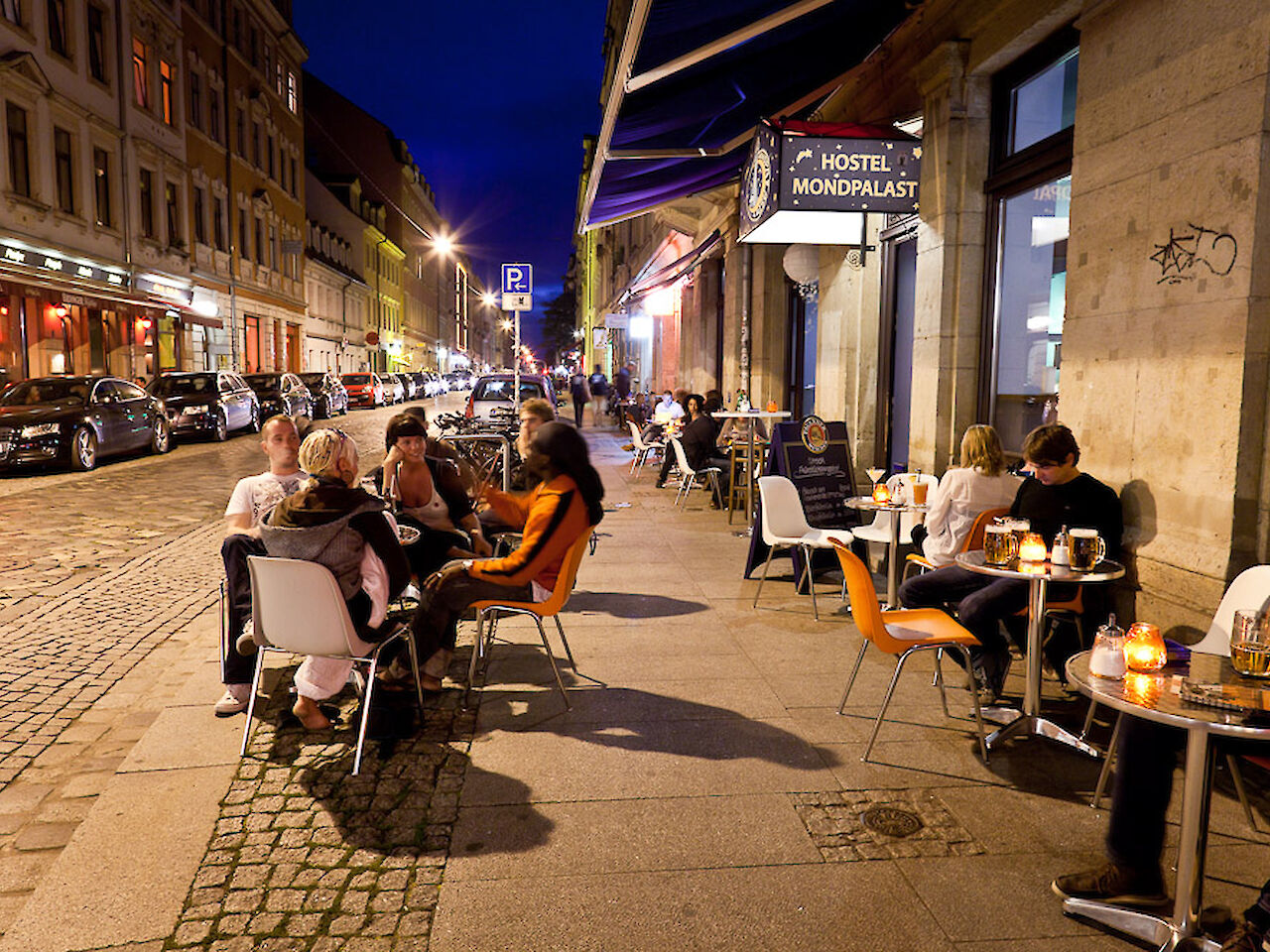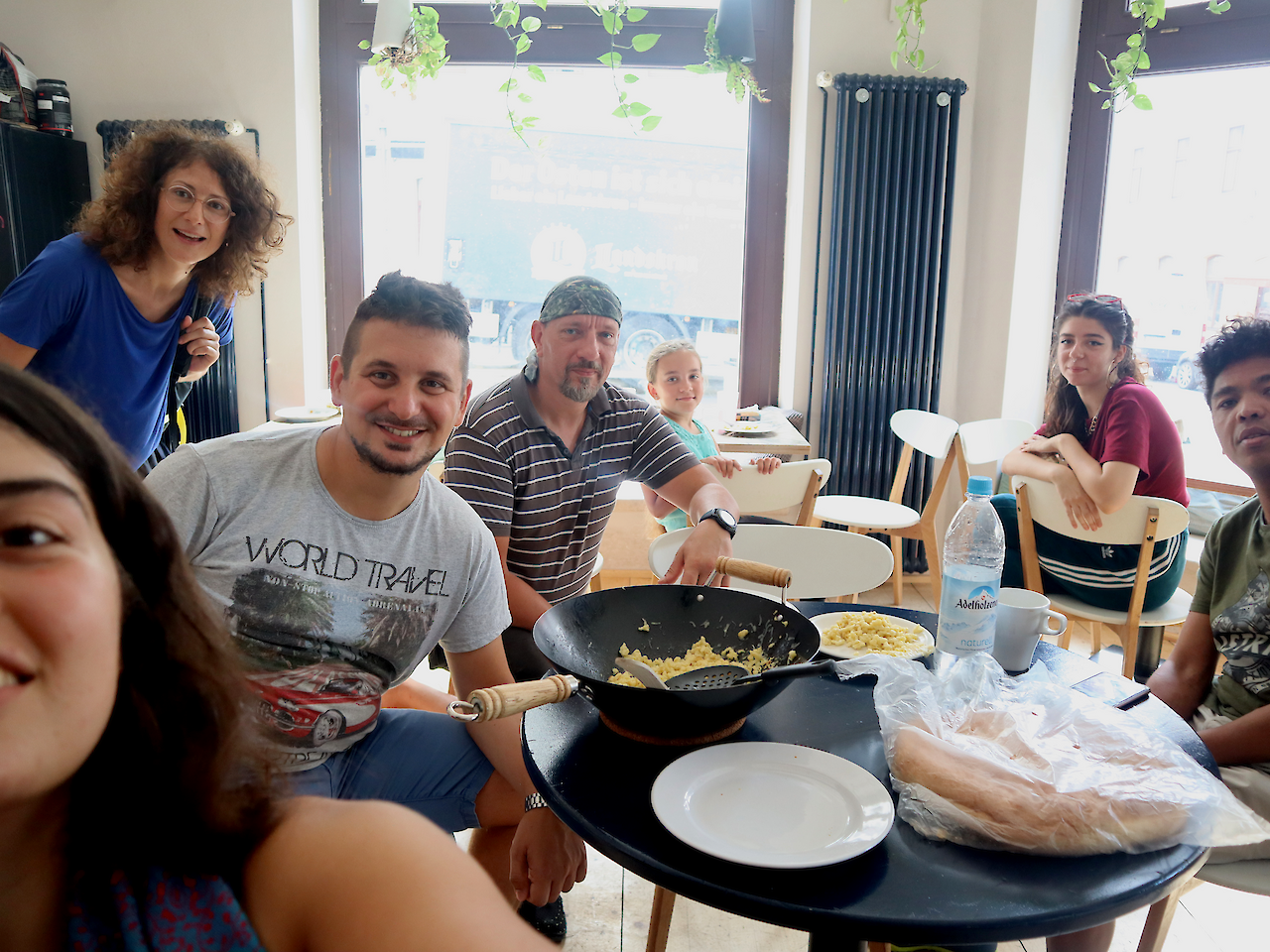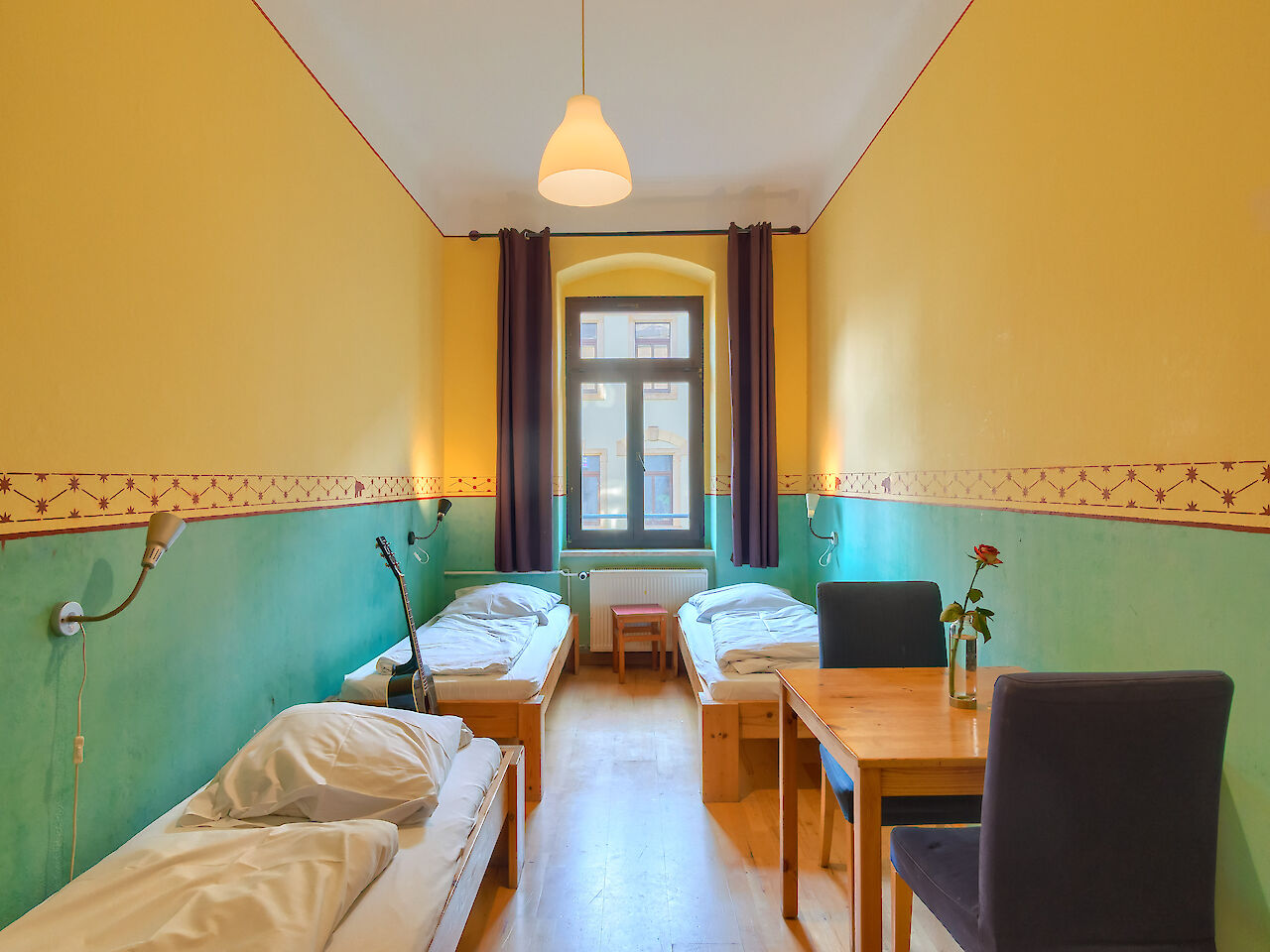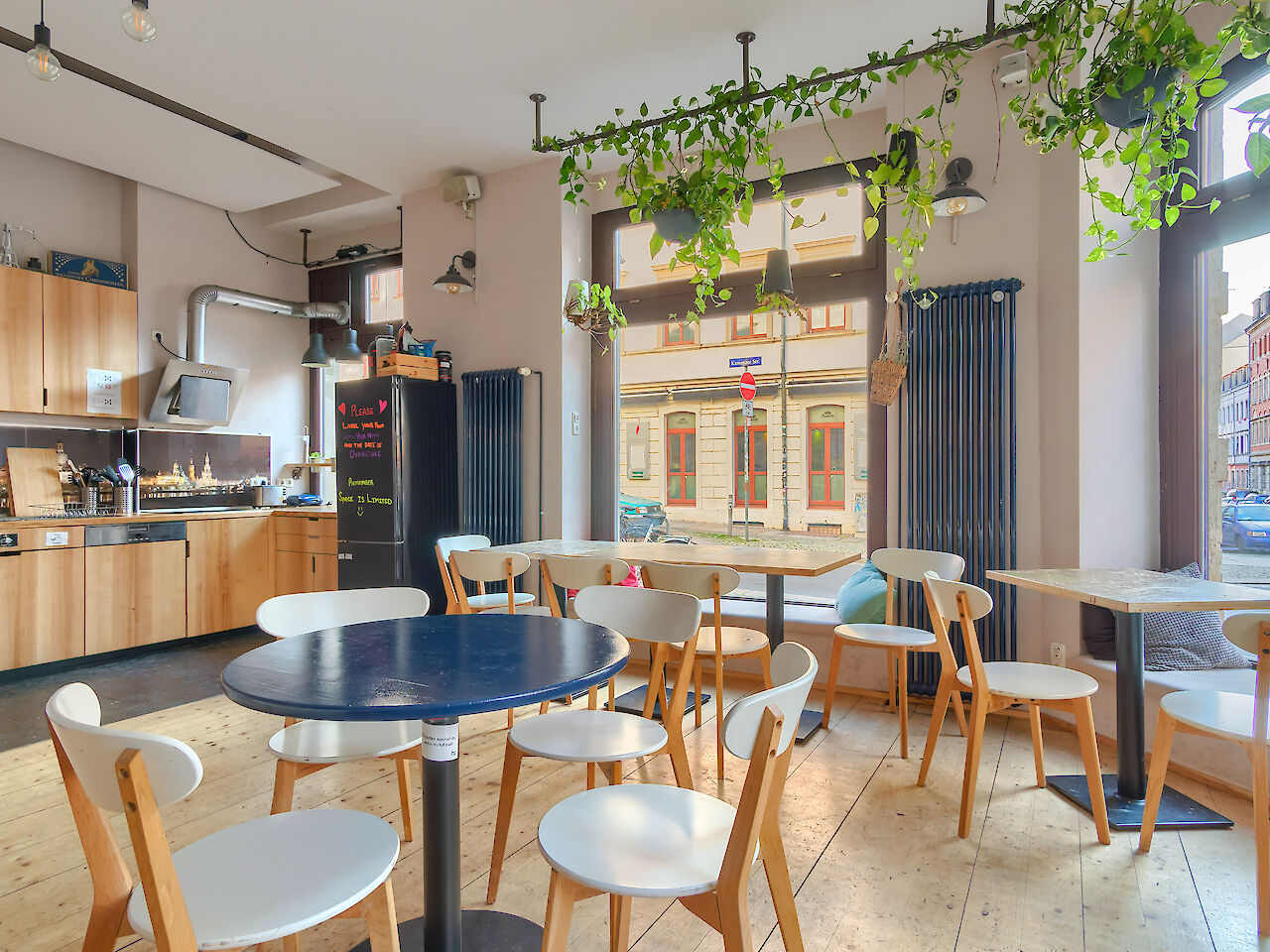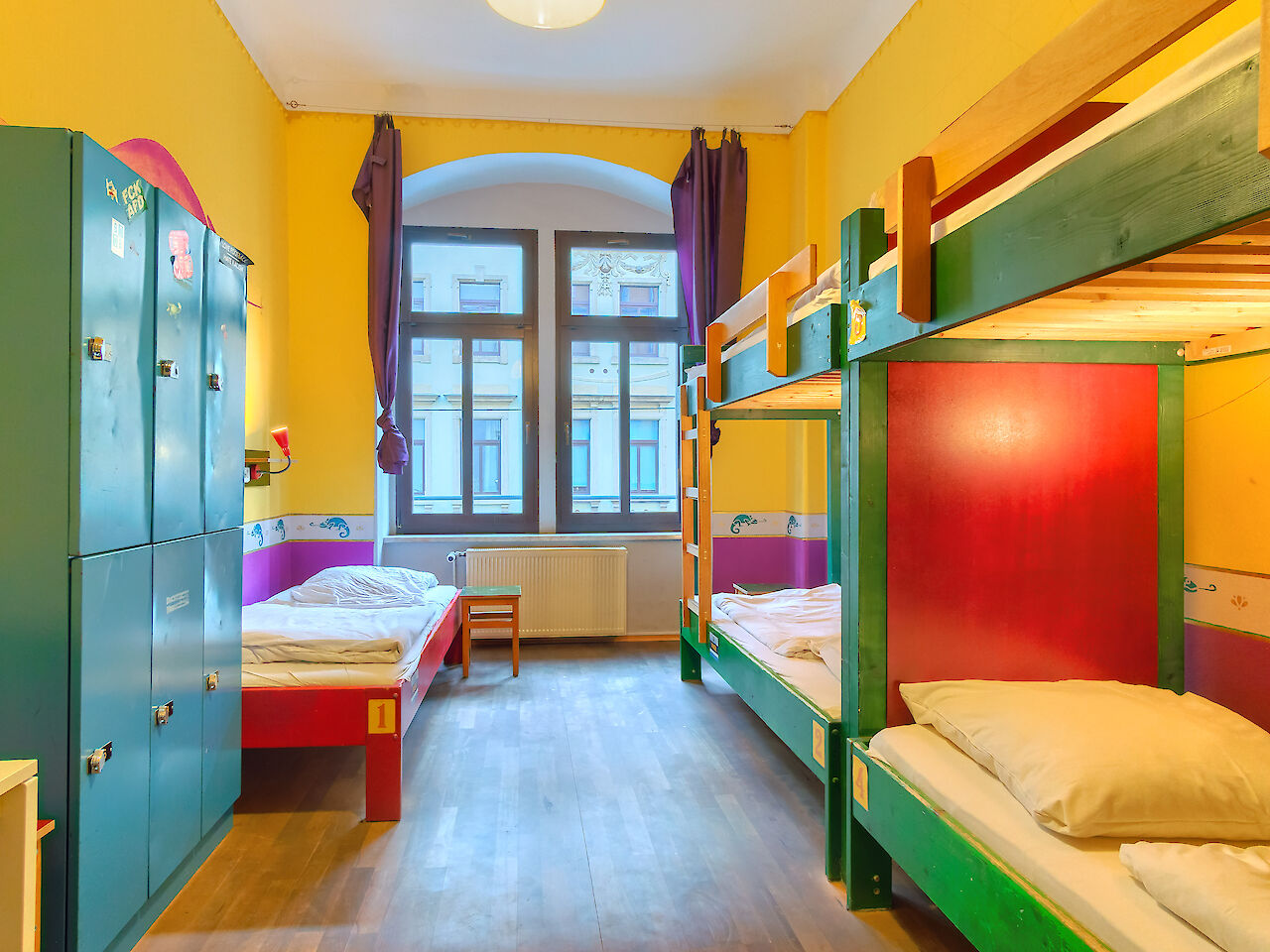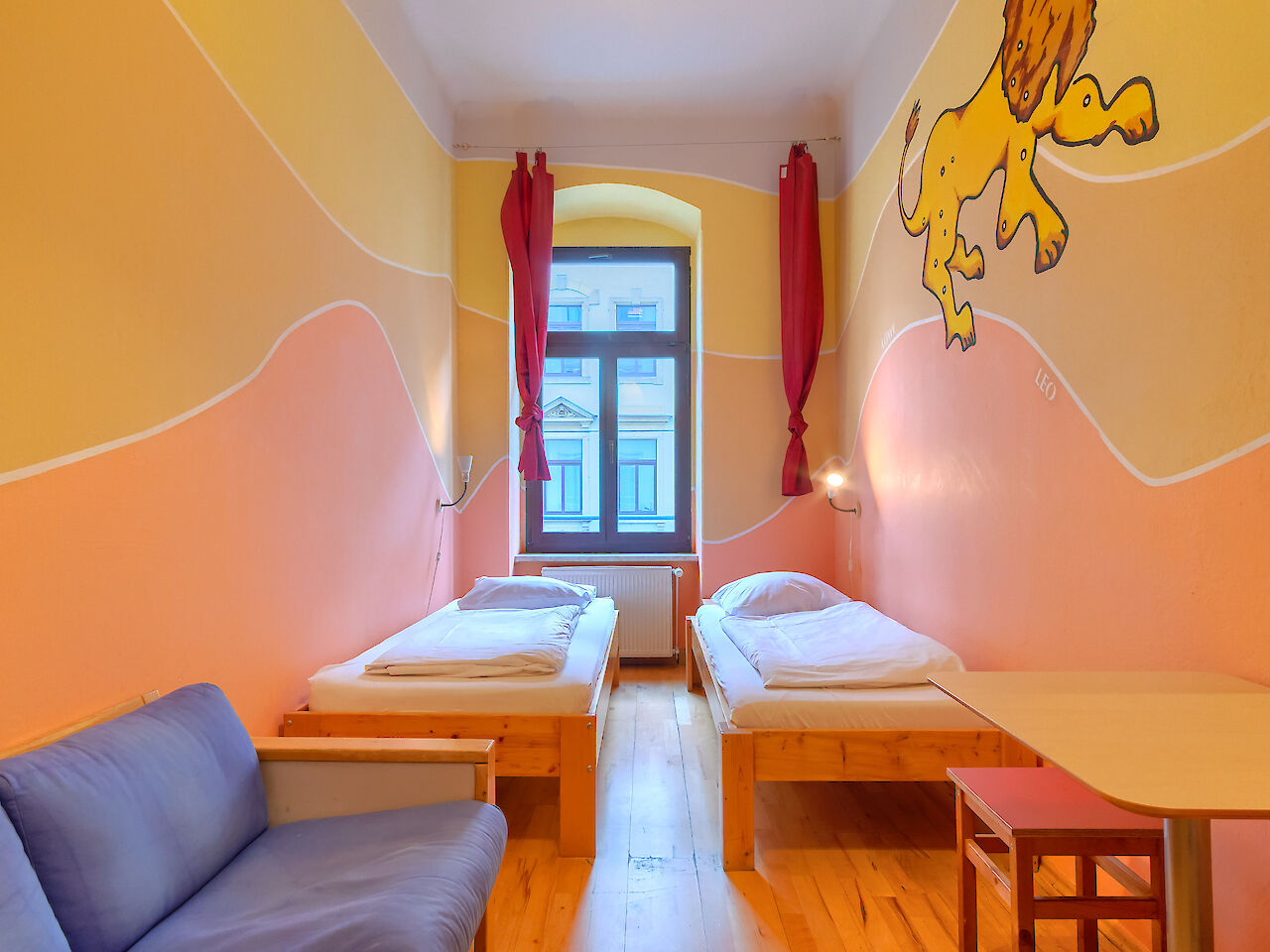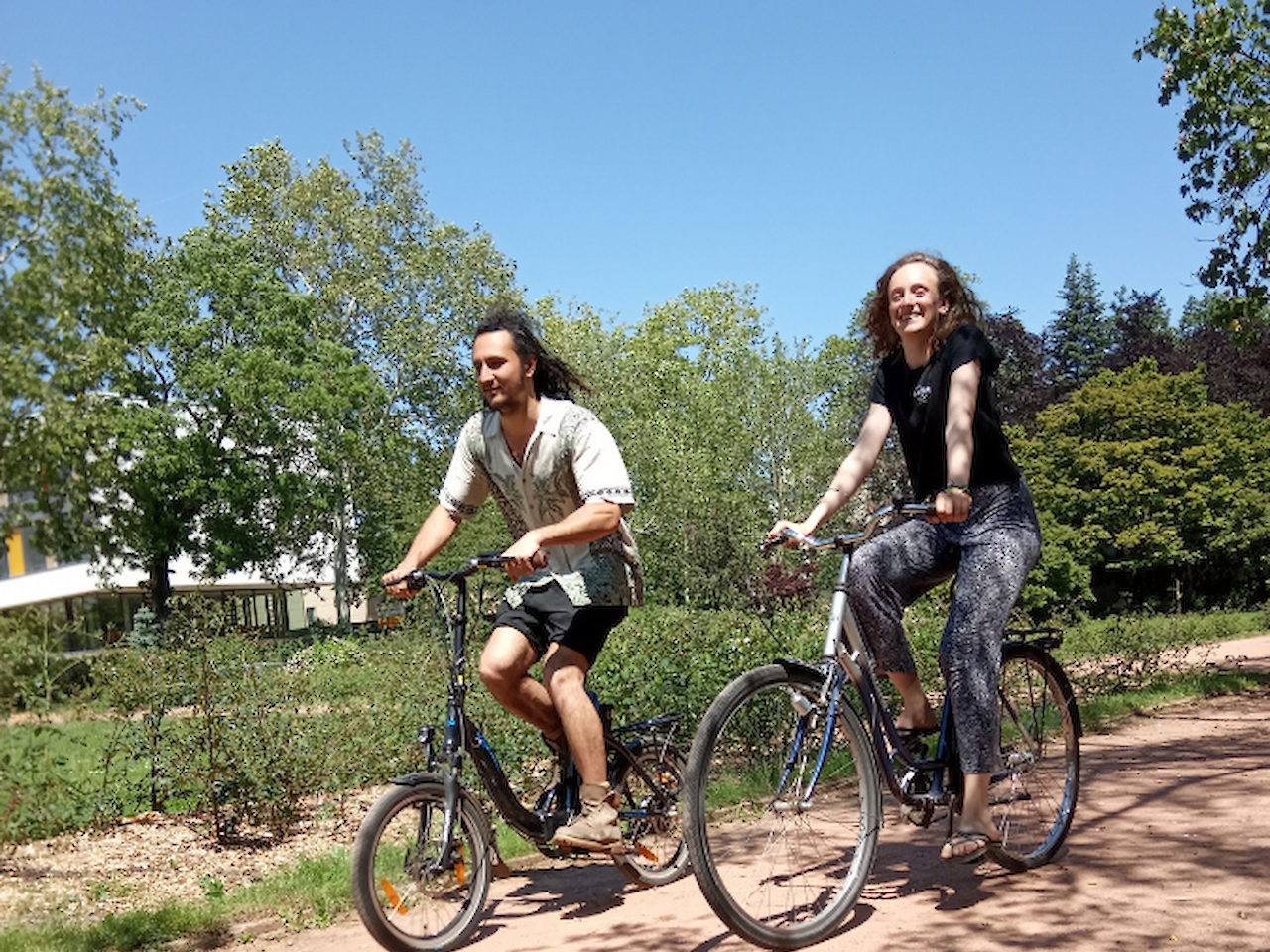 Low prices
You are on the right place: You will get the best price for your accomodation here on our own website. Guaranteed! Nowhere else on the Internet you will get the rooms/beds cheaper than here with a direct booking.
Our prices depend on season and occupancy. Please check your actual date for available rooms and the prices. If you are flexible in terms of time, it may also be worth to look for the best price on other days.
Bed linen €2.50 (once off, obligatory)

Late check-out until 13:00 €3 (per person)

Bicycle rental €7/day, E-Bike €12/day

Early check-in from 12:00 €3 (per person)
The city of Dresden demands from your guests an accommodation tax amounting to 6% of the accommodation costs. This is not yet included in the prices, as, for example, professionally arranged overnight stays or guests under 18 years of age are exempt from this tax. More info: http://dresden.de/beherbergungssteuer
Versatile service
Besides clean and comfortable beds at a central location in the heart of the trendy district the hostel has many more offers to make your stay in Dresden an all around successful experience:
Free, fast, reliable WiFi in all rooms

Completely equipped guest kitchen

24 hours access to the rooms

Multilingual local receptionist

Lockers in all dormitories

Reading lamps and socket for each bed

Safe and dry bicycle parking

Bicycle and e-bike rental

bus tickets for Flixbus all around Germany

Launderette directly opposite

Hiking maps and tips for excursions

Later check-out until 13:00 possible

Bed linen already covered on the beds

Iron, hair dryer and straightener, umbrellas....
Events in our bar
Sorry, there are no events registered at the moment.
Groups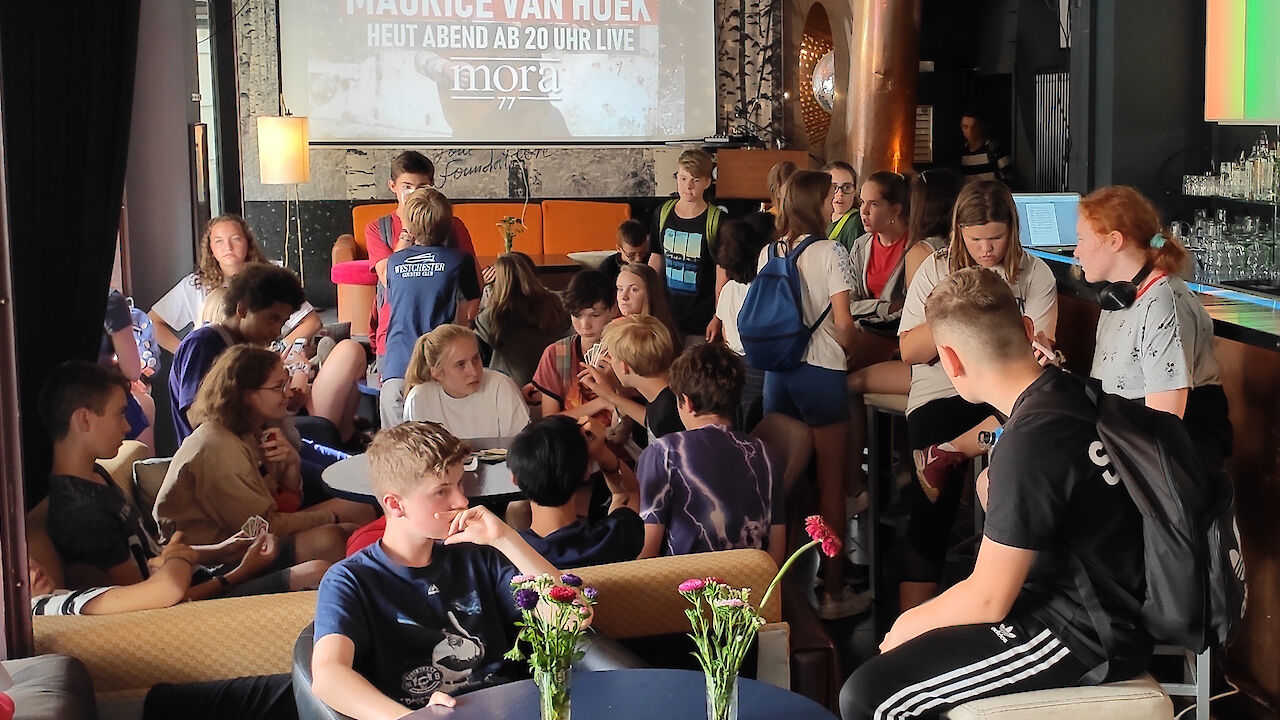 The hostel is suitable for groups. There are enough toilets and baths, the rooms are very spacious. For the group leaders there are single and double rooms with private bathroom. With just under 100 beds the hostel also offers enough space. The hostel offers two types of breakfasts, as well as evening meals and packed lunches. In addition, we are happy to help and support you in planning your day and have a partner program with various organizers in Dresden and the surrounding area.
Reviews
147 reviews in the last 12 months on Hostelbookers.com, Booking.com, Tripadvisor, Hostelworld.com, Google, RateMe!

| | |
| --- | --- |
| Atmosphere | |
| Cleanliness | |
| Facilities | |
| Fun | |
| Location | |
| Security | |
| Staff | |
| Value | |
Neha // 22.11.2021 // Booking.com
Jörg // 21.11.2021 // Booking.com

Das Personal war überaus freundlich. Alles war sehr sauber. Aber auch die Gäste waren freundlich und nett. Trotz großen Andrangs war niemand gestresst. Es hat alles sehr gefallen.

Die persönlichen Bereiche, die sich praktisch nur auf die Fläche eines Stuhls und ein kleines Board über dem Bett bezogen, waren etwas dürftig. Ein kleiner abschließbarer Schrank wäre wünschenswert gewesen. Mir hätten auch Spinde auf dem Flur gereicht, so konnte man aber gar keine persönlichen Gegenstände dort lassen.
Jakub // 17.11.2021 // Booking.com

Personal was soo kind mostly girl name Isabel. She is good person.
Lucia // 17.11.2021 // Booking.com
valdesdy7296 // 17.11.2021 // Hostelworld.com

Staff was excelent, so kind. Thank you
Daulet // 15.11.2021 // Booking.com

the stuff, room, and the bar

rooms where little bit not cleaned, I mean table and drawers, but everything else was good
Laura // 15.11.2021 // Booking.com

war nachts leider sehr laut
Ali // 11.11.2021 // Booking.com
Emirhan // 11.11.2021 // Booking.com
Annelie // 10.11.2021 // Booking.com
Ormaechea // 10.11.2021 // Booking.com
Stefanie // 10.11.2021 // Booking.com
farewell // 09.11.2021 // Google Places

sweet staff, nice rooms, clean, cosy and creative. Interesting area, weekends lots of party going on. If you like it quiet, book a room in the third floor. Staff was really helpful. Thank you!
Dennis // 09.11.2021 // Booking.com
Ivanov // 08.11.2021 // Booking.com
Marcus // 04.11.2021 // Booking.com
Andre // 02.11.2021 // Booking.com
Giorgio // 01.11.2021 // Booking.com

The hostel is really clean and the staff is friendly. there is a bar within the hostel. Room has personal plug for charging your devices. the staff checked my covid certificate

room a bit noisy, but it was not a big deal
Joaquín // 01.11.2021 // Booking.com

Really nice staff and rooms. I really reccomend it
Zeynep // 01.11.2021 // Booking.com
Berke // 31.10.2021 // Booking.com
Muhammad // 31.10.2021 // Booking.com
Emirhan // 30.10.2021 // Booking.com
Anonymous // 30.10.2021 // Hostelworld.com

Super tolles Hostel in bester Lage in Dresden-Neustadt, sehr schönes viertel. Habe mir sehr wohl gefühlt möchte auf jeden Fall nochmal kommen :-) Sehr zu empfehlen.
Mario // 29.10.2021 // Booking.com
anilalr997899 // 29.10.2021 // Hostelworld.com

Freundliches Personal, Küche ist gut ausgestattet, Kaffee und Tee den ganzen Tag kostenlos (besonders im Herbst/Winter gut), modernes Schlüsselkartensystem und Spinde im Zimmer. Würde jederzeit wieder vorbeischauen :)
Zaid // 27.10.2021 // Booking.com
Giorgi // 25.10.2021 // Booking.com
Anonymous // 25.10.2021 // Hostelworld.com

A decent hostel. Pros: + Well equipped kitchen. + Some polite and helpful staff. + OK location. Cons: - Not that clean toilets. - No curtains at the beds. - Plants above the dining room dripping onto the tables (How can this be allowed to happen?). - Common area/kitchen too small as there's a bar right next to it. - Atmosphere at the common area not that vibrant. I wouldn't stay again.
Jutta // 23.10.2021 // Booking.com

Das Fahrrad konnte sicher im Innenhof abgestellt werden. Buchung, Anmeldung, Abreise, Information zur Stadt alles war unkompliziert und gut organisiert. Das Personal war sehr nett und hilfsbereit. Die Bar, Küch und der kostenlose Kaffee kamen mir sehr entgegen.
Anonym // 22.10.2021 // Booking.com
Victoria // 22.10.2021 // Booking.com

zonas comunes, poder hacer el desayuno,

Demasiado ruido de los huespedes, por la noche y por la mañana
Rafael // 21.10.2021 // Booking.com
claireg088661 // 21.10.2021 // Hostelworld.com

We were really happy of our stay in Dresden. The location could not be better, nice shared areas and perfectly clean. I forgot a bag, the staff was kind enough to look for it and hold it for me. I recommend!!
Alisa // 20.10.2021 // Booking.com