Dresden is open again!
Please read our Corona Hostel FAQ. Here you can find up to date info about the Corona situation in Dresden
Book without risk! With direct bookings via our website (yes, exactly this one) you can cancel completely free of charge up to two days before arrival.
We do our best to do adjust our services to the unusual situation. We have implemented the following hygienic measures:
We always adapt our daily cleaning to the current guidelines of the RKI.
Of course, we will check for you whether your stay is permitted on the basis of the applicable regulation and will inform you immediately.
In the common area, all tables are 1.50m apart.
The occupancy of our rooms in the corridors is based on the best possible distance from each other.
We welcome you at the reception at a reasonable distance and of course with a mask.
As few strangers as possible sleep together in one room. Families, friends etc. sleep together.
Each guest must fill out a registration form with their contact details.
Your team from the Hostel Mondpalast
Hostel Mondpalast – In the middle of life
Hostel Mondpalast offers a variety of rooms, all designed according to the different signs of the zodiac. There is a wide choice from single rooms to 10-bed dormitories. Some of the private small rooms have their own shower / WC. The beds are already made. Best of all, the hostel has its own bar! After the nightcap, its just one floor up to fall into your comfy bed.
Top Location
The hostel is located in the heart of Dresden's lively trendy district (the "Neustadt"). All pubs and some clubs are located in the vicinity. After going out in the evening, it is never far to your cozy bed. It only takes a few minutes to reach the beautiful banks of the Elbe and you can reach the impressive, historic old town and almost all attractions in 20 - 30 minutes on foot or in 10 - 15 minutes by tram. In addition, you can explore the great surroundings of Dresden: Meissen, the castles Moritzburg and Pillnitz and the "Saxon Switzerland", a small, very beautiful national park and a true paradise for climbers and hikers!
Here you will find directions to the hostel.
Pictures
Will be loaded, please wait...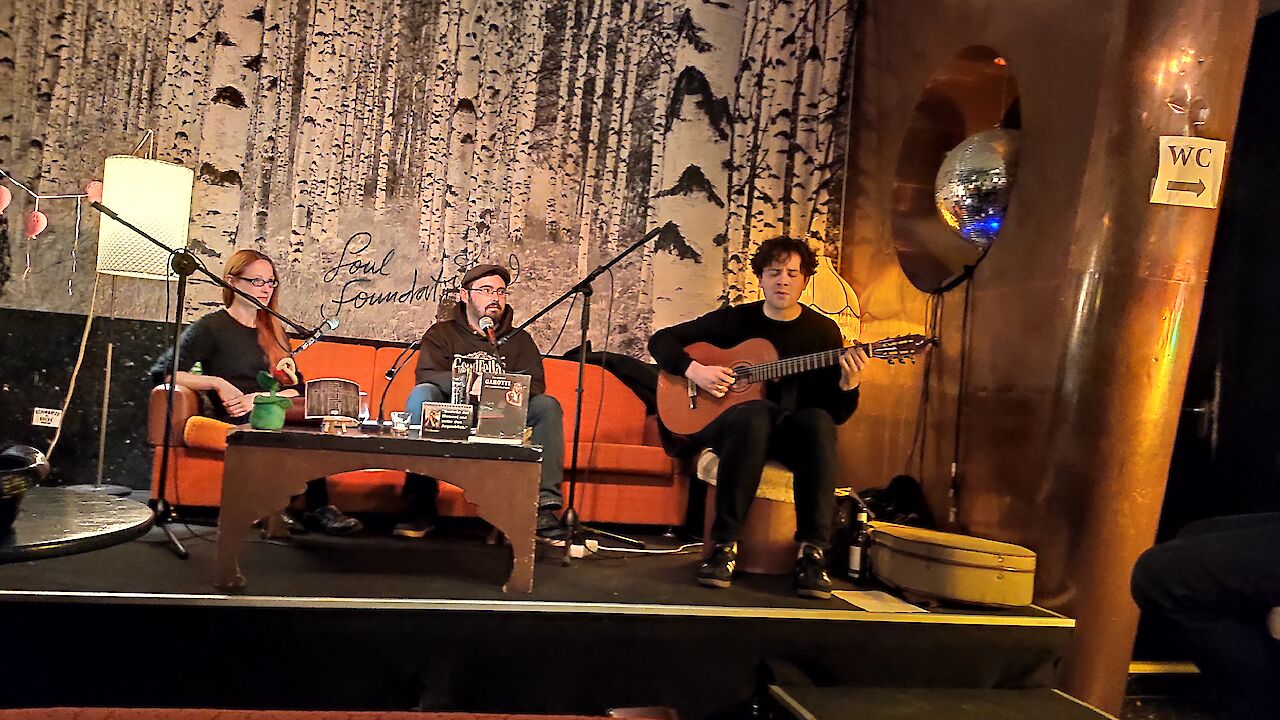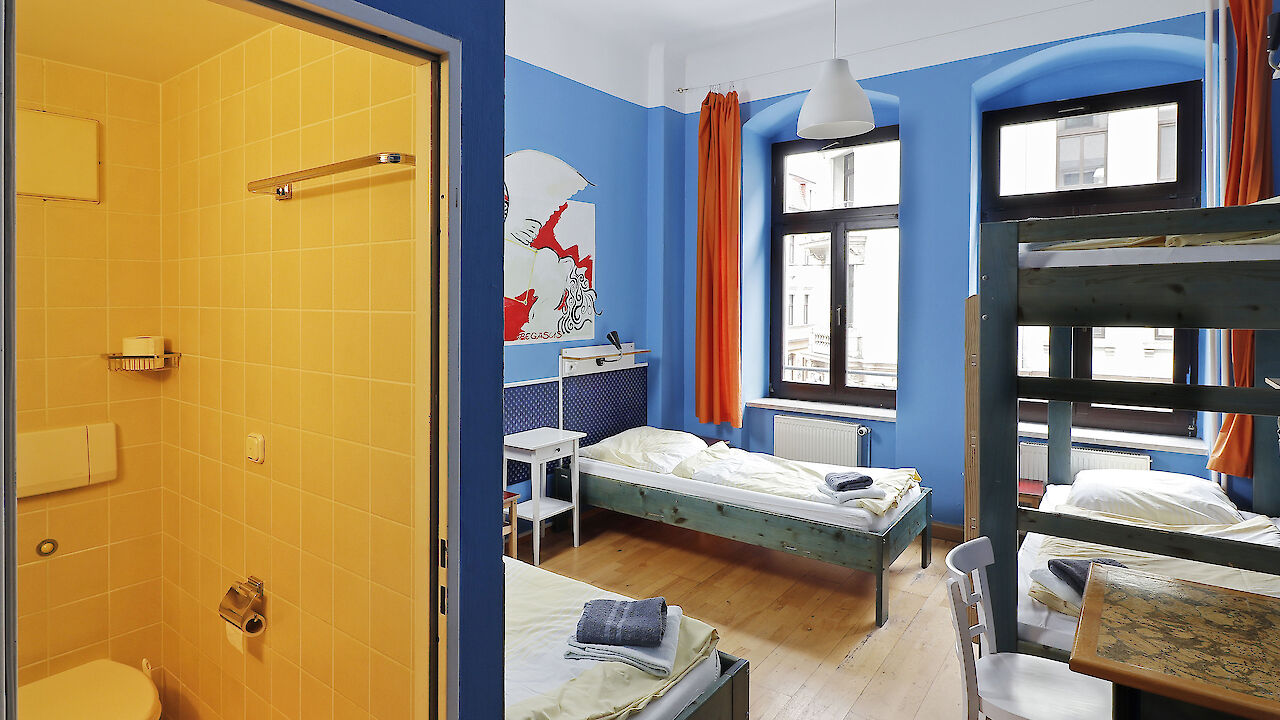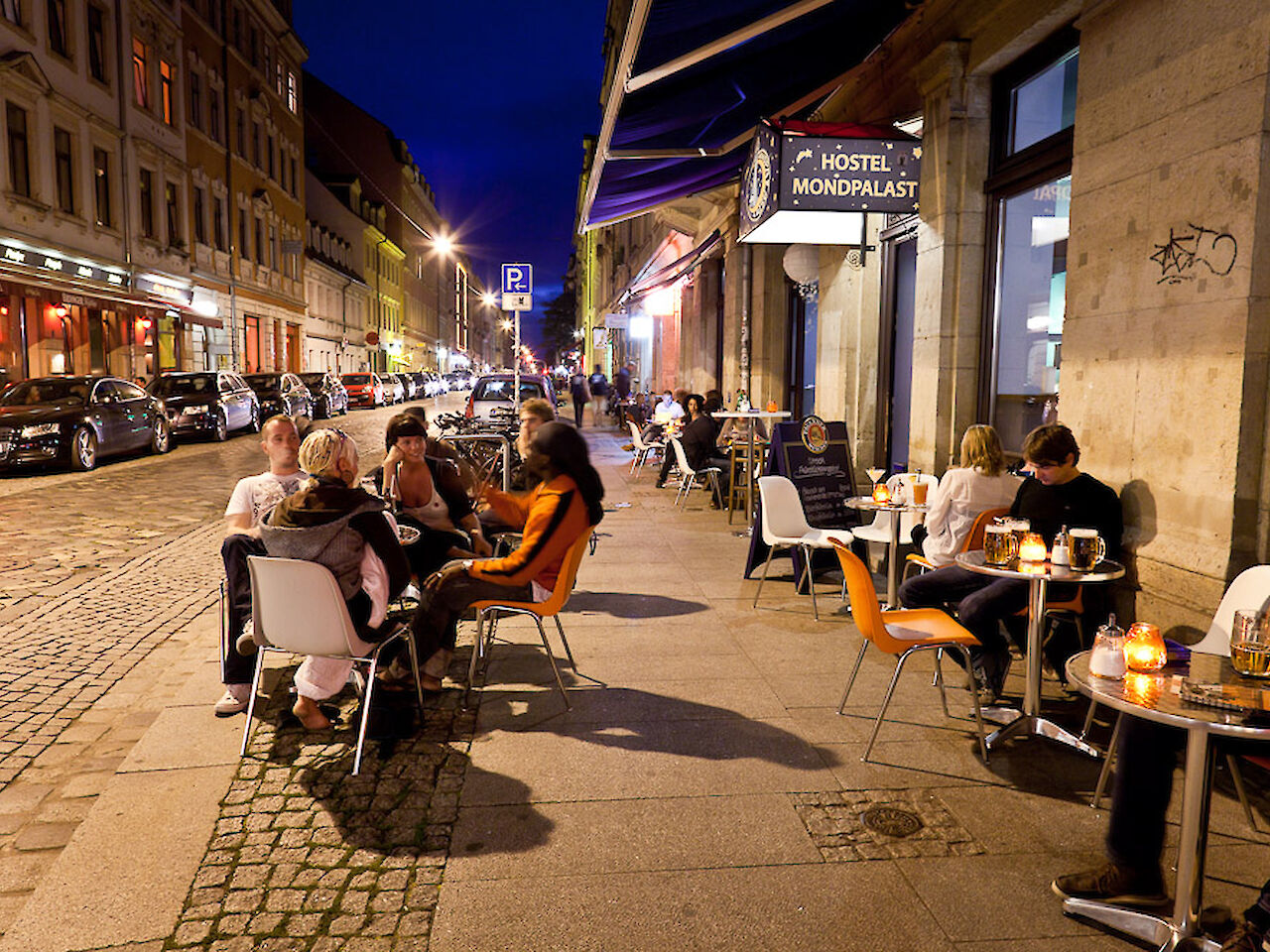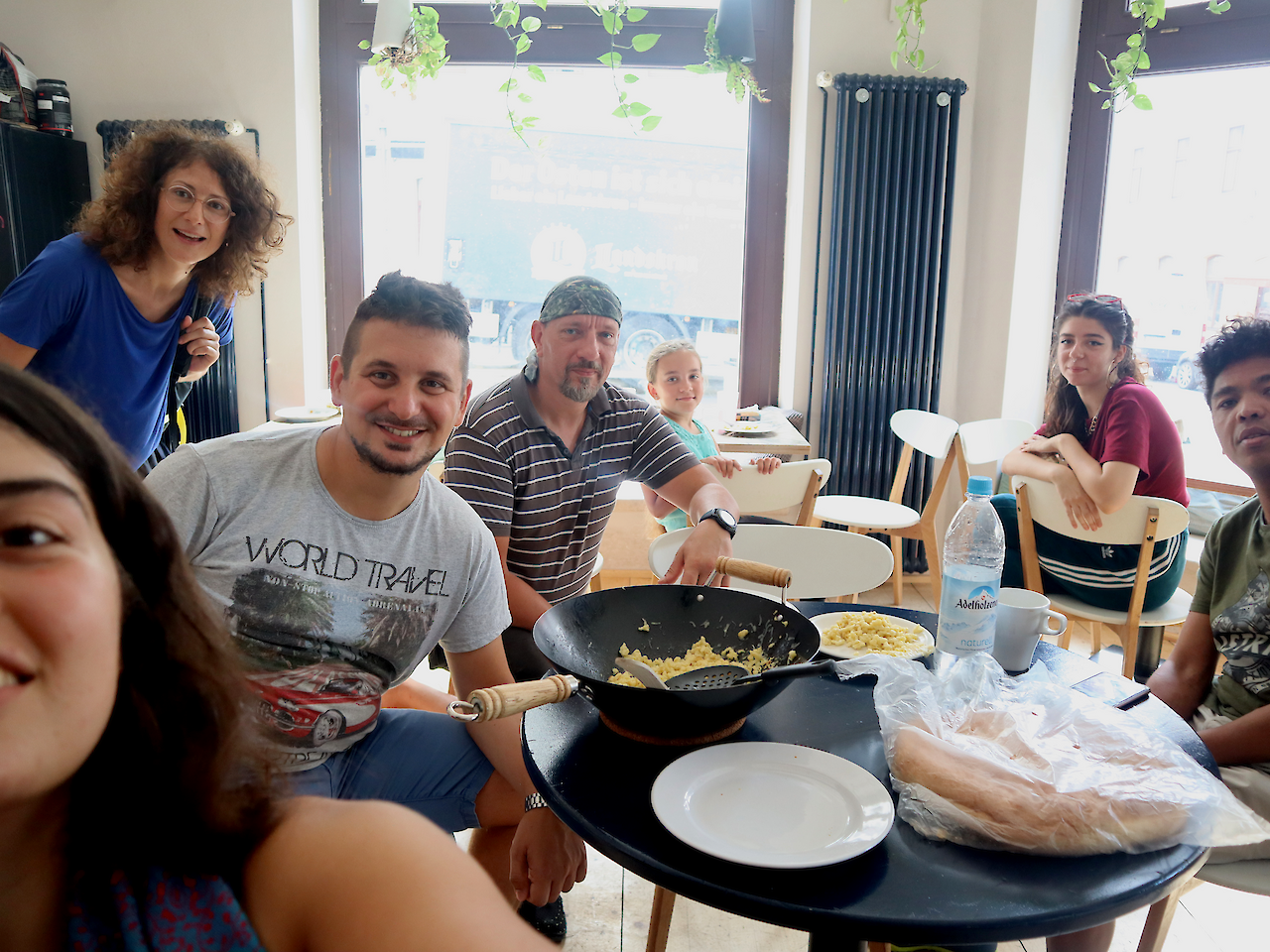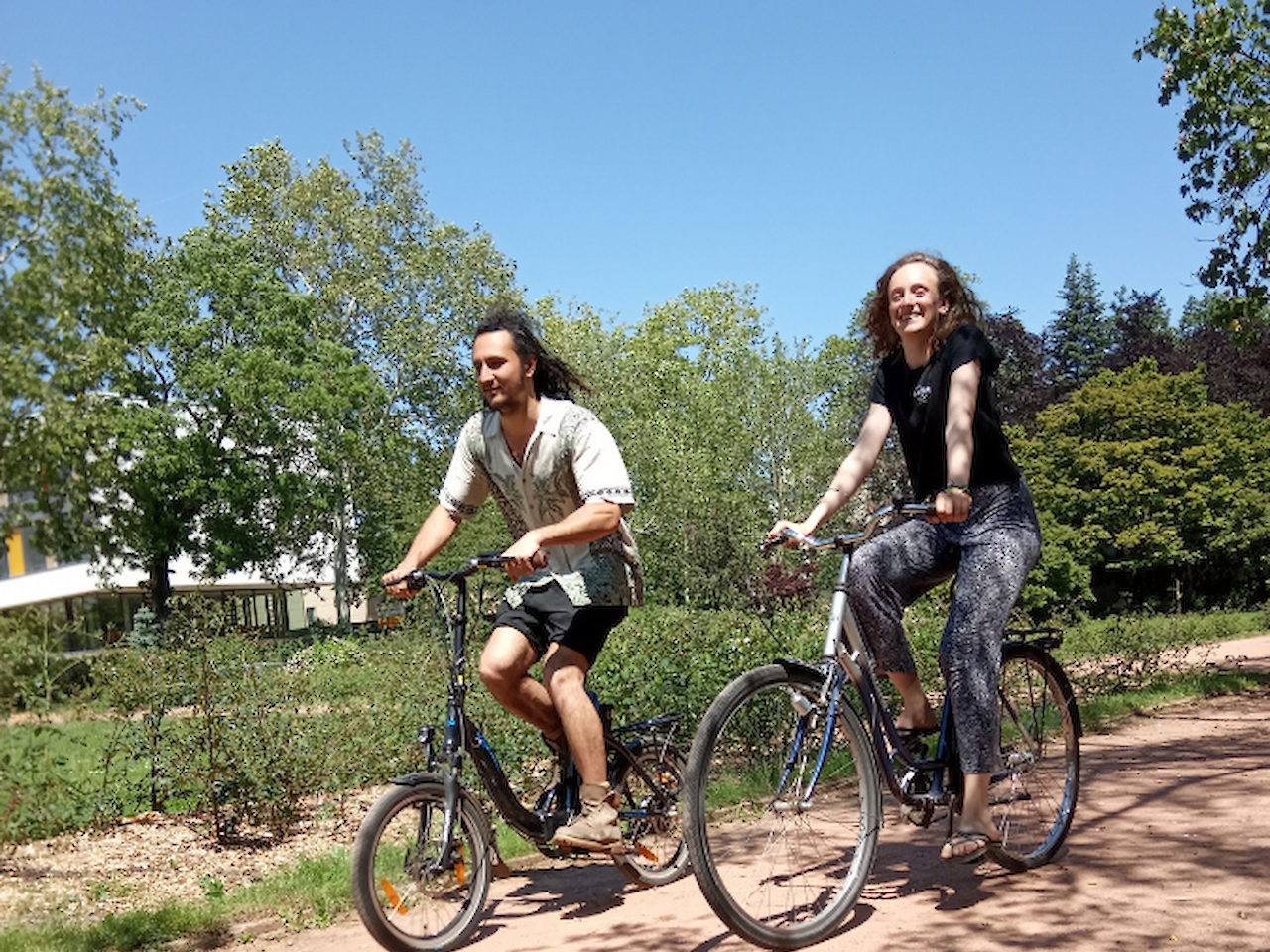 Low prices
You are on the right place: You will get the best price for your accomodation here on our own website. Guaranteed! Nowhere else on the Internet you will get the rooms/beds cheaper than here with a direct booking.
Our prices depend on season and occupancy. Please check your actual date for available rooms and the prices. If you are flexible in terms of time, it may also be worth to look for the best price on other days.
Bed linen €2.50 (once off, obligatory)

Late check-out until 13:00 €3 (per person)

Bicycle rental €7/day, E-Bike €12/day

Early check-in from 12:00 €3 (per person)
The city of Dresden demands from your guests an accommodation tax amounting to 6% of the accommodation costs. This is not yet included in the prices, as, for example, professionally arranged overnight stays or guests under 18 years of age are exempt from this tax. More info: http://dresden.de/beherbergungssteuer
Versatile service
Besides clean and comfortable beds at a central location in the heart of the trendy district the hostel has many more offers to make your stay in Dresden an all around successful experience:
Free, fast, reliable WiFi in all rooms

Completely equipped guest kitchen

24 hours access to the rooms

Multilingual local receptionist

Lockers in all dormitories

Reading lamps and socket for each bed

Safe and dry bicycle parking

Bicycle and e-bike rental

bus tickets for Flixbus all around Germany

Launderette directly opposite

Hiking maps and tips for excursions

Later check-out until 13:00 possible

Bed linen already covered on the beds

Iron, hair dryer and straightener, umbrellas....
Events in our bar
31.07.2021

Saturday

20:00
Free Show: Cisco Pema (Berlin)
A Spanish singing songwriter from Berlin plays his acoustic solo set. https://www.youtube.com/watch?v=AEUGHZrq9O0
03.09.2021

Friday

20:00
Free Show: Martin "Martino" Gerschwitz
Martin "Martino" Gerschwitz has played more than 15.000 shows so far - and in the last 16 years (since 2005) he has not only created the wonderful ethereal organ and keyboard sounds that were or still are the trademark of "Iron Butterfly" (known by "In-A-Gadda-Da-Vida"), but he is also the main singer of this Californian group. https://www.youtube.com/watch?v=2bQZ6l_cq5Y
Groups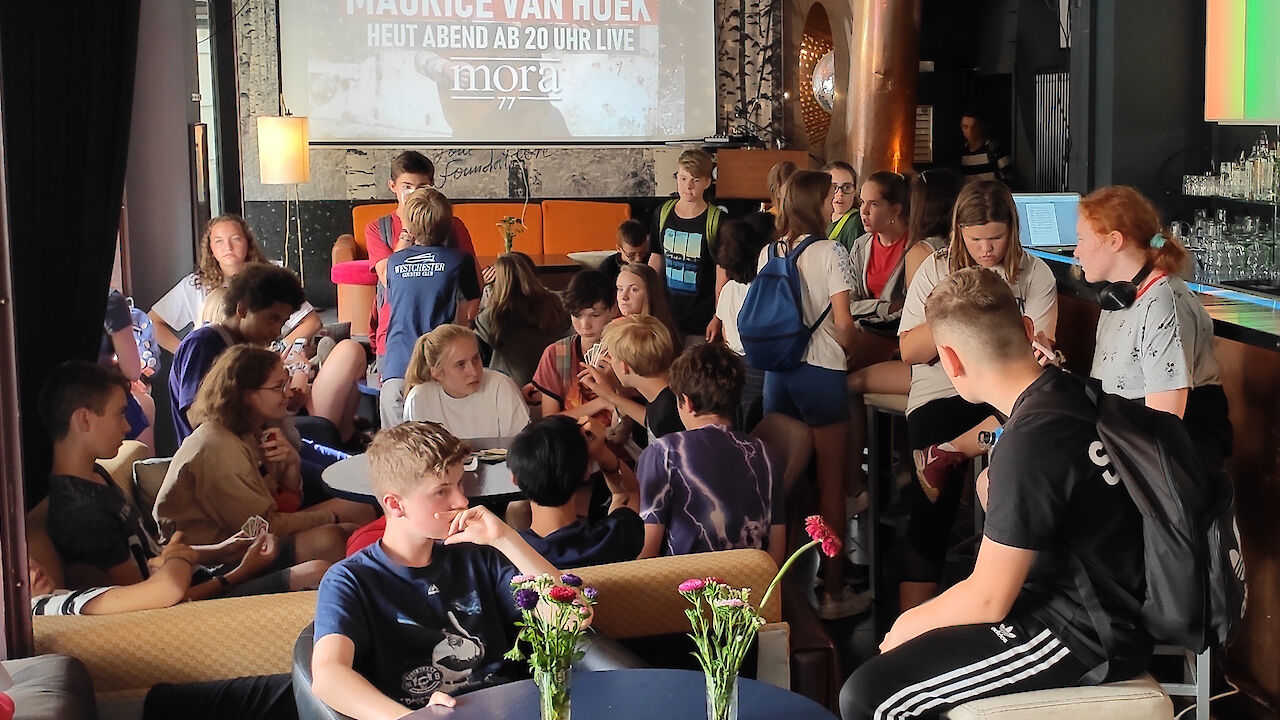 The hostel is suitable for groups. There are enough toilets and baths, the rooms are very spacious. For the group leaders there are single and double rooms with private bathroom. With just under 100 beds the hostel also offers enough space. The hostel offers two types of breakfasts, as well as evening meals and packed lunches. In addition, we are happy to help and support you in planning your day and have a partner program with various organizers in Dresden and the surrounding area.
Reviews
83 reviews in the last 12 months on Hostelbookers.com, Booking.com, Tripadvisor, Hostelworld.com, Google, RateMe!

| | |
| --- | --- |
| Atmosphere | |
| Cleanliness | |
| Facilities | |
| Fun | |
| Location | |
| Security | |
| Staff | |
| Value | |
Laura // 20.07.2021 // Booking.com

Sehr nettes Personal, gute Fahrräder, Küche zur Mitbenutzung, Bar und faire Preise für Cocktails. Super Lage! Trotz lebendigem Viertel und DJ im Haus (Veranstaltungen nur am Wochenende), war es in den Zimmern leise.

Lampen ziemlich dunkel/funselig, Gemeinschaftsküche könnte sauberer sein, Frühstück lohnt sich nicht (Qualität / Preis). Mit Corona wären Papierhandtücher auf der Toilette wünschenswert gewesen (es gibt Stoffhandtücher)
Ling // 19.07.2021 // Booking.com
Haithem // 15.07.2021 // Booking.com
Bonita // 09.07.2021 // Booking.com
Farida // 08.07.2021 // Booking.com
Marlena // 08.07.2021 // Booking.com
Fabian // 04.07.2021 // Booking.com
Anonymous // 02.07.2021 // Hostelworld.com

Das Hostel hat mir im Großen und Ganzen gut gefallen. Die MitarbeiterInnen waren sehr zuvorkommend, der Preis hat den Erwartungen entsprochen, das zugebuchte Frühstück war sehr üppig und lecker. Auch das Zimmer war für ein Hostel vollkommen ausreichend. Über die Lage lässt sich vermutlich streiten. Wer gerne am Nachtleben teilhat, ist hier richtig. Wer nach einer Möglichkeit sucht, nach einem anstrengenden Tag Ruhe zu finden, vermutlich nicht.
Deepanshu // 30.06.2021 // Google Places

Best place to stay in Dresden. Everybody is so polite. It was a great experience. Location of the hostel is perfect.
Frances // 27.06.2021 // Booking.com
Jennifer // 20.06.2021 // Booking.com

Mitte in der Kneipenszene. Großartig
Jonas // 18.06.2021 // Booking.com

Sehr freundliches Personal. Lage top !
kathrinfrimmel3906 // 18.06.2021 // Hostelworld.com

Immer wieder gerne. Das Doppelzimmer mit eigenem Bad und Balkon ist sehr gemütlich und das Hostel liegt mitten in der bunten Neustadt. Besonders hat uns gefallen, dass es eine Küche für Gäste sowie einen Gepäckraum gibt. Super für Bus- oder Zugreisende mit wenig Budget. Für alle lärmempfindlichen Menschen: das Hostel liegt an einem sehr belebten Punkt der Stadt.
steppolov // 01.06.2021 // Tripadvisor

Top Hostel, perfekt gelegen im schönen Neustadt-Viertel. Große Hostelküche, Hilfsbereite Crew, unkompliziert, gemütlich. Wir hatten eine gute Zeit in Dresden. Jederzeit wieder! Auch sehr empfehlenswert: das Stullenbüro um die Ecke,der A-Park und die vielen Bars und Cafes
Jakob // 22.04.2021 // Booking.com
narolashubham5635 // 17.04.2021 // Hostelworld.com

ganze gutes hotel mit guter Ausstatung.Hat es sich auf jeden Fall gelohnt dort zu ubernachten. man kann die kuche nutzen und auch die Personal waren super nett und hilfsbereit
Bobby Collins // 27.03.2021 // Google Places

Short but very sweet!... Will have to come back soon to continue working on my project and will stay again at Mondpalast. Lovely staff, especially the Belgium and German Receptionists... :D
Kevan F // 05.03.2021 // Google Places

Very nice host, lots of accomodations, nice showers
Anonym // 01.11.2020 // Booking.com
Luca // 21.10.2020 // Booking.com
Franz-rudolf // 20.10.2020 // Booking.com

Das sagenhaft freundliche und hilfsbereite Personal, die Lage am Rand des Szeneviertels Neustadt, auch die Mitbewohner, das gesamte Flair des Hauses
Anonymous // 19.10.2020 // Hostelworld.com

Die Badezimmertür im gemischten Mehrbettzimmer hatte leider ein Glasfenster (auch wenn dieses milchig war) sodass ich mich im Bad nicht 100%-ig wohl gefühlt habe. Ansonsten hat es gepasst. Personal war super nett, zuvorkommend und offen zum Plaudern.
redlimes2834 // 19.10.2020 // Hostelworld.com

The owner is wonderful and accommodating!
Anonymous // 18.10.2020 // Hostelworld.com

Vgreat place, but low covid measures.
Nicole // 17.10.2020 // Booking.com
Kateryna // 17.10.2020 // Booking.com
Simon // 16.10.2020 // Booking.com

Perfekte Lage, um abends noch rauszugehen (auch nur kurz)

Als Touristen mit Dauergästen in ein Zimmer gekommen. Mit diesen war es eher unangenehm das Zimmer zu teilen.
Tanz // 15.10.2020 // Google Places

Super friendly staff, very simple room but has everything u need , clean rooms. i would definitely recommend it
Anonymous // 15.10.2020 // Hostelworld.com

Lovely vibe, great location. Chilled out staff. Would definitely recommend to everyone. Stay here
Said // 13.10.2020 // Booking.com
joachimkortlepel8495 // 12.10.2020 // Hostelworld.com

Top! Super nice service. Very relaxed athmosphere. Rooms good and everything clean. Very good location so that everything is within walking distance. I was there with my two kids (9&12) and they liked everything very much. What can I say: "We will be back." Thanks again and we wih you well. Joachim
alexandergC5216FC // 08.10.2020 // Tripadvisor

Cooles Hostel in der Neustadt von DD, man läuft zu allen Bars&Clubs zu Fuß. Das man mit anderen Gästen erst mal ein Getränk an der hauseigenen Bar nehmen kann, nachdem man in der Gästeküche zusammen kochte, war echt toll. Zimmer und Bäder sauber, Staff super friendly.
chonipa SoP // 06.10.2020 // Google Places

In my opinion,This hostel made me feel like the second home. All staff are service mind and friendly, especially "Claudia" she is very kind and good service. Community is so nice. The room is quite good. But i think that toilets would clean more often. Totally the hostel is good.
Kees // 29.09.2020 // Booking.com
Saravanakumar // 28.09.2020 // Booking.com