WE CONTINUE TO OPEN FOR YOU!
Book without risk! With direct bookings via our website (yes, exactly this one) you can cancel completely free of charge up to two days before arrival.
We do our best to do adjust our services to the unusual situation. We have implemented the following hygienic measures:
We always adapt our daily cleaning to the current guidelines of the RKI.
Of course, we will check for you whether your stay is permitted on the basis of the applicable regulation and will inform you immediately.
In the common area, all tables are 1.50m apart.
The occupancy of our rooms in the corridors is based on the best possible distance from each other.
We welcome you at the reception with a reasonable distance.
We give each guest their own room. Families, friends etc. sleep together. Room occupancy up to max. 4 guests.
Each guest must fill out a registration form with their contact details.
Your team from the Hostel Mondpalast
Hostel Mondpalast – In the middle of life
Hostel Mondpalast offers a variety of rooms, all designed according to the different signs of the zodiac. There is a wide choice from single rooms to 10-bed dormitories. Some of the private small rooms have their own shower / WC. The beds are already made. Best of all, the hostel has its own bar! After the nightcap, its just one floor up to fall into your comfy bed.
Top Location
The hostel is located in the heart of Dresden's lively trendy district (the "Neustadt"). All pubs and some clubs are located in the vicinity. After going out in the evening, it is never far to your cozy bed. It only takes a few minutes to reach the beautiful banks of the Elbe and you can reach the impressive, historic old town and almost all attractions in 20 - 30 minutes on foot or in 10 - 15 minutes by tram. In addition, you can explore the great surroundings of Dresden: Meissen, the castles Moritzburg and Pillnitz and the "Saxon Switzerland", a small, very beautiful national park and a true paradise for climbers and hikers!
Pictures
Will be loaded, please wait...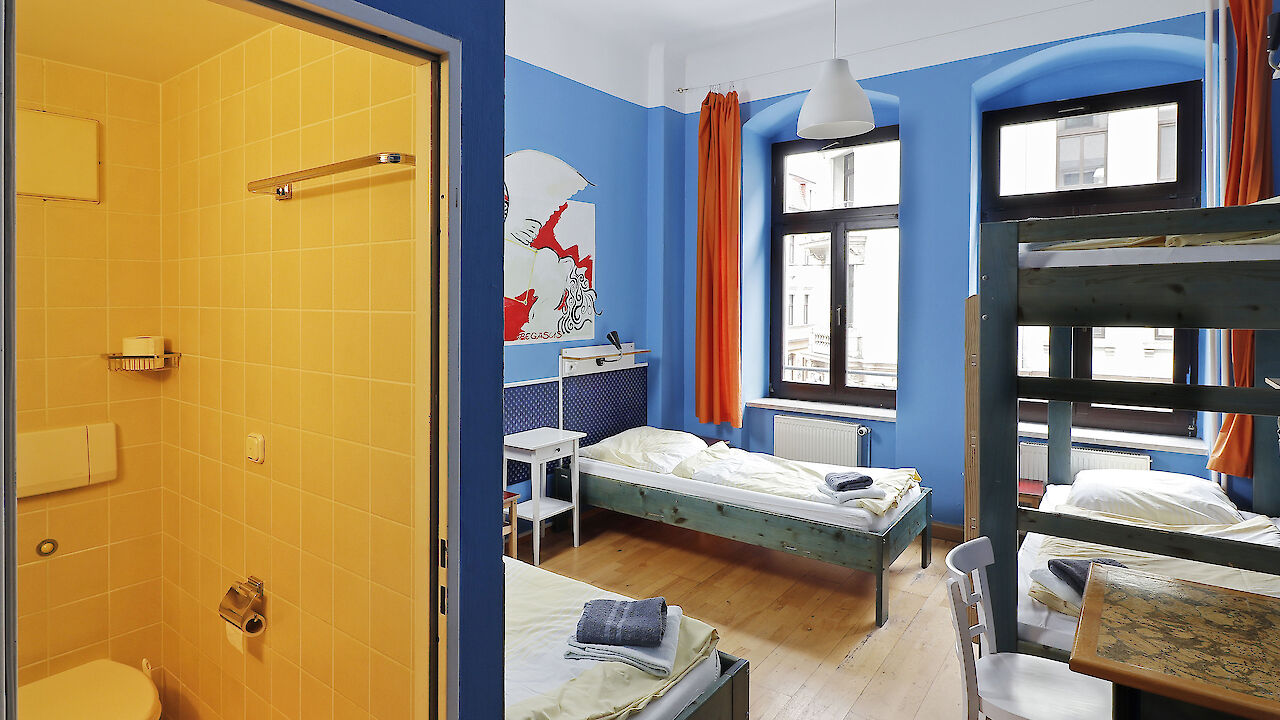 Low prices
You are on the right place: You will get the best price for your accomodation here on our own website. Guaranteed! Nowhere else on the Internet you will get the rooms/beds cheaper than here with a direct booking.
Our prices depend on season and occupancy. Please check your actual date for available rooms and the prices. If you are flexible in terms of time, it may also be worth to look for the best price on other days.
Bed linen €2.50 (once off, obligatory)

Late check-out until 13:00 €3 (per person)

Bicycle rental €7/day, E-Bike €12/day

Early check-in from 12:00 €3 (per person)
The city of Dresden demands from your guests an accommodation tax amounting to 6% of the accommodation costs. This is not yet included in the prices, as, for example, professionally arranged overnight stays or guests under 18 years of age are exempt from this tax. More info: http://dresden.de/beherbergungssteuer
Versatile service
Besides clean and comfortable beds at a central location in the heart of the trendy district the hostel has many more offers to make your stay in Dresden an all around successful experience:
Free, fast, reliable WiFi in all rooms

Completely equipped guest kitchen

24 hours access to the rooms

Multilingual local receptionist

Lockers in all dormitories

Reading lamps and socket for each bed

Safe and dry bicycle parking

Bicycle and e-bike rental

bus tickets for Flixbus all around Germany

Launderette directly opposite

Hiking maps and tips for excursions

Later check-out until 13:00 possible

Bed linen already covered on the beds

Iron, hair dryer and straightener, umbrellas....
Events in our bar
Sorry, there are no events registered at the moment.
Groups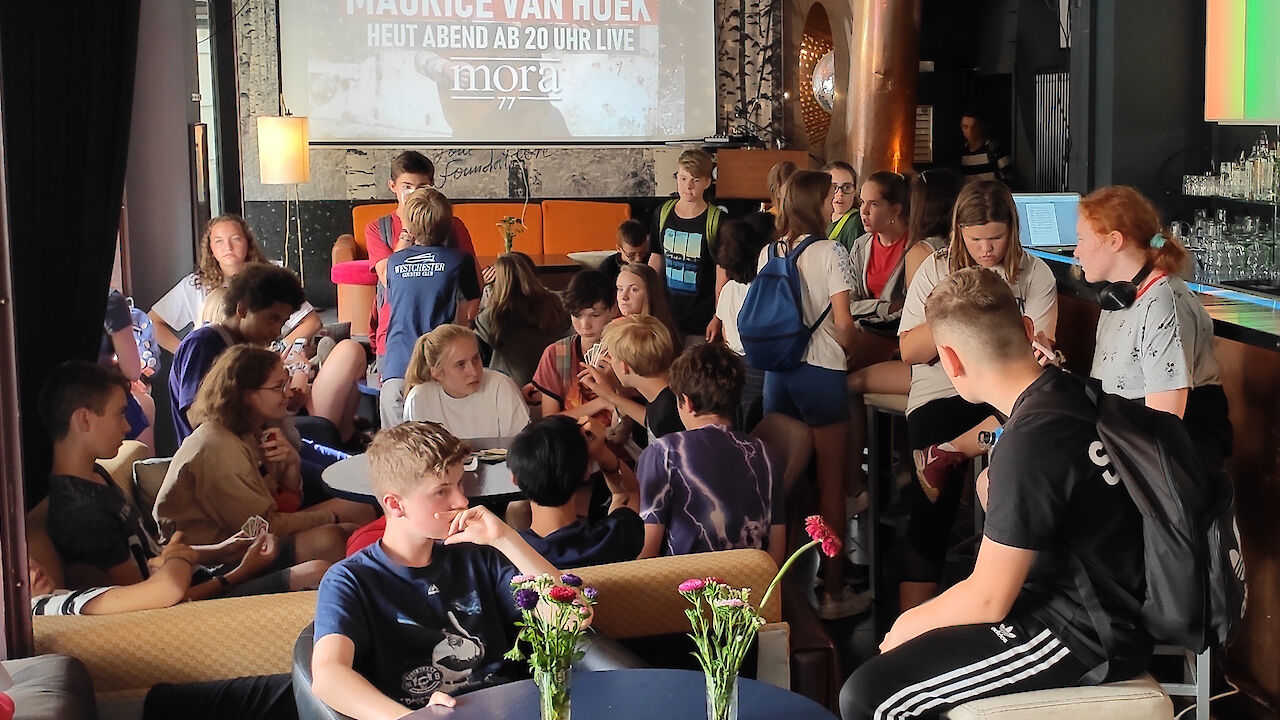 The hostel is suitable for groups. There are enough toilets and baths, the rooms are very spacious. For the group leaders there are single and double rooms with private bathroom. With just under 100 beds the hostel also offers enough space. The hostel offers two types of breakfasts, as well as evening meals and packed lunches. In addition, we are happy to help and support you in planning your day and have a partner program with various organizers in Dresden and the surrounding area.
Reviews
227 reviews in the last 12 months on Hostelbookers.com, Booking.com, Tripadvisor, Hostelworld.com, Google, RateMe!

| | |
| --- | --- |
| Atmosphere | |
| Cleanliness | |
| Facilities | |
| Fun | |
| Location | |
| Security | |
| Staff | |
| Value | |
E // 05.08.2020 // Booking.com

Great kitchen, nice bar, nice people
Jakob // 04.08.2020 // Booking.com
Kurt // 04.08.2020 // Booking.com

Leider nachts ein bisschen laut von der Strasse her. Liegt auch an der tollen lage
Julia // 04.08.2020 // Booking.com
Claudia // 03.08.2020 // Booking.com
Eugen // 01.08.2020 // Booking.com

Der Flair ist großartig :)

Am Wochenende kann man sich erst ab 6 Uhr morgens ausruhen :)
Batu // 29.07.2020 // Booking.com

Nice staff, always eager to help.

Some rooms are messy and stinky
FredoG11 // 26.07.2020 // Tripadvisor

Beim abendlichen Bummel durch die Neustadt haben wir dieses quirlige Hostel gefunden und uns einen oder zwei Absacker gegönnt und gleichzeitig für den nächsten Dresdenbesuch unsere künftige Übernachtung....
Ioannis // 26.07.2020 // Booking.com
Anatoly // 25.07.2020 // Booking.com
Jonas // 22.07.2020 // Booking.com
Marie-theres // 22.07.2020 // Booking.com

Tolles Hostel mit angenehmer Atmosphäre. Straßenbahn gleich in der Nähe super praktisch.
Melanie // 22.07.2020 // Booking.com
Saebiga Creates // 20.07.2020 // Google Places

I had a very beautiful time there, the staff was extremely helpful. I really enjoyed teaching the basic latte art workshop as well.
Roman // 20.07.2020 // Booking.com

Good location, beautiful district, which is full of young people tonight and quiet in the morning. Pretty cheap hostel, friendly staff

The socket near the bed is not convenient to use The building is a little bit old, bathrooms are also somehow old, but it's ok for such price
Milan // 20.07.2020 // Booking.com
Anonym // 17.07.2020 // Booking.com
Ate_De // 15.07.2020 // Tripadvisor

Privatzimmer mit eigenem Badezimmer mit Bettwäsche und 2 Handtüchern pro Person ausgestattet. Sauberkeit gut. Täglich wurde geputzt. Im Flur weitere Bäder und Toiletten. Service war sehr gut: Mitarbeiter freundlich, humorvoll und hilfsbereit. Bar und Bedienung sehr gut. Getränke lecker und Cocktails selbst gemixt. Günstige Wäscherei direkt gegenüber. Waren nur auswärts essen, es gibt aber eine gut ausgestattete Hostel-Küche . Hygiene war der Anzahl der Gäste entsprechend, nichts zu beanstanden. Wir kommen gerne wieder <3

Zimmertipp:

Die unteren Zimmer Richtung Louisenstraße sind geiler für Szene- und Nachtleben-Liebende.

Mehr Zimmertipps anzeigen
Brigitta // 12.07.2020 // Booking.com

Nonostante sia rimasta a Dresda solo due giorni, appena arrivata sono stata accolta calorosamente da Linda che mi ha aiutata subito per raggiungere i posti che dovevo visitare ed è stata di grandissimo aiuto nel rispondere alle mie richieste! La struttura è centrale e in una posizione tranquilla
Héctor // 12.07.2020 // Booking.com

Muy bueno, limpio y personal bien amigable.
Sarah // 12.07.2020 // Booking.com
Matthias // 12.07.2020 // Booking.com
philipp89g // 09.07.2020 // Tripadvisor

Ein sehr tolles Hostel mit netten Ambiente. Es ist alles vorhanden und die Lage ist nicht weit bis zum historischen Kern. In der Umgebung befinden sich sehr viele Bars, welche aber um 1 Uhr schließen, wenn nicht eher. In der Nacht kann man in Ruhe schlafen.
F // 08.07.2020 // Booking.com

Allgemein war es ganz gut. Freundliche Personal, saubere Zimmer, zentral und live Musik. Da ich für Bildungszwecken in Dresden war, war es bisschen schwer früh zu schlafen. Sonst hätte man auch Musik genießen können. Innenstadt ist nicht so weit.

Es wäre schön, wenn in Frauenschlafsaal Dusche oder Toilette gegeben hätte. Persönlich mag ich nicht mit Pyjamas rumzulaufen.
Jessica // 29.06.2020 // Booking.com

Das Personal ist kompetent und der Ablauf unkompliziert und simple. Keine Schlüsselkaution beispielsweise.
Paolo // 28.06.2020 // Booking.com
Anonymous // 25.06.2020 // Hostelworld.com

Super Hostel! Mittendrin im Szeneviertel, d.h. Restaurants ohne Ende, aber auch Cafés mit lauter Musik drumherum. Das Haus ist süß (große Räume, hohe Decken, gut zu lüften), die Mitarbeiter sehr nett und hilfsbereit. Der Fußmarsch in die Altstadt ist kein Problem und der Bahnhof Neustadt (näher als Hauptbahnhof) ist auch fußläufig zu erreichen. Ein guter Ausgangspunkt für Touren in die Umgebung.
Radler1313 // 21.06.2020 // Booking.com

Lage war super, war man draussen, waren die Kneipen nebenan, da steppt der Bär

Raum war stickig, es wurde m.E. kaum gelüftet, Frühstück ging so in etwa, war aber etwas überteuert
Michael // 20.06.2020 // Booking.com

Schönes Flair, nette Leute.
Nadja // 14.06.2020 // Booking.com

Hatten uns das Frühstück besser vorgestellt.
Anonym // 12.06.2020 // Booking.com

Aufgrund der Coronapandemie, bekam ich ein 6-Bett Zimmer zur allein Nutzung, was mich sehr gefreut hat. In der Küche war alles da, was man braucht. Die Bitte um ein neues Spülmittel und Geschirrtücher wurde sofort erfüllt. Im allgemeinen, war sehr wenige los im Hostel.

Die Toiletten sind echt winzig, aber es geht schon irgendwie.
Alexandra // 31.05.2020 // Booking.com
Sebastian // 18.04.2020 // Booking.com
Dia // 20.03.2020 // Booking.com
leonardgruenke7 // 17.03.2020 // Tripadvisor

Das Hostel bietet eine sehr schöne Atmosphäre, man wird dort sehr gut beraten und die Zimmer sind angenehm zum schlafen. Dresden ist eine sehr schöne Stadt um schöne Altbauten zu besichtigen. Auch in dieser Hinsicht wird man sehr gut beraten.

Zimmertipp:

Früh genug buchen , es lohnt sich ;)

Mehr Zimmertipps anzeigen